Intro to Project Management
Project Management Workshops in NYC
The workshop begins with a review of project management terminology so that students learn to speak the language of a project manager. Students will obtain a firm grasp of the different methods and strategies used in the field of project management. Moving deeper into project management theory, students will explore a five-stage model of project management that includes the following stages: Initiation, Planning, Execution, Monitoring, and Closing.
The initiation phase covers how to create a project charter for the project. Students will learn to identify needs, set a timeline, create a budget, and communicate with stakeholders in the planning phase. The execution phase covers identifying project range, budget, challenges, and risks. In the monitoring phase, students will explore ongoing project management tasks, and finally, the closing stage will discuss how to finish and transfer project deliverables.
Important Course Notes
This course is for entry-level project coordinators who aspire to become full-time project managers. Those with experience leading projects should consider attending our Advanced Project Management course.
The course covers project management theory and concepts and not any project management software. See our Microsoft Project courses.
This class is for students that:
Want an overview of project management theories and methodologies
Desire a career in project management
Need a review of project management concepts and approaches
Learn more about our project management courses and PMP certification boot camps.
Which industries will this course apply to?
The methods covered in this course will apply broadly to a variety of industries, including financial services, consumer markets, healthcare, non-profits, and technology. Please note that the course does not focus on any vertical in particular. 
Industrial (automotive, aerospace, energy, construction), and government project managers would benefit from the course although those industries require more specific training.
How is this course taught?
The class is broken into a series of mini-lectures, individual exercises, and team workshops. For example, individual exercises would consist of reading and analyzing case studies with follow-up group discussion. Team workshops include planning a project with class members with project baselines, scope, budget, and schedule. 
Register for a Class
Choose a date below to add it to your cart. At checkout, you can change the quantity for multiple registrants, add other classes, and change your dates.
$229
7 Hours
185 Madison Avenue, NYC
Corporate training available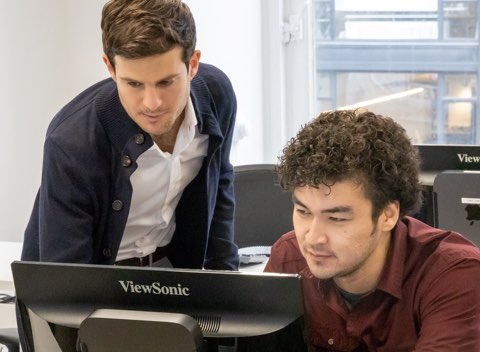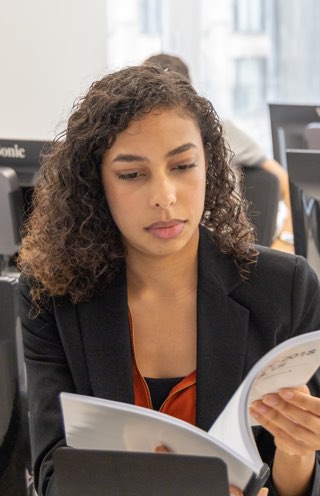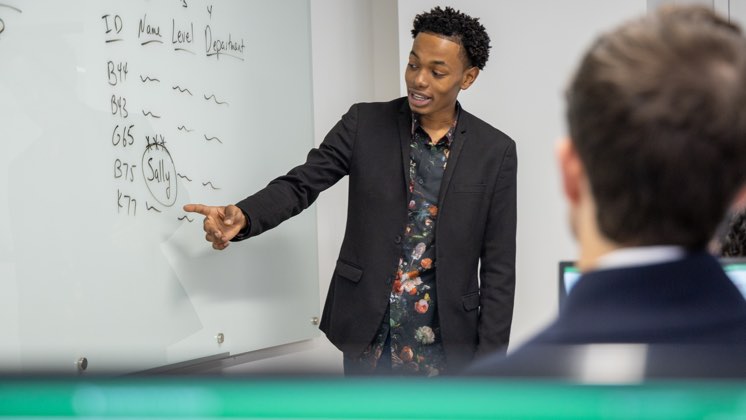 Workbook Included

Students get a custom workbook with step-by-step instructions.

Computer Provided

Modern computer classroom with a PC for each student to work on.

Small In-Person Classes

Get personalized attention in small groups with an expert instructor in the classroom.

Free Retake

Refresh the course materials within six months for free as long as there's space in the class.
What You'll Achieve
Learn how to manage stakeholders and tasks
Discern scope, time, and cost
Master project management vocabulary
Discover positions, duties, and qualities of a project manager
Full Course Syllabus
Download PDF Outline
Theories and Methods
Understand project management methodologies and tools
Initiation Phase
Defining the details of a project charter
Creating a business case
Planning Phase
Identify needs
Develop a timeline
Budget costs
Establish a communication plan
S.M.A.R.T. and C.L.E.A.R. Goals
Identify risks and mitigate challenges
Execution Phase
Lead the team
Maintain schedule
Track the budget
Evaluate quality
Monitoring Phase
Report progress and manage stakeholders
Monitor ongoing project tasks including risks, schedule, budget, work quality and resources
Closing Phase
Finish project and transfer deliverables; lessons learned
Capstone Project
Frequently Asked Questions
Do I need to bring a computer?

No. We provide a computer with the necessary software for each attendee. This course is available on Windows PC only.

Are discounts available for this course?

No. This course is not eligible for any discounts.

We offer discounts for packages of classes, including our Excel Bootcamp, SQL Bootcamp, Data Analytics, and PowerPoint Bootcamp.

We also provide discounts for ten or more classes purchased together. Please reach out for more information on our voucher programs.

Does this course come with a book?

Yes. This course includes a complimentary book or manual at no additional cost.

What if I need to retake this course? May I retake it for free?

Yes. You may retake this course for free once within six months, provided that the class is running with an available seat. For more information, visit our policies page.