Photoshop for Web Design & UI
Design & Create Graphics for the Web
Learn to use Photoshop to create and optimize graphics specifically for web and user interface (UI) design. We'll cover Photoshop's web design features: artboards, grids, image saving options, and more. You'll be able to turn wireframes into visually stunning, responsive UI designs that are sure to engage your audience.
This course focuses on generating content for web and UI and does not cover image retouching or color correction. Students interested in those topics should explore our many Photoshop options, such as Photoshop Bootcamp and Photoshop in a Day. For more information on topics covered in class, see the syllabus below.
This course is offered at our design school, Noble Desktop. View upcoming dates and register for this course directly on Noble Desktop's website.
Register at nobledesktop.com
$650
12 Hours
185 Madison Ave, 3rd Floor, NYC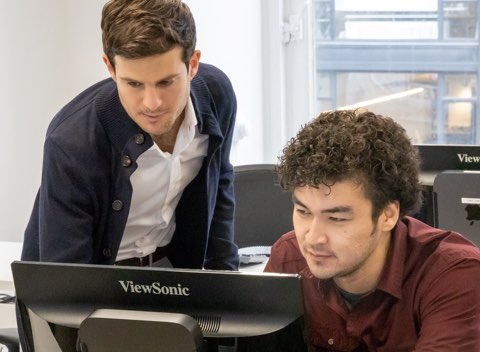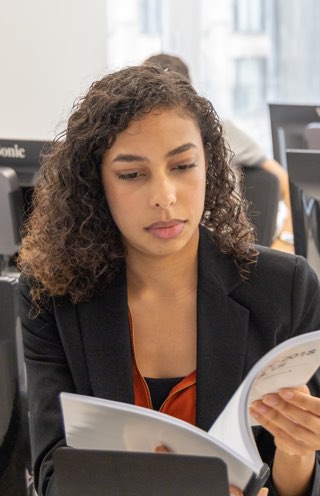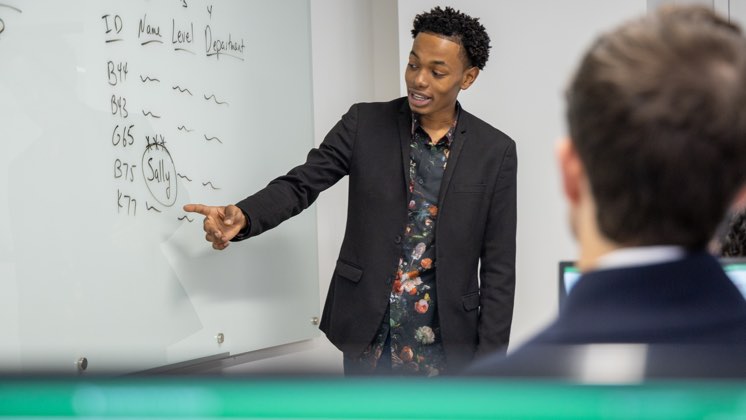 Workbook Included

Students get a custom workbook with step-by-step instructions.

Computer Provided

Modern computer classroom with your choice of Mac or PC to work on.

Small In-Person Classes

Get personalized attention in small groups with an expert instructor in the classroom.

Free Retake

Refresh the course materials within six months for free as long as there's space in the class.
What You'll Learn
Use Photoshop to create and optimize graphics for web and user interface design
Create wireframes and turn them into finished designs that are optimized for mobile, tablet, and desktop screens
Learn how to design on grids, extract image assets, create hi‑res 2x graphics, and more
Eugene was great! Knowledgeable, professional and concise. A great trainer who has a gift for relevant imparting techniques, tips and correlating personal experience to the learning material. Passionate about this class. Thank you.
E.G. attended Photoshop for Web Design & UI
Eugene is a very good teacher and a genuinely nice guy. His enthusiasm to teach Photoshop made this class great. He took the time to discuss things with everyone and would recommend courses for everyone depending on their goals. This Web Design Class was by far the best class I have taken. Thank you to NYIM and Eugene.
A.R. attended Photoshop for Web Design & UI
Full Course Syllabus
Download PDF Outline
Creating New Files & Designing on a Grid System
Setting Preferences & Workspace
Creating a New Document
Creating a Grid
Designing with Bootstrap's Grid
Viewing at Accurate Size
Creating Colored Backgrounds for Text
Importing Text
Adding Photos & Editing the Layout
Changing the Page's Background Color
Importing Photos
Changing Canvas Size
Grouping Layers
Adding Page Navigation & Editing Smart Objects
Creating a Navbar
Adding a Stroke
Changing Opacity
Importing Vector Graphics from Adobe Illustrator
Editing a Vector-Based Smart Object in Illustrator
Editing a Pixel-Based Smart Object in Photoshop
Content-Aware Fill
Swapping Out Graphics
Text Styling & Adjusting Images Behind Text
Adding a Drop Shadow to Type
Darkening a Background Photo to Make Text More Legible
Adapting a Webpage Layout for Tablets
Copying the Desktop Design into the Tablet File
Adjusting Elements to Fit the New Dimensions
Cropping the Canvas
Adapting a Webpage Layout for Mobile Phones
Copying the Tablet Design into the Mobile Phone File
Adjusting Elements to Fit the New Dimensions
Optimizing for Web: JPEGs & HiDPI/Retina Graphics
Using Save for Web
Optimizing Photos for Low-Res Screens
Optimizing Photos for Hi-Res (HiDPI/Retina) Screens
Compression Settings for 1x & 2x Versions
Saving File Size When Optimizing 2x Graphics
Optimizing for Web: PNG vs. GIF
8-Bit File Formats: GIF vs. PNG-8
PNG-24: Save For Web's Only Choice for Partial Transparency
Properly Optimizing Colors: Limited Colors vs. Gradients vs. Black & White
Making a 1x from a 2x Graphic
Extracting Assets from a Design
Pros & Cons of the Extract Assets Panel
Creating PNG, GIF, & JPEG Files from a Design
Extracting PNG-8 with Partial-Transparency
The Proper Way to Extract 1x and 2x Graphics
Why Photoshop Sometimes Exports Low-Res JPEGs & How to Fix It
Designing in 2x Photoshop Files
Designing at 2x versus 1x
Turning a Wireframe into a Real Design
Setting Anti-Aliasing & Hyphenation
Using Clipping Masks to Crop an Image
Aligning to a Selection
Paragraph Styles
Creating, Applying, & Editing Paragraph Styles
Masking Photos & Visual Effects
Importing & Cropping Photos (Masking)
Colorizing Icons (Vector Smart Objects) in Photoshop
Adding Effects Such as Stroke, Inner Shadow, & Gradient Overlay
Copying Effects to Other Layers
Fill Opacity
Optimizing Graphics in a 2x Design
SACHow Extract Assets in a 2x File Differs from a 1x File
Slicing
Layer Based Slices
Custom Sized Slices
Frequently Asked Questions
Do I need to bring a computer?

No. We provide a computer with the necessary software for each attendee. Choose a Mac or a PC during the checkout process.

Are discounts available for this course?

No. This course is not eligible for any discounts.

We offer discounts for packages of classes, including our Excel Bootcamp, SQL Bootcamp, Data Analytics, and PowerPoint Bootcamp.

We also provide discounts for ten or more classes purchased together. Please reach out for more information on our voucher programs.

Does this course come with a book?

Yes. This course includes a complimentary book or manual at no additional cost.

What if I need to retake this course? May I retake it for free?

Yes. You may retake this course for free once within six months, provided that the class is running with an available seat. For more information, visit our policies page.
Photoshop for the Web & UI
Create & Optimize Graphics for Websites & UI (User Interface)
Learn how to use Photoshop to create and optimize graphics for web and user interface design. This course does not cover image retouching, color correction, or print design. We hone in UI design, helping you turn wireframes into incredible designs for the web.
You'll learn modern techniques, including new features added to Photoshop CC. By the end of this course, you'll be able to turn wireframes into completed designs. We'll help you design responsive website layouts optimized for mobile, tablet, and desktop screens of all sizes. We'll design on grids, extract image assets, create hi-res 2x graphics, and more.
This is the ultimate Photoshop for web/UI course. In addition to learning key features and techniques, we'll cover essential workflow tips and tricks, and you'll learn to efficiently create professional designs that are easier for developers to code!
This course requires a working knowledge of Photoshop. If you are new to Photoshop, check out our Photoshop Bootcamp or Photoshop in a Day.
Rated the Best Photoshop Courses in New York City
Practical and hands-on training focused on real-world applications of Photoshop
Engaging and interactive instructors
Proprietary course manual and shortcut sheets
Small class sizes for personalized attention