Adobe Photoshop Bootcamp
Beginner to Advanced Photoshop Training
This three-day Photoshop Bootcamp is a comprehensive study of a design industry staple.
Go from novice to virtuoso as you learn techniques for retouching, color correction, and photo editing. Feel confident using masks, tools, and channels. Learn to create vector drawings, automate hundreds of repetitious image tasks, produce consistent color for print, create artistic interpretations of pictures using filters, and tackle advanced corrections of digital photos.
Classes are small, and lessons are hands-on. By the end of day three, students will have tackled several projects, including a complete brochure! No prior experience necessary. 
Our Photoshop classes are held at Noble Desktop, our design & coding school.
This course is offered at our design school, Noble Desktop. View upcoming dates and register for this course directly on Noble Desktop's website.
Register at nobledesktop.com
$975
18 Hours
185 Madison Ave, 3rd Floor, NYC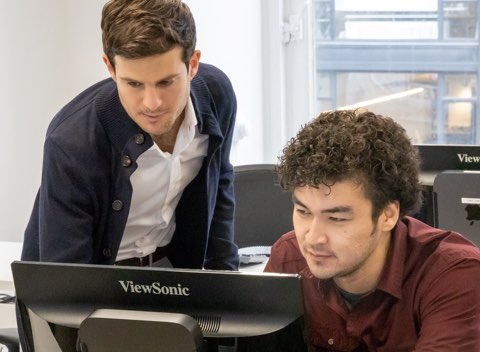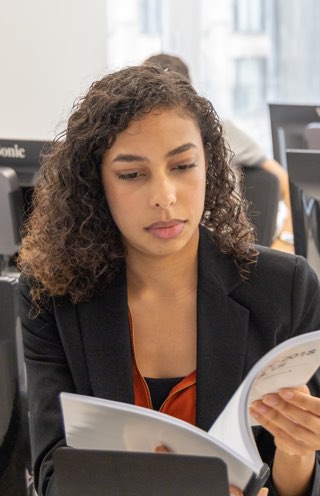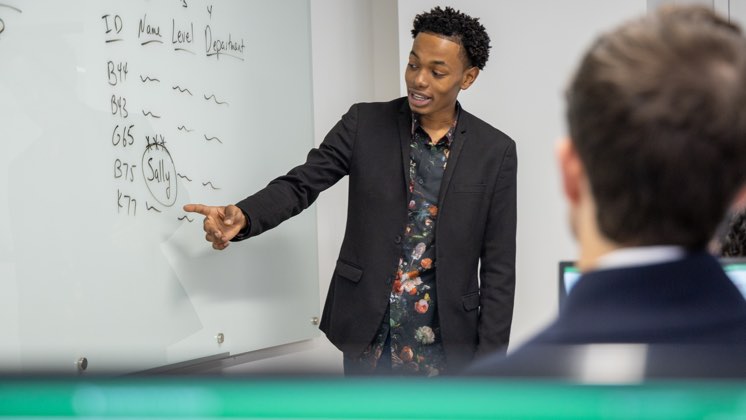 Workbook Included

Students get a custom workbook with step-by-step instructions.

Computer Provided

Modern computer classroom with your choice of Mac or PC to work on.

Small In-Person Classes

Get personalized attention in small groups with an expert instructor in the classroom.

Free Retake

Refresh the course materials within six months for free as long as there's space in the class.
Learn How To:
Retouch photos and create graphics
Improve images by adjusting color, contrast, and more
Prepare images for use on the web or in print
Color correct
Create brochures, posters, and more
Took Photoshop class with Eugenio, he was extremely patient with so many questions asked by the audience. He let us have some fun while learning. Overall great experience.
Anne G. attended Adobe Photoshop Bootcamp
Eugene was excellent, very informative, very helpful. I took the beginners class and this one surpassed everything i have learned before. Eugene is very knowledgeable and willing to sit down with everyone and show the best practices and methods for your industry.
K.S. attended Adobe Photoshop Bootcamp
Eugene was very helpful, stopped when anyone needed help, and checked to make sure we were all on the same page. He acknowledged when we did a good job. Very good instructor. Will definitely take additional classes with him again!!!
D.V. attended Adobe Photoshop Bootcamp
Eugene was very helpful and thorough. He took his time in explaining different parts in detail and answering all questions in a very comprehensible manner.
M.P. attended Adobe Photoshop Bootcamp
Full Course Syllabus
Download PDF Outline
Section 1
Getting Started
Zooming
Scrolling
Getting around
Tools
Copying & pasting
Photo Retouching
Making selections
The Healing Brush tool
The Clone Stamp tool
The Red Eye tool
Replacing Backgrounds
The Magic Wand tool
Image compositing
Annual Report Cover
More selection practice
Feathering selections
Working with layers
Using type
Section 2
Selecting with Quick Masks
Quick masks
More Magic Wand tool practice
Color Correction Using Color Balance
Creating adjustment layers for color correction
Adjusting color balance
Adjusting brightness/contrast
Color Correction Using Levels
Color correction with a Levels adjustment layer
Setting white, black, & gray points
Preparing Digital Photos for Print
Viewing/setting image size
Resampling pros & cons
Saving as PSD
Saving as TIFF
Saving Photos for the Web as JPEG
Resizing images for the web
Reducing image size with resampling
Setting JPEG quality
Section 3
Saving Photos for the Web as GIF/PNG
Comparing GIF & PNG
Transparency on the web
Creating Shadows & Layers
Adding effects to layers
Drop shadows
3D Type Shadow
More drop shadow practice
More practice adding effects to layers
Using Transform to create a 3D effect
Ghosting Part of an Image
Setting a layer's opacity
Feathering layers
Fill Opacity & Effects
More practice with layer effects
Layer opacity vs. fill
Using the Adobe Bridge
Navigation
Renaming files
Deleting files
Rotating images
Section 4
Creating Tiling Patterns
Working with patterns
The Offset filter
Deleting & resetting patterns
Cropping, Resizing, & Blending
The Gradient tool
More pattern practice
Blending modes
Color Correction Using Curves
Color correction with a Curves adjustment layer
More practice setting white, black, & gray points
Working with midpoints
Adjustment Layers & Masks
More Curves practice
Masking out unwanted adjustments
Organizing layers into groups
Shadows/Highlights
Creating a Smart Object
The Shadows/Highlights adjustment
More masking out unwanted adjustments
Section 5
Sharpening Photos
The Smart Sharpen filter
Sharpening hi-res photos for print
Special Effects with Type & Clipping Masks
Masking a photo with type
Clipping masks
Creating Paths with the Pen Tool
The Pen tool
Creating paths of Bézier curves
Using Clipping Paths for Silhouettes
Clipping paths
More Pen tool practice
Importing a silhouette into InDesign
Using Layer Masks for Silhouettes
The Magnetic Lasso tool
More practice with layer masks
The Refine Edge dialog
Color Fill layers
Section 6
Using Filters for Special Effects
The Motion & Spin Blur effects
Copying layers
Loading selections
Brochure Part I
Working with guides
More practice with adjustment layers
Layer styles
More practice with blending modes
Brochure Part II
More practice with Smart Objects
More practice with Free Transform
More layer groups
More practice adjusting curves
The Bevel & Emboss effect
Brochure Part III
Importing text into Photoshop
More gradient practice
More fill opacity
More practice with custom shapes
Frequently Asked Questions
Do I need to bring a computer?

No. We provide a computer with the necessary software for each attendee. Choose a Mac or a PC during the checkout process.

Are discounts available for this course?

No. This course is not eligible for any discounts.

We offer discounts for packages of classes, including our Excel Bootcamp, SQL Bootcamp, Data Analytics, and PowerPoint Bootcamp.

We also provide discounts for ten or more classes purchased together. Please reach out for more information on our voucher programs.

Does this course come with a book?

Yes. This course includes a complimentary book or manual at no additional cost.

What if I need to retake this course? May I retake it for free?

Yes. You may retake this course for free once within six months, provided that the class is running with an available seat. For more information, visit our policies page.