What is Data Analytics?
In this increasingly tech-enabled world, everything from washing machines to doorbells connects to wifi. There has never been a more exciting time to learn about data! According to Forbes, more than 50% of companies are analyzing Big Data (a fancy term for massive datasets).
Data Analytics is the process of manipulating and analyzing data to understand and uncover insights that can influence business decisions. Companies use these insights to target and adjust their efforts to reach their target audience. Customer and social analysis are among the primary goals for data analytics in most companies.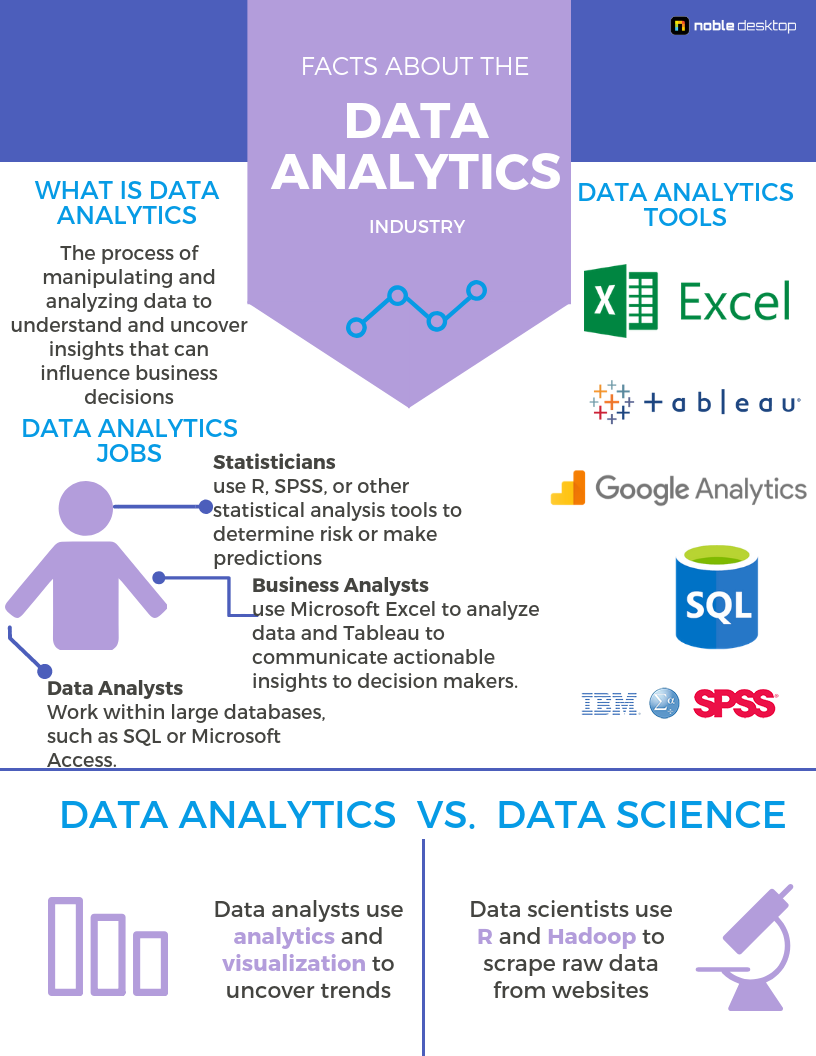 Data Analytics vs. Data Science
Like data analytics, data science is also a hot topic but involves an entirely different set of skills and tools. Data science is the study of data, with the focus of using algorithms, mathematics, and techniques to extract useful data from non-traditional data sources. While data analytics relies on readily available data, data science focuses on how to extract this data into a usable form that can be processed and analyzed with data analytics software.
Data scientists use tools like the coding language R and Hadoop framework to "scrape" or extract raw data from a website. In data science programs, students often learn how to "scrape" public websites with lots of raw data, such as Twitter or Google. Examples may include writing an algorithm to produce all results in a web directory or finding all of the records containing a specific word on a public site.
Another way to look at the difference between data science and data analytics is to view data science as preparing data before analysis, and data analytics as reviewing data after the fact. Data scientists are experts in data extraction, cleaning and preparation while data analysts are experts in uncovering trends and actionable insights. Despite being similar in name, data science and data analytics involve entirely different processes, tools, and functions of data.
Data Analytics Jobs
Data analytics jobs fall into different categories depending on your knowledge of programming and statistics. Most data analytics jobs fall within the business analyst role, in which data professionals work with Excel and Tableau. Some may have additional skill in a programming language or other specialized software.
Most data analytics professionals must incorporate data from a variety of tools to form one coherent story. A campaign targeted to customers including website traffic, social media, and other forms of marketing can form three separate data sources. To determine which strategies are most effective and identify new approaches that can lead to even more customer engagement and sales, data analysts often import data into one program.
Business analysts typically use tools, such as Microsoft Excel or another tool to analyze data and Tableau or another visual tool to communicate actionable insights to decision makers. Statisticians take data analytics a step further by using R, SPSS, or other statistical analysis tools to determine risk or make predictions. Other data analysts work within large databases, such as SQL or Microsoft Access.
Data Analytics Tools
Microsoft Excel
Despite being a popular tool that most individuals have on their personal and business computers, very few people harness the complete power of Microsoft Excel. Microsoft Excel is a data analytics powerhouse that offers support at every stage of the data analytics process from cleaning and analyzing data to performing analysis and displaying results in charts and graphs. Its most advanced users write macros (complex instructions that automate computer tasks) using Visual Basic for Applications (VBA), a coding language used to program Excel.
Microsoft Excel can do the following tasks:
Reformat data
Use formulas to calculate new values from existing data
Forecast financials using equations and functions
Complete math functions and statistical analysis functions like ANOVA and regression
Display results and analysis using pie, line, and bar charts
Learn more about Microsoft Excel and our courses.
SQL
SQL (whether it's pronounced ess-que-el or SEQUEL is up for debate) is a coding language used to store, organize, and retrieve data from relational databases. With SQL you can analyze data for an e-commerce store by joining multiple datasets or tables to gain new insights. For example, you can query and merge two datasets, one containing customers and another containing orders to determine all of the customers that bought a specific product and their particular location.
It is important to note that SQL is not a database itself, but rather a command language used to communicate with a relational database, most commonly Microsoft SQL server.
In recent years, programmers have created adaptations of SQL to use with modern object-oriented or non-relational databases. With SQL, you can perform the following tasks:
Create a database
Sort and/or filter data within a database
Query a database to find specific information about a product or user
Join two different datasets to view information that meets specific criteria
Convert output data or export it to external applications
Discover our industry-leading SQL courses & bootcamps.
Tableau
Tableau is a powerful tool that allows you to visualize your data analysis. The benefit of Tableau is that non-technical professionals and decision-makers can immediately notice trends and data insights without pouring over detailed reports or data sets. Tableau is useful in any industry with access to data and is a popular tool in both the public and the private sector.
With Tableau, you can do the following:
Connect raw datasets from almost any program including Microsoft Excel, SQL, Microsoft Access, and SPSS
Use Tableau Prep® to clean and analyze data for further analysis
Analyze trends and stories within your data
Create responsive insights that can be customized by colleagues
Manipulate interactive charts, graphs, and other representations of data
Get started with data visualization in hands-on Tableau training.
Microsoft Access
Microsoft Access is a database program that is part of the Microsoft Office Suite. It's a local application, so it's not available online with other Office 365 products, and it must be downloaded to a desktop computer. It's considered a user-friendly alternative to SQL Server, particularly for non-technical professionals.
Microsoft Access is an ideal choice for individuals and small teams that need to analyze massive data sets. Excel is limited in its ability to analyze large amounts of data quickly, and access speeds up the process while adding more features including higher data storage capacity and additional security. Use Microsoft Access to do the following:
Create databases and store new data
Analyze large data sets over extended periods (ex., five-year, ten-year analysis)
Easily transfer data between Microsoft applications
Offer an easy-to-use alternative to server-based databases for non-technical professionals
Create and publish PDF reports or export data
SPSS
Statistical Package for Social Science (SPSS) is a software program used to perform complex quantitative statistical analysis. The program includes features to clean, recode, analyze, and visualize data characteristics. Data preparation features like recoding data and transforming variables are standard in SPSS but could take hours in Excel.
An essential feature of SPSS is its ability to determine if a particular finding is statistically significant and applicable to larger populations outside of the sample size.
Users can write scripts to automate data analysis or write code in Python to enhance performance capabilities. SPSS is an excellent tool for the following tasks:
Using advanced data manipulation tools to recode and format data
Conducting complex data analysis including ANOVA, regression and factor analysis
Determining the statistical significance of a given result
Connecting data with other programs
Creating descriptive graphics to visualize data range and outliers
Data Analytics Training & Certifications
If you're new to data analytics, it's best to start with MS Excel classes. Beginner, Intermediate, and Advanced courses teach Excel fundamentals from formulas to pivot tables and functions, or if you're looking to enhance your resume, our Excel certification program includes classes, private training, and the certification exam at one low price. Topical courses are a good fit if you are using Excel for Financial Modeling.
SQL courses teach you everything you need to know about relational databases from data types, how to query and retrieve data to creating custom views, tables, and indexes. Our advanced course and 3-day bootcamp introduce data storage and temporary tables.
When you're ready to share results and visualize data, Tableau Level 1 introduces data visualization and basic functions while Tableau Level 2 builds upon data visualization map techniques and guides you through creating custom charts.
Custom and targeted training options include classes dedicated to VBA, Microsoft Access, or SPSS and statistical methods.