Business Writing Bootcamp
Business Writing & Grammar Classes in NYC
Business writing involves knowing your target audience, the goal of your message, and its purpose. Along with defining your audience, message, and objective, it's equally important to use proper grammar and writing techniques. Writing a sales proposal for a prospective client and a memo outlining office behavior require two very different sets of skills.
This Business Writing Bootcamp includes our Grammar Essentials, Effective Business Writing, and Advanced Business Writing courses at a 20% discount. You'll learn practical strategies to sharpen your writing skills from idea to final draft, review essential grammar rules, and prepare complex multi-page business documents.
Register for a Package
Customize your own schedule (choose dates at checkout), or choose a preset package track by expanding the dates below.
$975

$695
18 Hours
185 Madison Avenue, NYC
Corporate training available
Custom Schedule

Feb 14–Apr 2

Grammar Essentials

Friday, Feb 14, 10am–5pm

Effective Business Writing

Friday, Feb 21, 10am–5pm

Advanced Business Writing

Thursday, Apr 2, 10am–5pm

Mar 31–Apr 2

Grammar Essentials

Tuesday, Mar 31, 10am–5pm

Effective Business Writing

Wednesday, Apr 1, 10am–5pm

Advanced Business Writing

Thursday, Apr 2, 10am–5pm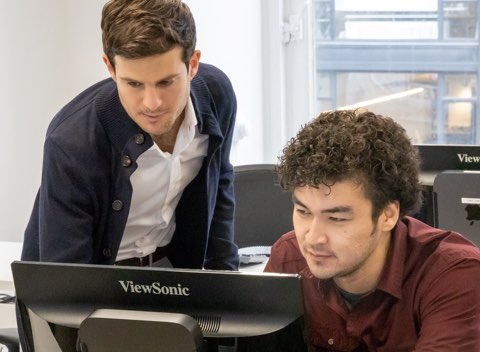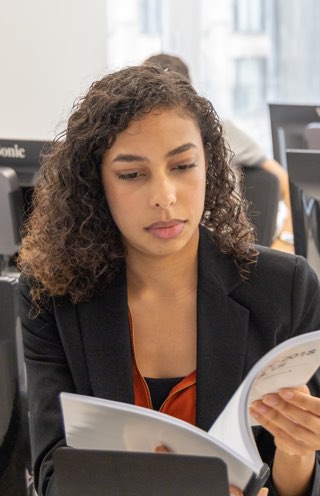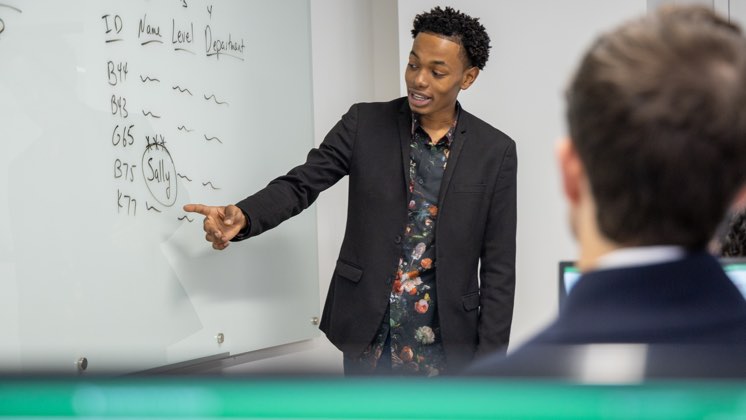 Workbook Included

Students get a custom workbook with step-by-step instructions.

Computer Provided

Modern computer classroom with your choice of Mac or PC to work on.

Small In-Person Classes

Get personalized attention in small groups with an expert instructor in the classroom.

Free Retake

Refresh the course materials within six months for free as long as there's space in the class.
The Business Writing Bootcamp includes
Grammar Essentials
This course offers a comprehensive review of grammar rules. You'll learn how to identify common grammar errors, write effectively for different audiences, and identify the correct form of a word depending on its part of speech.
Effective Business Writing
This business writing course offers practical strategies to sharpen your writing skills from idea to final draft. The class begins by reviewing the core of effective writing—knowing your audience, organizing your thoughts, and writing strong sentences. Following, you will explore a variety of different types of writing in a business setting.
Advanced Business Writing
Prepare complex, multi-page business documents for any purpose. Learn outline and formatting techniques for different business documents, including schedules, proposals, project plans, and contracts.
Full Course Syllabus
Download PDF Outline
Grammar Essentials
Identifying Nouns, Pronouns, and Verbs
Identify Parts of Speech
Use Nouns
Use Pronouns
Use Verbs
Identifying Adjectives and Adverbs
Use Adjectives
Use Adverbs
Identifying Prepositions, Conjunctions, and Interjections
Use Prepositions
Use Conjunctions
Use Interjections
Identifying Rules
Monitor Sentence Structure
Monitor Modifiers
Avoid Common Errors
Identifying Correct Punctuation
Use Parentheses Correctly
Use Commas, Semicolons, Colons, Em Dashes, and Quotation Marks Correctly
Use Numbers, Symbols, and Capitalization Correctly
Identifying Sentence Fragments, Run-ons, and Comma Splices
Identify and Resolve Sentence Fragments
Identify and Resolve Run-ons and Comma Splices
Improving Word Choices
Identify Commonly Misused Words
Identify Synonyms, Antonyms, and Homonyms
Writing Effectively
Write with Purpose
Consider the Audience
Consider the Context
Editing Effectively
Use Correct Spelling
Check Your Work
Appendix A: Commonly Misspelled Words
Effective Business Writing
Writing Effective Business Communication
Write Strong Sentences
Organize Your Content
Analyze Your Audience
Writing Email and Other Electronic Communication
Write an Email
Write Instant Messages and Text Messages
Writing Common Business Documents
Write an Internal Announcement
Write a Routine Request
Write a Response to Routine Requests
Write a Complaint
Write a Positive Response to Customer Complaints
Write Bad-News Messages
Writing a Business Letter
Write a Business Letter
Write a Thank-You Letter
Writing Business Proposals
Persuade Your Audience
Write an Executive Summary
Use Visuals
Advanced Business Writing
Focusing Your Document
1) Determine Your Purpose
2) Determine Your Audience
Communicating to the Audience Effectively
3) Planning the Writing Project
4) Using Informative and Persuasive Techniques
Frequently Asked Questions
Do I need to bring a computer?

No. We provide a computer with the necessary software for each attendee. Choose a Mac or a PC during the checkout process.

Are discounts available for this course?

This program is a discounted package of classes that is 15–25% off the individual class prices.

Does this course come with a book?

Yes. This course includes a complimentary book or manual at no additional cost.

What if I need to retake this course? May I retake it for free?

Yes. You may retake this course for free once within six months, provided that the class is running with an available seat. For more information, visit our policies page.