After Effects in a Day
Getting Started with Animation & Video Post-Production
After Effects is a powerful component of Adobe's suite of design software that allows you to create professional motion graphics with a simple but powerful user interface. This course will have you up and running quickly, as you learn to create animated GIFs, logos, transitions, and more. You'll get hands-on experience in a small class led by a leading motion graphics instructor.  Get started in this one-day workshop, or dive right into our intensive After Effects Level 1.
This hands-on After Effects class is designed to teach you the essentials of the user interface, the timeline, video, layer animation, easing in and out, fade-ins, and more.
Prior experience with Photoshop is recommended, but not required.  
This After Effects course is held at our design school, Noble Desktop, in SoHo.
This course is offered at our design school, Noble Desktop. View upcoming dates and register for this course directly on Noble Desktop's website.
Register at nobledesktop.com
$325
6 Hours
185 Madison Ave, 3rd Floor, NYC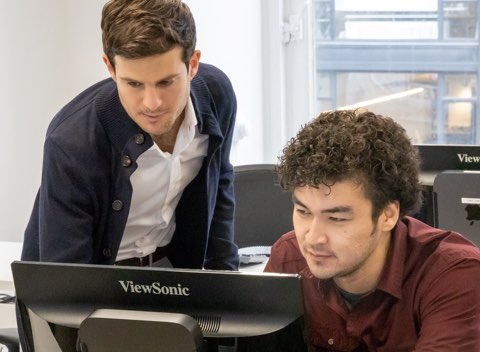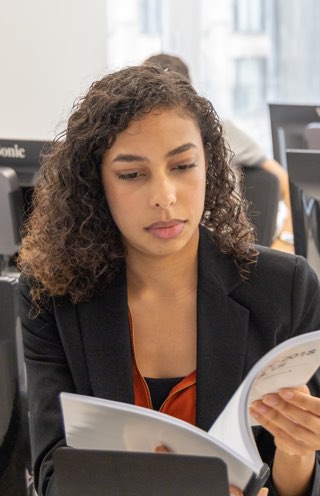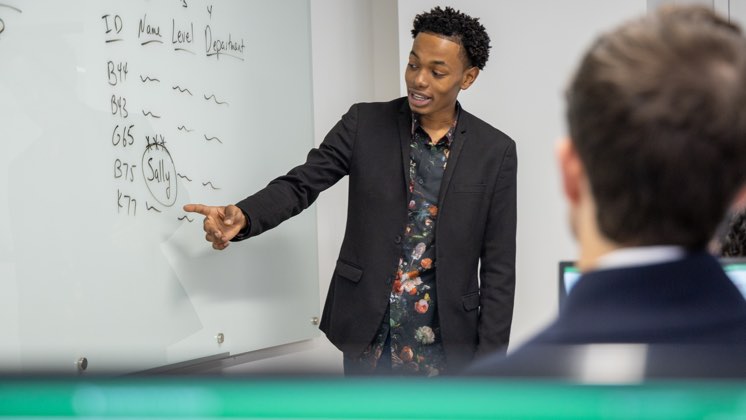 Workbook Included

Students get a custom workbook with step-by-step instructions.

Computer Provided

Modern computer classroom with your choice of Mac or PC to work on.

Small In-Person Classes

Get personalized attention in small groups with an expert instructor in the classroom.

Free Retake

Refresh the course materials within six months for free as long as there's space in the class.
What You'll Learn
Create animations with graphics such as logos and photos
Become familiar with the interface, timeline, and layers
Import and use layered files from Photoshop & Illustrator
Animate the individual components of a logo
Create fluid, natural motion with easing
Add transitions such as fade-ins & fade-outs
Export your project to create an animated GIF
Full Course Syllabus
Download PDF Outline
Section 1
Intro to After Effects
The Project, Composition, & Timeline panels
Importing a Layered File with all its Layers Intact
Using Title Safety to ensure TV viewers can see the text
Working with Keyframes
Animating in the Class Names
Previewing in real time
Adding Easing
Sliding Over the Entire Class List
Animating the Icons
Animating the "In a Day" Title
Adding Motion Blur
Trimming Off Extra Time
Outputting to GIF
Exporting from After Effects
Making the Animated GIF in Photoshop
Reducing the Number of Frames
Section 2
Noble Logo Animation: Anchor Points & Animating with Overshoot
Converting an Illustrator file from CMYK to RGB
Animating the black square to overshoot its final size
Changing where the rectangles scale from by moving layer anchor points
Setting layer in points using the In column
Keeping vector layers sharp as they scale up
Noble Logo: Masking Layers & Parenting
Pre-composing layers
Hiding the letters before they animate using masks
Moving the entire logo away from the rising letters using parenting
Noble Logo: Rotation, Fade-Outs, & Rendering
Adding anticipation keyframes before a major animation
Animating the Rotation property
Adding a fade to white using a solid color layer
How to find missing project files
Optional Bonus: Preparing an Illustrator File for Animation
Resizing artboards & vector graphics
Setting up layers to individually animate elements in After Effects
Bonus: HBO Intro Sequence
Importing Flattened Files & Adding Easing
Importing a layered PSD as a merged file
Isolating HBO logo, Feature & Presentation text using masks
Creating fade-ins & fade-outs
Adding automatic easing to slow down portions of the animation
Working with Numerous Layers
Familiarizing ourselves with the Photoshop layout: layers extending outside canvas bounds, guides
Scaling up each tile using a single null object and Parenting
Randomizing the order in which the photos animate in
Orchestrating the exit animation so the tiles fall down in diagonal groups
Vector Layouts
Animating vector shapes using the Trim Paths feature
Continuous rasterization
More null objects: animating the three pay television content descriptors
Putting It All Together & Adding Audio
Sequencing multiple compositions
Animating like an editor: overlapping shots & using blending modes
Adding audio to a composition
Frequently Asked Questions
Do I need to bring a computer?

No. We provide a computer with the necessary software for each attendee. Choose a Mac or a PC during the checkout process.

Are discounts available for this course?

No. This course is not eligible for any discounts.

We offer discounts for packages of classes, including our Excel Bootcamp, SQL Bootcamp, Data Analytics, and PowerPoint Bootcamp.

We also provide discounts for ten or more classes purchased together. Please reach out for more information on our voucher programs.

Does this course come with a book?

Yes. This course includes a complimentary book or manual at no additional cost.

What if I need to retake this course? May I retake it for free?

Yes. You may retake this course for free once within six months, provided that the class is running with an available seat. For more information, visit our policies page.