AutoCAD is a suite of popular CAD (Computer Aided Design) software products for 2 and 3-dimensional design and drafting. Developed by Autodesk, the AutoCAD family of products has become the most widely used CAD software in the world. AutoCAD is a vector graphics drawing program, and it uses entities such as lines, polylines, circles, arcs, and text as the foundation for more complex objects. AutoCAD's native file format, AutoCAD DWG, and its interchange file format, DXF, have become the de facto gold standard in the industry for the interchange of 2D CAD data.
In this beginner AutoCAD class, you'll learn basic drawing and modifying techniques for drafting and technical drawing, using AutoCAD to create drawings that can be used to build real objects both mechanical and architectural.
You'll learn the basic methods of printing and plotting layouts and sheets, how to work between model space and paper space, and how to scale drawings through viewports. Master techniques for inserting blocks, making text, dimensioning drawings, and working with layers and templates.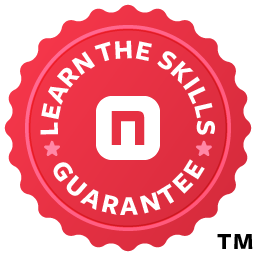 Learn the Skills Guarantee™
Hands-on training in small groups

Work on projects proven to boost retention

Time-tested curriculum and supporting materials

Refined over many cohorts for an optimal learning experience

Learn from industry experts with teaching experience

Experienced educators who are driven to help you succeed

Retake the course for free within one year

Refresh the materials and gain additional practice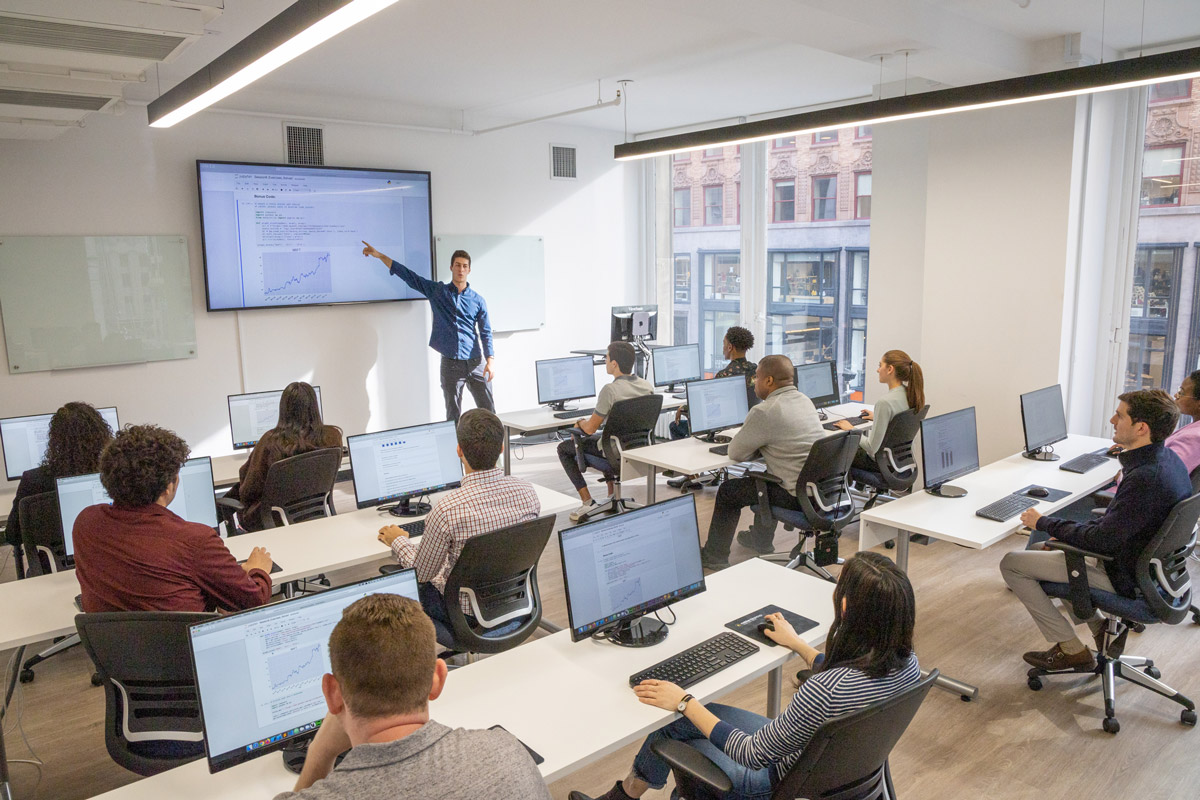 Excellent classes and excellent venue! It has just the right level of personal attention and class participation. I would highly recommend NYIM and look forward to taking future classes there. – Hazel S.
Earn a Certificate of Completion
Upon completion of this course, you'll recieve an official certificate testifying to your mastery of the curriculum. We'll send you a link where you can download your certificate, share it online with your friends, post it to your professional network on LinkedIn, and view all your earned certificates. Congratulations on your achievement!
Course Syllabus
Download Syllabus PDF
1: Getting Started with AutoCAD
Opening and Creating Drawings
Exploring the AutoCAD interface
Zooming and Panning
2: Basic Drawing & Editing Commands
Using the Mouse, Keyboard, and Enter Key to work quickly and efficiently in AutoCAD
Lines
Circles
Rectangles
3: Projects - Creating a Simple Drawing
Creating Simple Drawings
Using Object Snap Tracking to extrapolate a projected top view
Using Modify tools to arrange an office layout
4: Drawing Precision in AutoCAD
Polar and Ortho Tracking
Entering Coordinates and Angles
Object Snaps and Tracking
5: Making Changes in Your Drawing
Move
Copy
Rotate
Mirror
Scale
Using the reference option with the Scale Tool
6: Drawing Templates
Using Template Files (.dwt) to Make New Drawing
Exploring what Settings and Elements are saved with Templates
7: Organizing Your Drawing with Layers
Layer States
Properties by Layer
Layer Tools
8: Advanced Object Types
Polylines
Arcs
Polygons
Ellipses
9: Analyzing Model and Object Properties
The Properties Palette
Quick Select
Select Similar
Measure Geometry Tools
10: Projects - Drawing Organization & Information
Drill Plate
Furniture Showroom
11: Advanced Editing Commands
Trim and Extend
Fillet and Chamfer
Polyline Edit and Spline
Offset and Explode
Join
12: Inserting Blocks
The Insert Block Command
Inserting Blocks with Tool Palettes
Dynamic Blocs
Migrating Blocks and other Elements between Drawings with Design Center
13: Projects - Creating More Complex Objects
14: Setting Up a Layout
Using Layouts and Viewports
Scaling Viewports
Model Space vs. Paper Space in Layouts
15: Printing Your Drawing
Printing from Layout Tabs
Printing from the Model Tab
16: Projects - Preparing to Print
Making Layouts for a Banquette Hall
17: Text
The Multiline Text Tool
The Single Line Text Tool
Editing Text
Text in Model Space vs. Paper Space
The Multileader Tool
18: Hatching
The Hatch Command
The Hatch Editor Ribbon Tab
Saving and Applying Hatches with Tool Palettes
19: Adding Dimensions
Using Dimensioning Tools
Dimensioning in a Layout Tab vs. the Model Tab
Using Dimension Styles
Editing Dimensions
20: Projects - Annotating Your Drawing
Dimensioning a Mechanical Drawing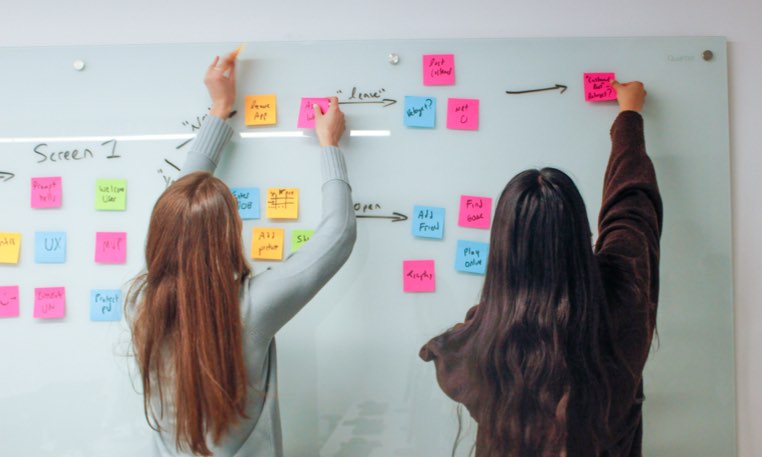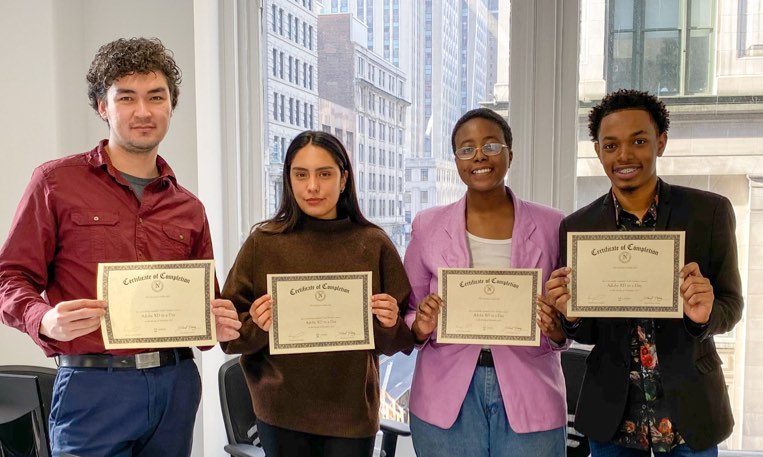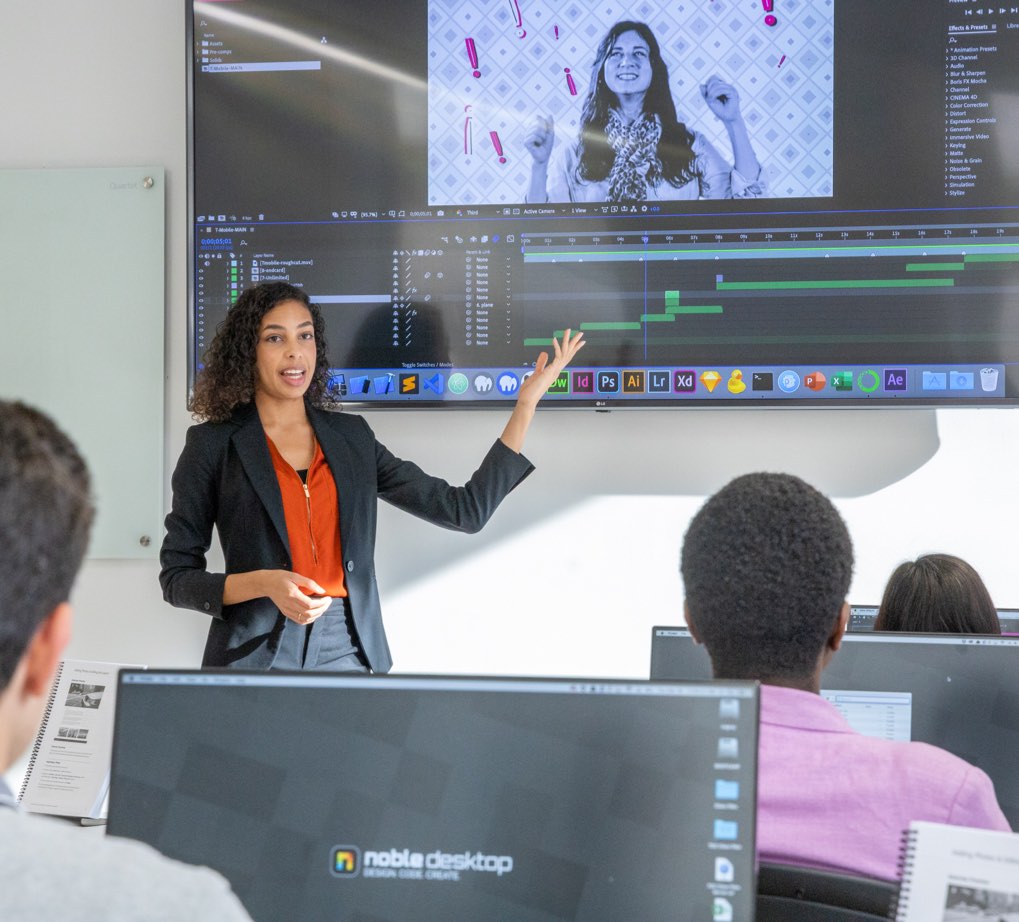 Schedule & Enrollment: Beginner AutoCAD
$599
21 Hours
Free retake
Setup assistance
Expert instructors
Small classes
Course times are listed in Eastern Time.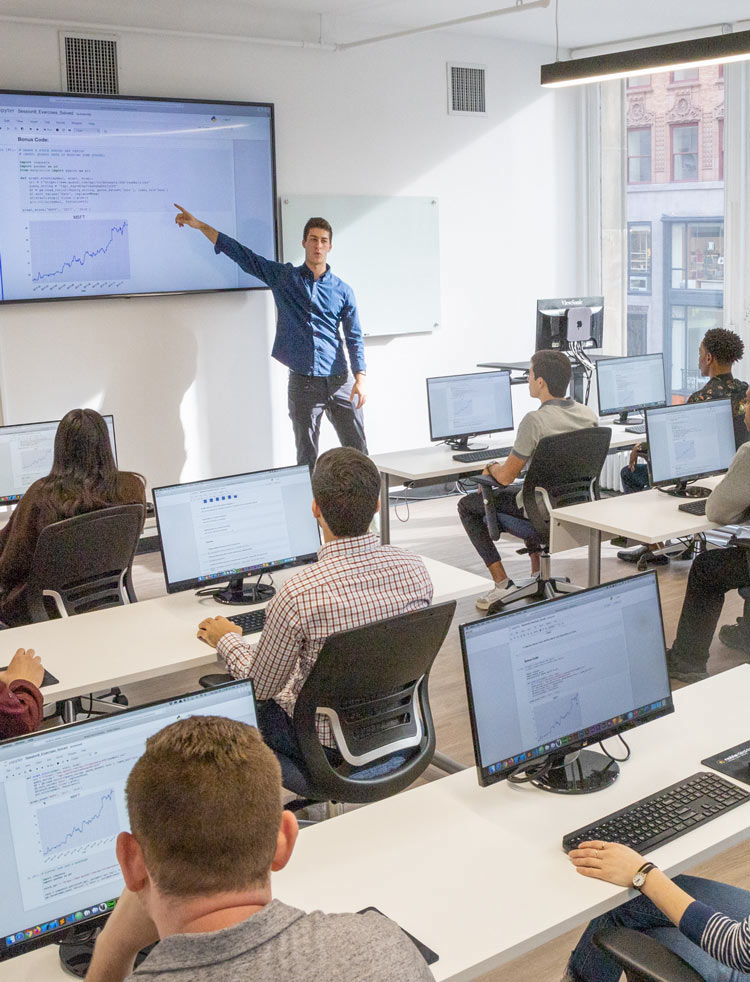 This Course is Available in NYC or Live Online
On Campus in NYC
185 Madison Ave, NYC
Get face-to-face interaction with an instructor and other students when you learn at our NYC campus. Courses are hands-on with a computer and software provided.
Live, interactive class
Experienced instructor in the room with you
Computer and software provided
Free retake within one year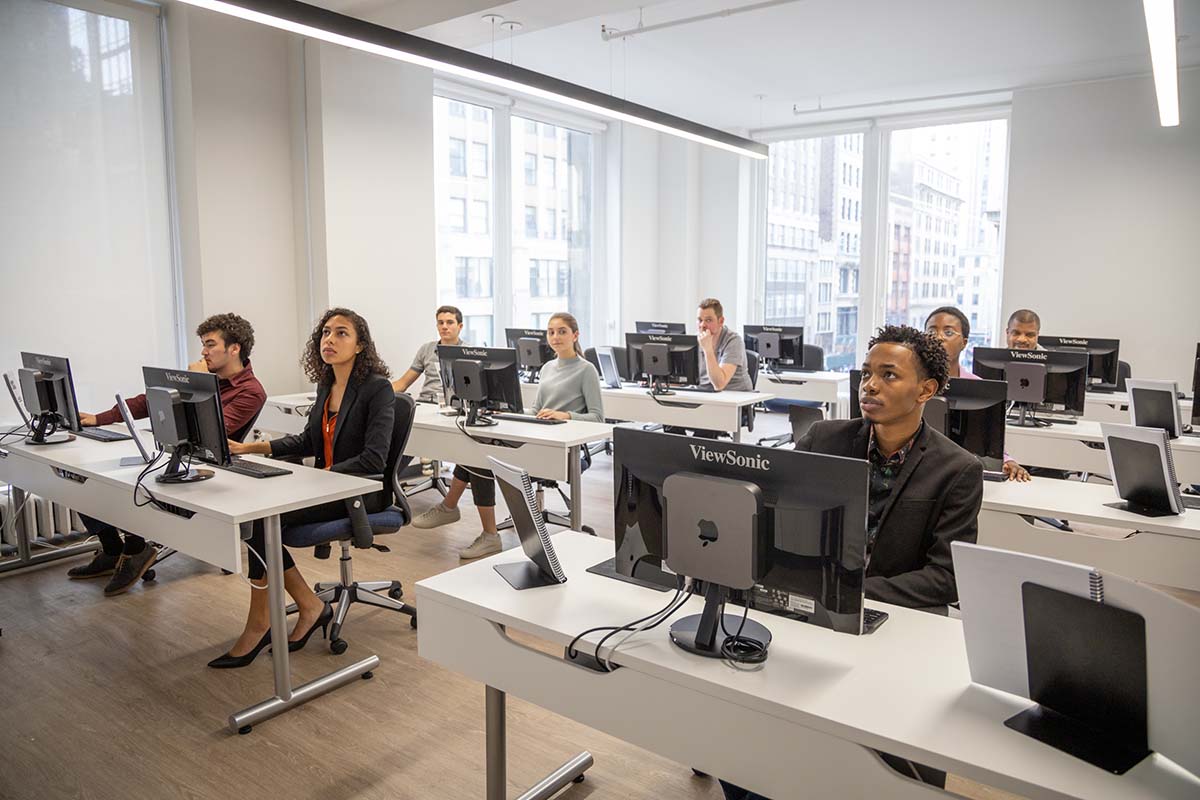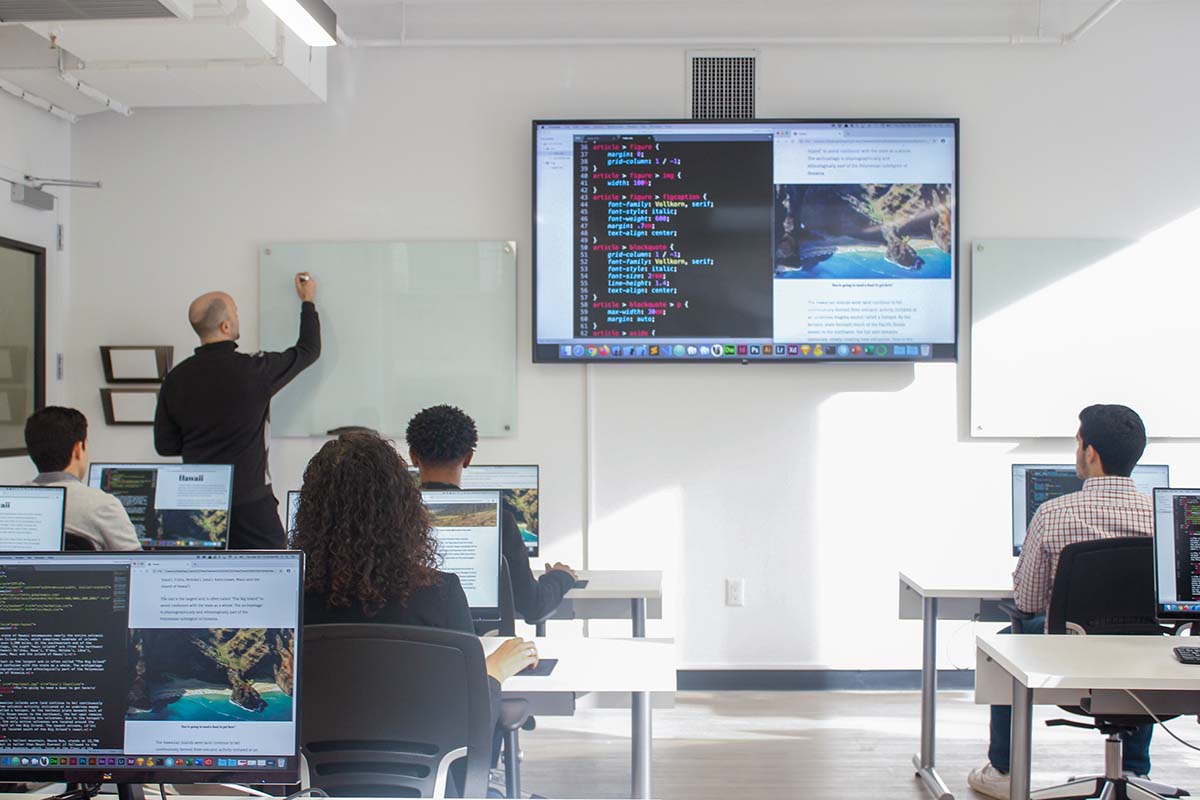 Live Online
Remote, from anywhere
Get the same interactivity and access to the instructor as in-person students. There are no extra fees and we'll work with you to ensure your remote setup is perfect.
Live, interactive class
Experienced instructor teaching over Zoom
Remote setup assistance provided
Free retake within one year
Testimonials for Live Online Training
"Overall experience on Zoom was maybe even better than in IRL classroom because the instruction takes place right on your own screen, with less distraction. Great overall experience."
"Given the fact that we had to do this entire class remotely due to Covid-19, I didn't have very high expectations it would run so smoothly. However, I don't think it could've gone any better. Not only do I feel very comfortable with the program now, but I'm actually excited to use it!"
"This was the first online class I've taken with ND and it was a great experience. Looking forward to the other classes I've signed up for!"
Frequently Asked Questions
What's included with my tuition?

A hands-on learning experience working on projects and exercises, which is proven to boost comprehension, retention, and engagement
Expert instructors who are industry professionals and experienced educators that are driven to help you succeed
Top-notch curricula that have been tried and tested over many cohorts and are consistently improved for an optimal learning experience
Supplemental materials to assist both during and after the course - please refer to specific course pages to see what supplemental materials are offered
A 1-year free retake policy which allows students to retake any part of the course or program for free to refresh the materials and gain additional practice
A certificate of completion to verify your accomplishment

Does this course require any prior knowledge or experience?

Students must be comfortable using a computer. No other prior knowledge is required.

Do you offer any discounts for this course?

Discounts

We don't currently offer discounts as we do our best to affordably prices our courses.

Take this course as part of a certificate program and save:

Price: $949 |

Hours: 35 Hours

Are there any additional fees or expenses?

There are no extra fees or taxes for our courses. The price you see on this page is the maximum you'll pay us.

However, if you plan to take the course live online, you may need to obtain required software. We'll help you get set up with a free trial of paid software prior to the class. Most of our coding classes utilize freely-available open-source software. For most of our design and motion graphics courses, we will help you get set up with a free trial of Adobe Creative Cloud. If you attend the course in-person, we will have a computer already set up for you with all of the required software for no additional cost.

Do you offer payment plans or student financing for this course?

This course does not qualify for payments plans or student financing. See our Payment Plan FAQ to find related programs that qualify.

Can I take this course online (remote learning)?

You may attend this training virtually (online) at the scheduled time the course is offered (New York, Eastern Time).

How does attending "live online" work?

Students can attend this training remotely through screen sharing software (we use Zoom).
Participants can hear the instruction, ask questions, and even share their screen with the instructor.
For audio you can use your computer's microphone/speakers or call a phone number that we'll provide.
Classes are activity-based and taught by a live instructor, so we strongly encourage students who are local to the area to attend in person!
You will need your own computer and copy of any required software. If you don't have the software, you can usually do a free trial or purchase your own license. If you need assistance, contact us at contact@nyimtraining.com
Corporate & Onsite Training
Purchase group class vouchers at a discount for our regularly-scheduled group classes in NYC, or create a custom training program at your offices.
Private Training
Available onsite at your location
Modern computer labs available at our offices
Customize or choose from our existing courses
Free instructor consultations to finalize content
Group Class Vouchers
Send employees to our group classes
Extensive offerings and flexible scheduling
Simple billing and logistics
Computers and training resources provided
We've trained thousands of companies!
Let us create the perfect program for your team.
Why Learn at NYIM
Highly Reviewed by Our Alumni
From our hands-on training style to world-class instructors and proprietary curriculum, we deliver a learning experience our alumni can be proud of.
1

Student Rated Our Beginner AutoCAD

5

Stars
The Beginner AutoCAD course was relaxed, but quick and engaging. The focus on best practices and exploration of the program sets a really helpful foundation for further progress into the program, regardless of actual application. I would happily look to continue with the Intermediate and Advanced courses.
Marian Z., State Theatre New Jersey
Compare Beginner AutoCAD to Similar Courses
Select up to two courses and tap Compare Courses to view a side-by-side comparison of Beginner AutoCAD with your selected courses.