InDesign in a Day
Beginner InDesign Classes in NYC
Learn the fundamentals of Adobe InDesign in this one-day course. Lay out pages, customize text and graphics, experiment with various layouts, and explore unique effects.  By the end of the day, you'll have a new design skillset and you'll be comfortable navigating this powerful software.
During this class, you'll complete step-by-step exercises, helping you create various layouts, posters, and magazine spreads.  You'll work on images and creative text effects while learning the most useful features of InDesign.
This course is located at our design school, Noble Desktop, at 594 Broadway Suite 1202 in SoHo.
Additional discount information is available on Noble Desktop's website.
This course is offered at our design school, Noble Desktop. View upcoming dates and register for this course directly on Noble Desktop's website.
Register at nobledesktop.com
$325
6 Hours
185 Madison Ave, 3rd Floor, NYC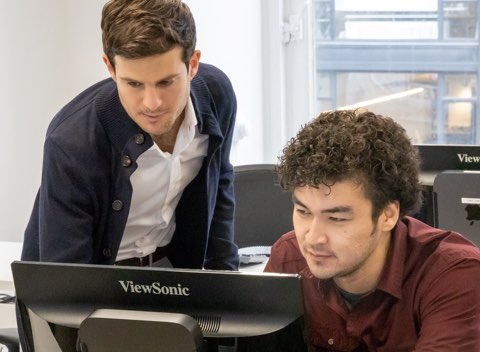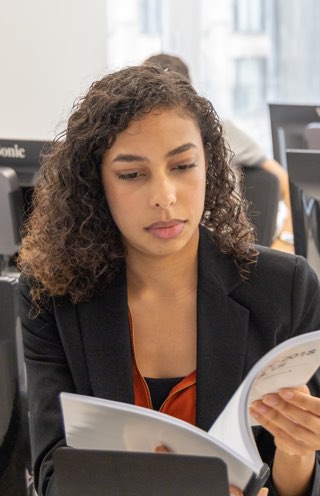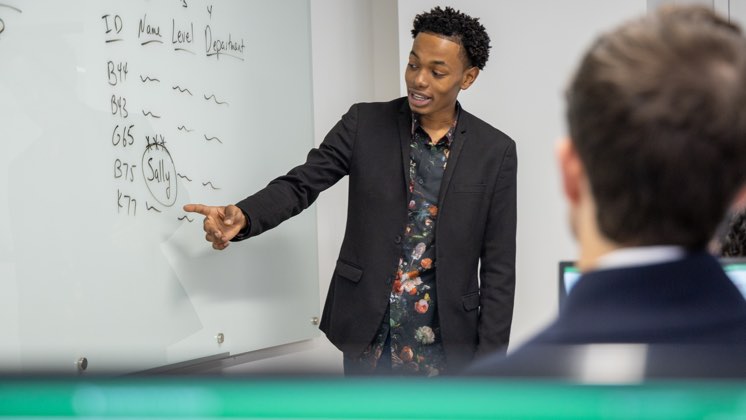 Workbook Included

Students get a custom workbook with step-by-step instructions.

Computer Provided

Modern computer classroom with your choice of Mac or PC to work on.

Small In-Person Classes

Get personalized attention in small groups with an expert instructor in the classroom.

Free Retake

Refresh the course materials within six months for free as long as there's space in the class.
What You'll Learn
Create layouts with text, color, and graphics
Create a 2-page magazine spread
Style text, use color swatches, and format paragraphs
Full Course Syllabus
Download PDF Outline
Letter Creation
Setting Preferences
The Control Panel
Text Frames
Basic Text Attributes
Basic Keyboard Shortcuts
Advanced Word Processing/Formatting
Magazine Ad
Setting up a Document Bleed
Placing Images
Combining Text and Images
White Type on a Black Background
More Text Styling
Baseline Shift
Small Caps
Line Tool
Making Proper Fractions
2–Page Magazine Ad
Facing Pages
Color Swatches
Defining Colors
Multiple Column Ad with Text Wrap
Multiple Text Columns
Drop Caps
Baseline Grid
Text Wrap
The Lawyer Joke Book: Setting it Up
Master Pages
Automatic Page Numbers
Automatic Text Flow
Running Heads
The Lawyer Joke Book: Styling the Text
Paragraph Rules
Baseline Grid
Find/Change with Paragraph Formatting
Frequently Asked Questions
Do I need to bring a computer?

No. We provide a computer with the necessary software for each attendee. Choose a Mac or a PC during the checkout process.

Are discounts available for this course?

No. This course is not eligible for any discounts.

We offer discounts for packages of classes, including our Excel Bootcamp, SQL Bootcamp, Data Analytics, and PowerPoint Bootcamp.

We also provide discounts for ten or more classes purchased together. Please reach out for more information on our voucher programs.

Does this course come with a book?

Yes. This course includes a complimentary book or manual at no additional cost.

What if I need to retake this course? May I retake it for free?

Yes. You may retake this course for free once within six months, provided that the class is running with an available seat. For more information, visit our policies page.