Adobe InDesign Bootcamp
Adobe InDesign Training Classes in NYC
This bootcamp focuses on the most essential and in-demand InDesign skills on the market.
By the end of the course, students feel confident using tables and columns effectively for publication in books, news, magazines, and more.
Likewise, students learn to create advanced text styles, use XML with InDesign, manage color profiles, and work with 4-color printing.
This class is intended for those who want to take their InDesign knowledge to the next level. Whether you're interviewing for positions that require an advanced level of InDesign, or you're working in the print, advertising, or graphic design industries, our comprehensive curriculum will help you reach your goals.
This course is offered at our design school, Noble Desktop. View upcoming dates and register for this course directly on Noble Desktop's website.
Register at nobledesktop.com
$975
18 Hours
185 Madison Ave, 3rd Floor, NYC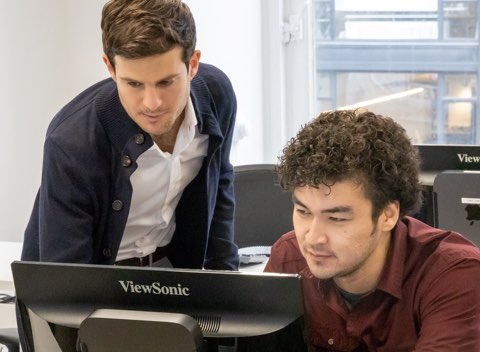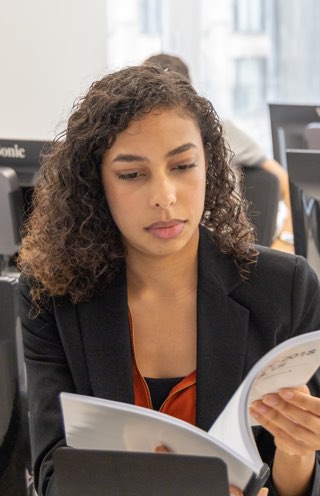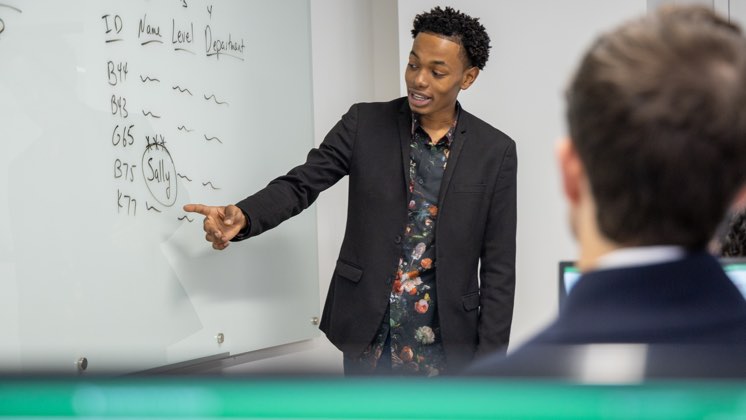 Workbook Included

Students get a custom workbook with step-by-step instructions.

Computer Provided

Modern computer classroom with your choice of Mac or PC to work on.

Small In-Person Classes

Get personalized attention in small groups with an expert instructor in the classroom.

Free Retake

Refresh the course materials within six months for free as long as there's space in the class.
What You'll Learn
Create layouts with text, color, and graphics
Create a 2-page magazine spread
Style text, use color swatches, and format paragraphs
Professional typesetting techniques
Book layout creation
Took advanced indesign class with Eugenio and he was awesome! I highly recommend him as an instructor.
Ari B. attended Adobe InDesign Bootcamp
Great teacher, great course, a lot of helpful info I will use in my job!
Daniel C. attended Adobe InDesign Bootcamp
Advanced Indesign - Great Class! Great Teacher! Very personal and attentive to every question you may have no matter your skill set.
James M. attended Adobe InDesign Bootcamp
This experience was a great one. I learned everything I was hoping to and then some and this was the Advanced class! Eugene applies the class to our backgrounds and throws in extra tips for us. Great teacher! Very professional!
S.C. attended Adobe InDesign Bootcamp
I thought the class was wonderful and extremely informative. I would definitely train at NYIM again. Eugene was great! Overall, excellent experience....great class...great professor...very successful! Thanks so much. I really did enjoy the day!
D.L. attended Adobe InDesign Bootcamp
Eugenio, just wanted to thank you for helping me out today with the InDesign, it went really well and I appreciate your patience. I feel much more comfortable going forward. Thanks so much!
C.J. attended Adobe InDesign Bootcamp
Eugene was an excellent instructor. Very thorough, very clear, and very attentive to the students if they ran into any problems. I found him very easy to follow, and feel like I learned a lot of material.
J.J. attended Adobe InDesign Bootcamp
Full Course Syllabus
Download PDF Outline
Section 1
Letter Creation
Setting preferences
The Control panel
Text frames
Basic text attributes
Basic keyboard shortcuts
Large Type Letter
More Text Styling
Baseline shift
Small caps
The Line tool
Making proper fractions
Magazine Ad
Setting up a document bleed
Placing images
Combining text & images
White type on a black background
Advanced Word Processing/Formatting
Section 2
Kerning/Tracking
Optical vs. metric kerning
Kerning vs. tracking
Manual kerning
2-Page Magazine Ad
Facing pages
Color swatches
Defining colors
Sporktown Brochure
Placing text, photos, & illustrations
Gradient swatches
Drop shadows
Alignment
Text wrap
Section 3
Professional Typesetting Techniques
Bulleted lists
Hanging bullets
Hyphenation
Discretionary hyphens
Special break characters
Drawing Bézier Curves
The Pen tool
Segments, anchor points, & curves
Multiple Column Ad with Text Wrap
Multiple text columns
Drop caps
The baseline grid
Text wrap
Magazine Cover
Placing transparent art
Defining & using color swatches
Type on a path
Section 4
Style Sheets in a Magazine Article
Paragraph styles
Character styles
Nested styles
Tables
Placing Excel tables (with their formatting)
Table headers
Formatting tables (fills, strokes, etc.)
Reordering table cells
Anchored Frames
Anchoring frames so they reflow with text
Positioning anchored objects
Section 5
Leaders Magazine: Master Pages & 1st Article
Master pages
Spanning columns
Step & repeat
Paragraph & character styles
Leaders Magazine—Libraries & More
Leaders Magazine: Searches & Spell Check
Spell checking
Find/change
Section 6
The Lawyer Joke Book: Setup
Master pages
Automatic page numbering
Automatic text flow
Running heads
The Lawyer Joke Book: Styling the Text
Paragraph rules
The baseline grid
Find/change with paragraph formatting
Creating a Table of Contents
Defining & building a table of contents
Formatting & updating a table of contents
Books: Creating
Using multiple files to create a book
Synchronizing files
Books: Auto Page Numbering
Auto page numbering across files
Frequently Asked Questions
Do I need to bring a computer?

No. We provide a computer with the necessary software for each attendee. Choose a Mac or a PC during the checkout process.

Are discounts available for this course?

No. This course is not eligible for any discounts.

We offer discounts for packages of classes, including our Excel Bootcamp, SQL Bootcamp, Data Analytics, and PowerPoint Bootcamp.

We also provide discounts for ten or more classes purchased together. Please reach out for more information on our voucher programs.

Does this course come with a book?

Yes. This course includes a complimentary book or manual at no additional cost.

What if I need to retake this course? May I retake it for free?

Yes. You may retake this course for free once within six months, provided that the class is running with an available seat. For more information, visit our policies page.
InDesign Bootcamp Classes in New York City
Through expertly led, hands-on lessons, you'll master how to create dynamic page layouts for books, magazines, advertisements, and more. You'll be able to package your files and generate PDFs for print or web. Lessons include but are not limited to: paragraph/character styles, master pages, baseline grid, hyphenation, libraries, tables, and essential techniques for professional typesetting.