Microsoft Access Level III
Advanced Microsoft Access Courses in NYC
You've covered many of the basic functions of Microsoft Office Access 2016, and now you're ready to learn advanced Access features such as database management, advanced form design, packaging a database, encrypting a database, preparing a database for multi-user access, and more. Knowledge of these features separate database professionals from the casual database users or occasional designers. Today's training, added to that which you've gained from the Microsoft Office Access 2016: Part 1 and Microsoft Office Access 2016: Part 2 courses, rounds out your Access education and provides you with marketable job skills.
Register for a Class
Choose a date below to add it to your cart. At checkout, you can change the quantity for multiple registrants, add other classes, and change your dates.
$229
7 Hours
185 Madison Avenue, NYC
Corporate training available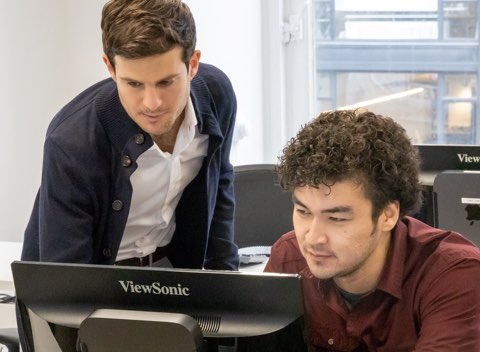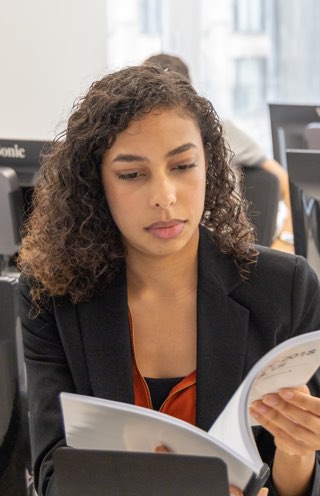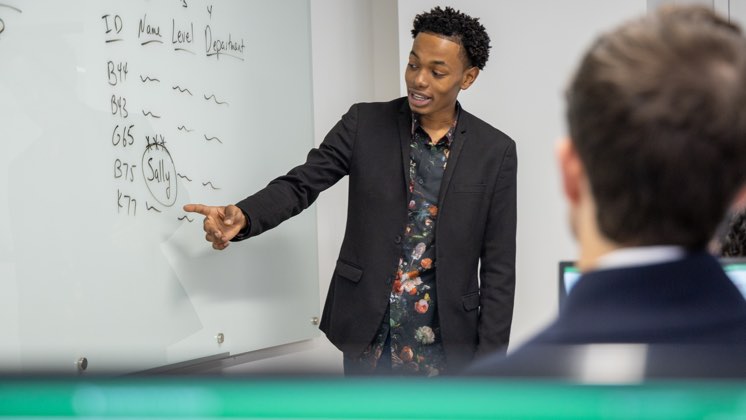 Workbook Included

Students get a custom workbook with step-by-step instructions.

Computer Provided

Modern computer classroom with a PC for each student to work on.

Small In-Person Classes

Get personalized attention in small groups with an expert instructor in the classroom.

Free Retake

Refresh the course materials within six months for free as long as there's space in the class.
What you'll learn
Customize a form layout to improve usability and efficiency of data entry
Share data across applications
Use macros to improve user interface design
Use VBA to enhance tasks
Organize data into appropriate tables to ensure data dependency and minimize redundancy
Lock down and prepare a database for distribution to multiple users
Create and modify a database switchboard and set the startup options
Full Course Syllabus
Download PDF Outline
Lesson 1: Implementing Advanced Form Design
Topic A: Add Controls to Forms
Topic B: Enhance Navigation and Organization of Forms
Topic C: Apply Conditional Formatting
Lesson 2: Sharing Data Across Applications
Topic A: Import Data into Access
Topic B: Export Access Data
Topic C: Link Tables to External Data Sources
Topic D: Create a Mail Merge
Lesson 3: Using Macros to Improve User Interface Design
Topic A: Create a Macro
Topic B: Restrict Records Using a Condition
Topic C: Validate Data Using a Macro
Topic D: Automate Data Entry Using a Macro
Lesson 4: Using VBA
Topic A: Getting Started with VBA
Topic B: Enhance Access Using VBA
Lesson 5: Using Advanced Database Management
Topic A: Manage a Database
Topic B: Determine Object Dependency
Topic C: Document a Database
Lesson 6: Distributing and Securing a Database
Topic A: Splitting a Database for Multiple User Access
Topic B: Implement Security
Topic C: Convert an Access Database to an ACCDE File
Topic D: Package a Database with a Digital Signature
Lesson 7: Managing Switchboards
Topic A: Create a Database Switchboard
Topic B: Modify a Database Switchboard
Topic C: Set Startup Options
Frequently Asked Questions
Do I need to bring a computer?

No. We provide a computer with the necessary software for each attendee. This course is available on Windows PC only.

Are discounts available for this course?

No. This course is not eligible for any discounts.

We offer discounts for packages of classes, including our Excel Bootcamp, SQL Bootcamp, Data Analytics, and PowerPoint Bootcamp.

We also provide discounts for ten or more classes purchased together. Please reach out for more information on our voucher programs.

Does this course come with a book?

Yes. This course includes a complimentary book or manual at no additional cost.

What if I need to retake this course? May I retake it for free?

Yes. You may retake this course for free once within six months, provided that the class is running with an available seat. For more information, visit our policies page.