MySQL Bootcamp
MySQL Classes in NYC
With SQL you can answer questions using a database, the ultimate system of record for most organizations. As nearly every industry is moving toward being more data-driven, having this skill will give you a larger role in decision-making wherever you work.
This course will teach you how to explore, modify, and export data from a database. You'll be introduced to foundational concepts like tables, data types, and queries. Once you understand the basics of viewing tables, you'll be introduced to more advanced querying techniques like filtering and aggregating. You will be able to drill down into specific cases or step back and see larger patterns.
You'll also learn how to combine information from different tables using join statements and views. The final day of the course will cover advanced techniques like creating subqueries and stored procedures.
Class Notes & Related Courses
This course will use MySQL, an advanced open-source database.
Concepts from this course will apply equally to other databases such as Postgres and SQL Server, with the minor syntax differences noted during class.
A PC with MySQL will be provided for use during the class.
Register for Postgres SQL Bootcamp at our coding school, Noble Desktop. For courses in SQL Server, see all our SQL classes and our SQL Server Bootcamp.
Register for a Class
Choose a date below to add it to your cart. At checkout, you can change the quantity for multiple registrants, add other classes, and change your dates.
$975
18 Hours
185 Madison Avenue, NYC
Corporate & private training available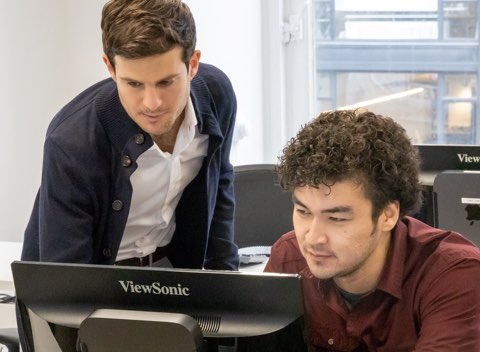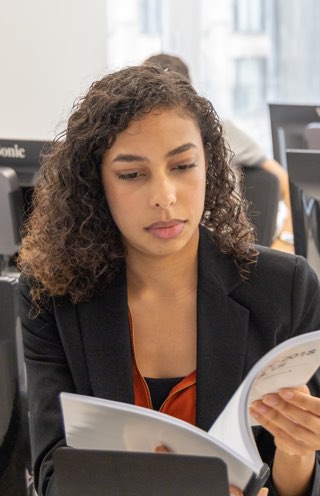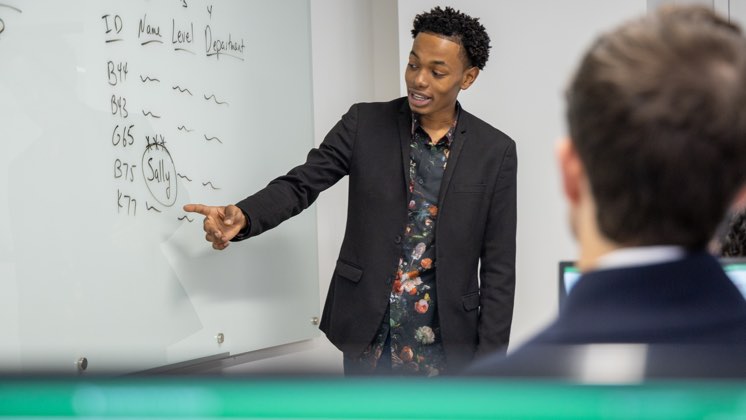 Workbook Included

Students get a custom workbook with step-by-step instructions.

Computer Provided

Modern computer classroom with a PC for each student to work on.

Small In-Person Classes

Get personalized attention in small groups with an expert instructor in the classroom.

Free Retake

Refresh the course materials within six months for free as long as there's space in the class.
What You'll Learn
Explore and alter data using a graphical user interface
Write queries to search through tables programmatically
Understanding various data types and convert data between them
Combine information across tables with join statements
Advanced techniques like subqueries and stored procedures
Full Course Syllabus
Download PDF Outline
Introduction to MySQL
What is a database and why do we need SQL?
Top 5 problems in Excel and why using SQL solves this problem
Should we import from Excel and why? How it is done?
Create a link to Excel spreadsheet with MySQL?
Tables & Queries
How to Create Tables 101
SQL Data Types
Primary Keys
Null values and Not Null Values
Auto Increment
How to Create a Basic Query
Use the Where clause
Conditional statements
Multiple conditions
Comparison Operators
Logic Values
Null Values
Patterns also known as Wildcard characters
Compare Column Values
Advanced Queries
Distinct Values
Top Values
Date Functions
Date Calculations
Aggregate Functions
String Functions
Sort Data
Rank Data
Save a Query
Execute a Query
Modify a Saved Query
Data Wrangling
Group Data
Filtering Grouped Data
Summarize Group Data
Pivot and Unpivot Operators
Data Analytics
Joins
Inner Join
Left Join
Full Outer Join
Self-Join
Unions
Except and Intersect
Presenting and Making Sense of Query Results
Saving the Query Results and Exporting
Generating Reports
Tables & Queries
Importing and Exporting Data
Update Data
Queries
Distinct Values
Top Values
Subqueries with "In"
Inline Views
Views
Create a Simple View
With Check Option
Locks and Transactions
Exclusive Table Locks
Shared Table Locks
Using Variables
Setting Variables with Selects
Select/Update Example
Simple Transactions
MySQL Functions
String to Date and Date Format
Control Flow Functions
Casting Functions
Stored Procedures
Introduction to Stored Procedures
Changing the Delimiter
Editing a Stored Procedure
Variable Scope
A Data Generating Procedure
Triggers
Introduction to Triggers
Validating Triggers
Triggers and Transactions
User Defined Functions
Functions vs Procedures
User-Defined Functions
Frequently Asked Questions
Do I need to bring a computer?

No. We provide a computer with the necessary software for each attendee. This course is available on Windows PC only.

Are discounts available for this course?

No. This course is not eligible for any discounts.

We offer discounts for packages of classes, including our Excel Bootcamp, SQL Bootcamp, Data Analytics, and PowerPoint Bootcamp.

We also provide discounts for ten or more classes purchased together. Please reach out for more information on our voucher programs.

Does this course come with a book?

Yes. This course includes a complimentary book or manual at no additional cost.

What if I need to retake this course? May I retake it for free?

Yes. You may retake this course for free once within six months, provided that the class is running with an available seat. For more information, visit our policies page.