UX Design Bootcamp
Comprehensive UX Design Courses
Learn user experience design by applying the process to a real-life project that will provide your first portfolio piece. The project can be an app or website of your choosing. It can be your own app idea or a real-life project you are currently working on. See pictures of an actual UX class in action. If you don't have a project, we have samples for you. 
Practice the UX Design Process & Create a Prototype
You'll conduct user research, create user scenarios and personas, and build user flows. You'll sketch, wireframe, prototype and test with user interviews, then present your findings to the class. Along the way, you will document your process and work to create a case study that will go into your real-life portfolio. This intensive UX class prepares you to understand the basics of user experience practice through various methodologies and real-world projects. It will require some work outside of class.
Class Projects:
User Engagement: Conducting user interviews, creating user personas, and user scenarios
Concept Development: Building user flows, sketching, and wireframing
Iterative Process: Prototyping and testing
Client Engagement: Aligning with business goals and creating design recommendations
This UX Design Bootcamp is held at Noble Desktop, our design and coding school.
This course is offered at our design school, Noble Desktop. View upcoming dates and register for this course directly on Noble Desktop's website.
Register at nobledesktop.com
$1495
30 Hours
185 Madison Ave, 3rd Floor, NYC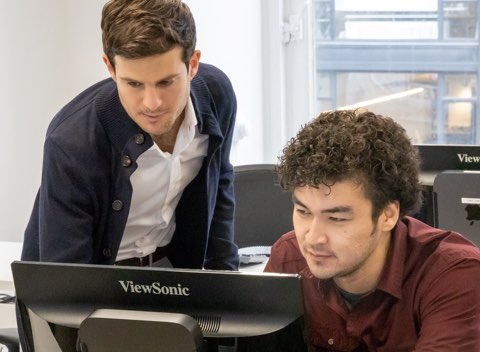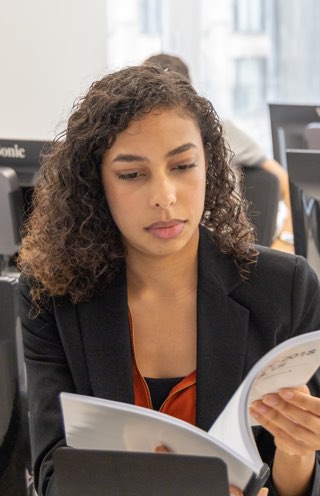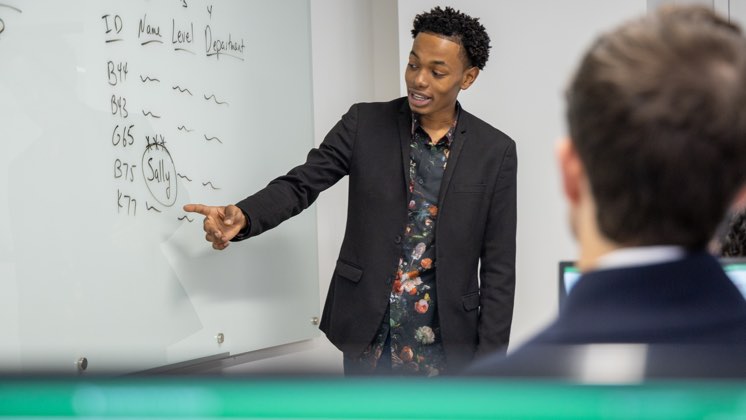 Workbook Included

Students get a custom workbook with step-by-step instructions.

Computer Provided

Modern computer classroom with a Mac for each student to work on.

Small In-Person Classes

Get personalized attention in small groups with an expert instructor in the classroom.

Free Retake

Refresh the course materials within six months for free as long as there's space in the class.
What You'll Learn
Understand user experience design practices & process
Gain new skills with user research, prototyping & testing
Learn & analyze existing processes to build your own toolkit
Create a design recommendation for a business owner/client
Create and build a clickable prototype
Conduct user research & analyze results
Sketch design solutions
Use Sketch & InVision to create clickable prototypes
Conduct user testing on your prototype to gain feedback
Full Course Syllabus
Download PDF Outline
Intersection of Design. Technology. Business.
Through critical analysis understand how user experience as a field sits in the intersection of different areas of the product.
What is the difference between User Experience Design and User Interface Design?
Learn about heuristics and apply heuristic evaluation to various websites, including CNN.com and AirBnB.com.
Competitive Research
Homework: Think about your class project. Select a new business idea, a current project, or choose a sample project from class.
Knowing Your User
Learn how to structure and conduct user interviews to better identify the needs and current behaviors of the user.
Understand how to engage the user to work through assumptions and preconceived notions that arise during the process.
Write down assumptions for your class project.
Homework: Interview 1–5 people about your project.
User Research Through Interviews
Review user research questions/review homework.
Refine user interview questions.
Interview classmates for your project.
Homework: Continue to refine interview questions and research. Interview more people about your project.
Refining User Research and Creating Personas
Create user personas from the interviews to represent the goals and behaviors of the users within the system.
Develop user scenarios to show when and how the user engages with the system.
Homework: Begin to synthesize results of user research.
Synthesis of User Research, Journey Maps, and User Flows
Continue to synthesize results of user research to find patterns.
Create a journey map for your project.
Think through the different features of the system by building user flows.
Take the written narrative to the next level through sketching and improvising using techniques such as storyboarding and bodystorming.
Homework: Refine your user flows.
Wireframing, Sketching, Prototyping
Practice a sketching session for an existing website or mobile application of your choice. Start with sketching on a whiteboard or your notebook.
Sketch wireframes for your class project.
Learn Sketch to create wireframes/prototypes.
Learn the power of prototyping and testing an idea. Understand different methods of prototyping and their levels of fidelity.
Discuss the motivation behind the prototyping, such as newly discovered user goals, business needs and improved functionality.
Homework: Finish all Sketch lessons. Finish prototyping your user flows.
Prototyping & User Testing
InVision for clickable prototypes.
Use Sketch and InVision to create a clickable prototype for your project.
User testing methods and strategies.
Do's and don'ts of user testing.
Do a user test on your project with a classmate.
Clearly list the assumptions and test your concepts. Work on multiple iterations of the prototype based on the test results.
Homework: Test your prototype on 1–5 users.
Iterating the Prototype and Further User Testing
Report conclusions based on user testing.
User testing reports.
Rework the prototype based on user testing conclusions.
Homework: Finish iterating the prototype based on user testing.
Building a Case Study
Finish clickable prototype.
Case study examples as web pages and PDFs.
Using a compilation of user research, prototypes, photographs, and user research, build your case study as either an HTML page or a PDF using the application of your choice.
Final Project Presentation + The Business of UX Design
Present class projects as case studies on-screen.
Getting into the business: strategies and ideas.
UX Resources
Frequently Asked Questions
Do I need to bring a computer?

No. We provide a computer with the necessary software for each attendee. This course is available on Mac only.

Are discounts available for this course?

No. This course is not eligible for any discounts.

We offer discounts for packages of classes, including our Excel Bootcamp, SQL Bootcamp, Data Analytics, and PowerPoint Bootcamp.

We also provide discounts for ten or more classes purchased together. Please reach out for more information on our voucher programs.

Does this course come with a book?

Yes. This course includes a complimentary book or manual at no additional cost.

What if I need to retake this course? May I retake it for free?

Yes. You may retake this course for free once within six months, provided that the class is running with an available seat. For more information, visit our policies page.