Premiere Pro Bootcamp
Beginner to Intermediate Adobe Premiere Pro Training
Adobe Premiere Pro is an industry standard tool of choice used by many professional video editors. In this 18-hour course, we'll take you from novice to advanced user through hands-on exercises in filmmaking and video editing.
We'll start with the basics, introducing you to Premiere Pro's interface and functionality.  We'll quickly progress through more intermediate features. You'll learn how to organize and import footage, exporting options, how to use the Timeline, create titles, work with PSDs, use audio tracks, and more. Then, we'll dive into more advanced features including multicam editing, color correction, speeding up footage, and stop-motion loops. By the end of the course, you'll be able to add Adobe Premiere to your design repertoire, and you'll have some portfolio-worthy projects under your belt.
This Premiere Pro Bootcamp is held at our design school in SoHo.
This course is offered at our design school, Noble Desktop. View upcoming dates and register for this course directly on Noble Desktop's website.
Register at nobledesktop.com
$975
18 Hours
185 Madison Ave, 3rd Floor, NYC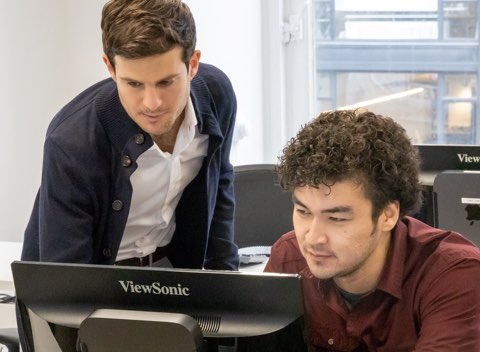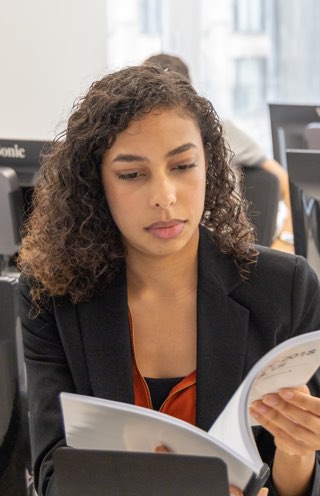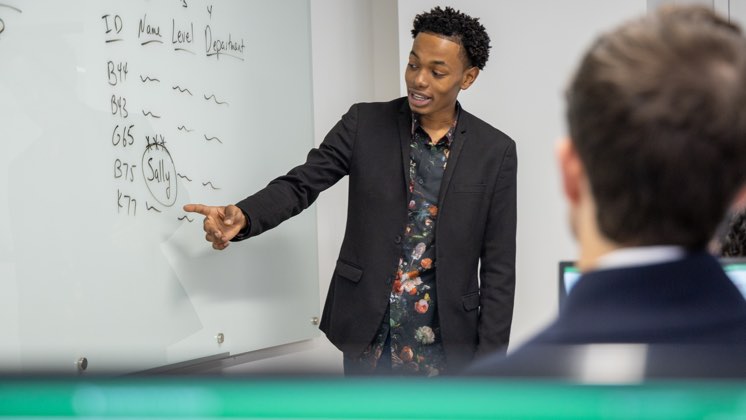 Workbook Included

Students get a custom workbook with step-by-step instructions.

Computer Provided

Modern computer classroom with your choice of Mac or PC to work on.

Small In-Person Classes

Get personalized attention in small groups with an expert instructor in the classroom.

Free Retake

Refresh the course materials within six months for free as long as there's space in the class.
What You'll Learn
Learn to cut and edit video & audio
Create a travel promo by integrating a logo graphic
Use a layered Photoshop file to create a title card
Sync a video sequence to a voiceover narration
Learn key video terminology
Export your videos for sharing
Multicam editing
Color correct video footage
Adjust the timing of footage (speed up and freeze-frame footage)
Create a looping animated GIF
Create a recipe how-to segment
Full Course Syllabus
Download PDF Outline
Section 1
Travel Video: Intro to Premiere Pro
Creating a new sequence
Importing files
Workspaces
Timecode
Adding audio to the timeline
Adding audio fades
Adding video
Travel Video: Transitions & Adding a Logo
Resizing a clip using Effect Controls
Using the Cross Dissolve transition
Adding a transparent logo
Using a tint effect
Working within title and action safety
Exporting
Shanarra Title Card
Adjusting audio volume
Importing a layered PSD file
Staggering layers in time
Adding animation
Adding a Linear Wipe effect
Rendering for playback
Adding text with the Type tool
Section 2
Zoo Promo: Working with Voice-Over
Adding voice-over & removing a section of audio
Adding music
Adjusting audio volume
Adding the photos & videos
Resizing a video
Setting in & out points in the timeline
Zoo Promo: Animations, Effects, & Transitions
Adding Zoom-In animation
Adjusting existing keyframes
The Slip Tool
Adjusting animation on the Cross Dissolve
Adding a Push Slide transition
Zoo Promo: Adding Subtitles & Exporting
Adding subtitles
Adding client revisions
Exporting
Section 3
Handy Promo: Adjusting Audio Keyframes
Editing Audio
Converting Mono Audio into Stereo
Adjusting Audio Levels Using Keyframes
Handy Promo: Adding Camera Moves & Effects
Creating a Content Edit
Adding Camera Moves
Retiming Footage
Color Balance Effect
Animating a Logo Clip
Handy Promo: Dynamically Linking to After Effects
Dynamically Linking to After Effects
Adding a Drop Shadow Effect
Exporting
Section 4
Express Jeans Promo Video
Creating a Stop-Motion Photo Sequence
Rotating a Nested Sequence
Using an Opacity Mask
Applying the Ultra Key Effect
The Color Workspace
Creating an Export Preset
Office Man: Greenscreen Removal
Keying the Background
Creating a Subsequence from an Existing Clip
Adding Motion Blur with the Transform Effect
Office Man: Audio & Color Correction
Adding Audio Panner Animation
Color Correction in the Lumetri Color workspace
Exporting
Section 5
Muffins Recipe Video: Adding Audio & Video
Editing Audio
Adjusting Audio Levels
Selecting Video Footage
Muffins Recipe Video: Retiming Video
Importing a Sequence From Another Project
Creating a Title Card From a Still
Retiming Footage
Freeze-framing Footage & the Ripple Edit Tool
Muffins Recipe Video: Adding Text Graphics
Adding Title Text
Importing the Rest of the Titles
Exporting With Media Encoder
Section 6
The Interview: Creating a Multicam Sequence
Syncing clips
Creating the Multicam
Using a different audio track
Organizing the Project Panel
Editing audio
Editing video
The Interview: Adding Titles, Transitions, & Editing Music
Importing the Title Sequence
Adding text
Adding a Dip to Black transition
Adjusting Audio
Adding Background Music
The Interview: Color Correction
Clip Color Correction using Lumetri Color in Effect Controls
Exporting
Frequently Asked Questions
Do I need to bring a computer?

No. We provide a computer with the necessary software for each attendee. Choose a Mac or a PC during the checkout process.

Are discounts available for this course?

No. This course is not eligible for any discounts.

We offer discounts for packages of classes, including our Excel Bootcamp, SQL Bootcamp, Data Analytics, and PowerPoint Bootcamp.

We also provide discounts for ten or more classes purchased together. Please reach out for more information on our voucher programs.

Does this course come with a book?

Yes. This course includes a complimentary book or manual at no additional cost.

What if I need to retake this course? May I retake it for free?

Yes. You may retake this course for free once within six months, provided that the class is running with an available seat. For more information, visit our policies page.