Business Analyst Certification
Business Analyst Certification Courses NYC | Business Analyst Certification Classroom Training
Taught by an experienced professional practitioner, the objective of the Business Analyst Training Program is to provide you with the best launchpad for a successful Business Analyst Career!
Having a technology background is not a pre-requisite for this course. The curriculum step-by-step covers the business analysis core concepts as applied in both traditional Waterfall and Agile based methodologies.
In this course, every exercise and template is designed to provide you practical insights for interview and job readiness. Your trainer is a PMI Certified Agile, Project, Program and Risk Manager with a track record of over 17 years in delivering solutions at leading financial institutions and innovative startup companies.
Register for a Class
Choose a date below to add it to your cart. At checkout, you can change the quantity for multiple registrants, add other classes, and change your dates.
Call for pricing
28 Hours
185 Madison Avenue, NYC
Corporate & private training available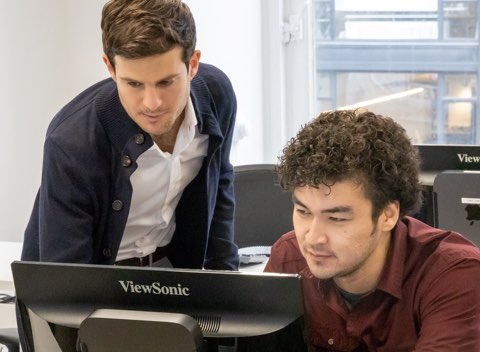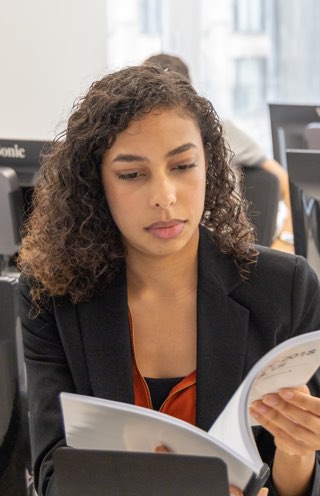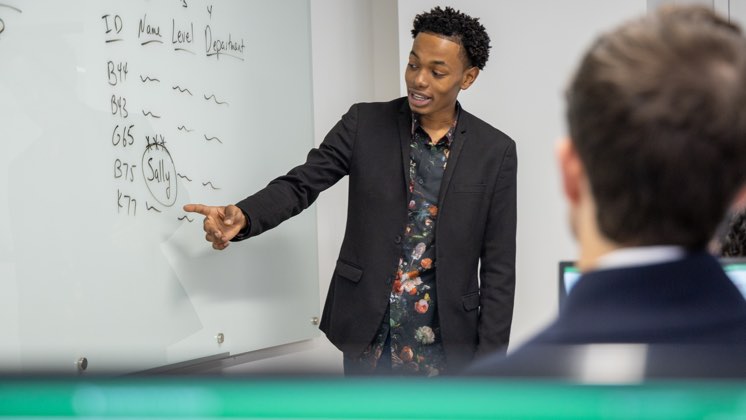 Workbook Included

Students get a custom workbook with step-by-step instructions.

Computer Provided

Modern computer classroom with your choice of Mac or PC to work on.

Small In-Person Classes

Get personalized attention in small groups with an expert instructor in the classroom.

Free Retake

Refresh the course materials within six months for free as long as there's space in the class.
What You'll Learn
Intro to Business Analysis
Business Analyst Modeling
Business Analyst Tools
Business Analyst Careers
Full Course Syllabus
Download PDF Outline
Intro to Business Analysis
Introduction to Business Analysis
What is Business Analysis
Introduction to Software Development Lifecycle (SDLC)
Basic Concepts of Business Analysis
Key Concepts in Business Analysis
Project Kick-off
Requirements Gathering Techniques
Needs Assessment Techniques
Requirements Elicitation Techniques
Business Analyst Modeling
Introduction to Prototyping
Requirements Modellinig Techniques
What is Modelling?
Introduction to Unified Modelling Language (UML)
Business/Functional Requirements Document
Requirements Documentation
Business Analyst Tools
Quality Assurance for Business Analysts
Overview of Software Quality Assurance
Introduction to Software Testing Life Cycle (STLC)
Role of BA in Testing
Types of Testing Environment Levels
Types of Functional Testing Methods
Performance Testing (discussion based upon practical examples)
Testing Strategy
Test Cases
Defect Analysis and Reporting
Overview of a Test Plan
BA Toolkit - Software Toolset for Business Analysts
Tools for small to medium sized projects
Tools for enterprise-wide large scale projects
Links to Requirements Management Tools
Top BA Resources and Websites
Class Exercise #3: Interactive discussion about common software tools used by Business Analysts)
Other Activities and Project Management Touchpoints for Business Analysts
Scrum Artefacts
Work Breakdown Structure (WBS)
Project Plan (Gantt Chart Example)
Meeting Agenda, Minutes
Status and Timesheet Reporting
Release Notes, User Guides
Business Analyst Careers
BA Career Path
What is the Business Analyst Career Path?
Overview of IIBA
IIBA Business Analyst Career Role Definitions
BABOK Knowledge Areas
Certification Levels
ECBA Quiz (Class Exercise #1: Class Quiz based upon ECBA Sample Questions)
ECBA Exam Preparation Guidelines
Resume Prepration Guide
Key Concepts in Business Analysis
Job Search Techniques and Practical Tips
Breakdown of Sample Job Posting
Resume Sample Layout
Cover Letter Key Elements and Samples
BA Soundbites for Recruiters
Professional References
Post Interview Thank you Letter
Hands on help with resume preparation (Class Exercise #2)
Compilation of Job Portfolio Samples based upon documents used in training
Interview Prepration Guide
Field tested thorough and detailed interviewing techniques
Interactive Q&A based format
Handout: List of 50 common BA interview questions with suggested possible answers
Conducting research about the company
Workforce preparation and readiness assessment
Mock interview
Frequently Asked Questions
Do I need to bring a computer?

No. We provide a computer with the necessary software for each attendee. Choose a Mac or a PC during the checkout process.

Are discounts available for this course?

No. This course is not eligible for any discounts.

We offer discounts for packages of classes, including our Excel Bootcamp, SQL Bootcamp, Data Analytics, and PowerPoint Bootcamp.

We also provide discounts for ten or more classes purchased together. Please reach out for more information on our voucher programs.

Does this course come with a book?

Yes. This course includes a complimentary book or manual at no additional cost.

What if I need to retake this course? May I retake it for free?

Yes. You may retake this course for free once within six months, provided that the class is running with an available seat. For more information, visit our policies page.