Microsoft Access Bootcamp
Beginner Microsoft Access Courses in NYC
If you want to master intermediate and advanced functions of Microsoft Access quickly, this bootcamp is the perfect place to start.
In this two-day, 14-hour course, you'll go from learning the Access interface to using advanced reporting techniques. For professionals that are new to Access or need a refresher, the Microsoft Access bootcamp provides quick and efficient training.
Register for a Package
Customize your own schedule (choose dates at checkout), or choose a preset package track by expanding the dates below.
$458

$458
14 Hours
185 Madison Avenue, NYC
Corporate training available
Custom Schedule

Feb 24–25

Microsoft Access Level I

Monday, Feb 24, 10am–5pm

Microsoft Access Level II

Tuesday, Feb 25, 10am–5pm

May 21–22

Microsoft Access Level I

Thursday, May 21, 10am–5pm

Microsoft Access Level II

Friday, May 22, 10am–5pm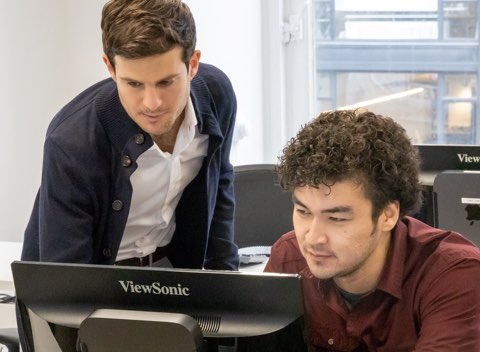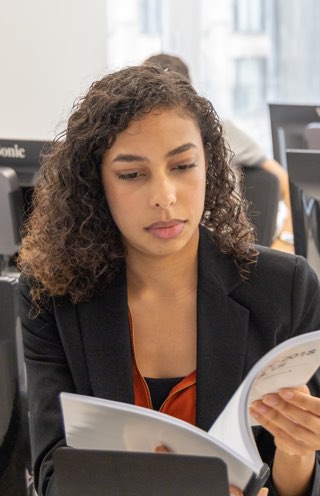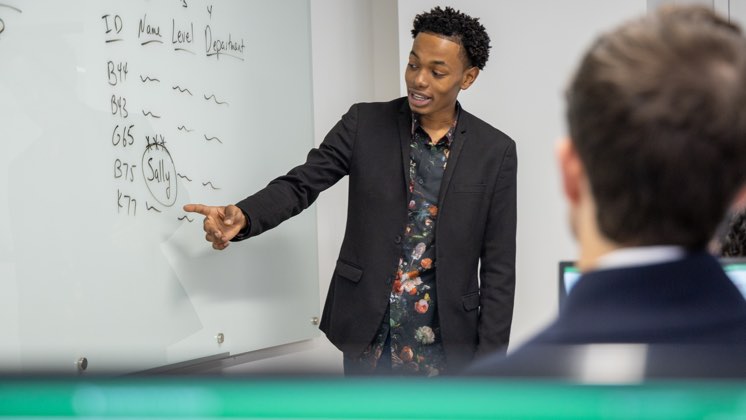 Workbook Included

Students get a custom workbook with step-by-step instructions.

Computer Provided

Modern computer classroom with a PC for each student to work on.

Small In-Person Classes

Get personalized attention in small groups with an expert instructor in the classroom.

Free Retake

Refresh the course materials within six months for free as long as there's space in the class.
The Microsoft Access Bootcamp includes
Microsoft Access Level I
The course begins by reviewing the core features and functions of the Access database, so if you've never used Access, it's the perfect place to start! By the end of the course, you'll know how to work with tables, query data, create forms, and generate reports. You'll have skills to use Microsoft Access for everyday tasks.
Microsoft Access Level II
In Microsoft Access Level II, you'll learn how to write advanced queries and organize your database for maximum efficiency. If you've taken Microsoft Access Essentials or already understand the basics, this is the perfect course for you. At the end of this intermediate Microsoft Access class, you'll be able to join tables, implement data validation techniques, and use advanced reporting functions.
I took a Microsoft Access class with Garfield. He was a great teacher and I learned an incredible amount in just 2 days. I was also given a packet that summarizes everything that was taught, which will be very helpful when I transfer the training to my job. I would highly recommend taking this class!
Adam F. attended Microsoft Access Bootcamp
Thoroughly enjoyed NYIM's Excel and Access Bootcamp; Garfield and Peter, the intermediate/advanced Excel/ Access instructors, respectively, were truly subject matter gurus! They both went above and beyond to explain context and purpose behind using Excel/Access - and shared many best practices + free ongoing resources along the way. Recommend without hesitation NYIM, the Excel/Access courses. (One logistical insight that may be helpful to anyone reading this - is to take the classes sequentially, on back-to-back days, if possible. Ie. Enrolling in the Excel Courses Tuesday-Thursday, without a day of break. This was quite beneficial to the learning process). 5/5 Stars all around!
Joseph S. attended Microsoft Access Bootcamp
Full Course Syllabus
Download PDF Outline
Day One
Lesson 1: Exploring Access Environment
Overview of database concepts
Exploring the User Interface
Opening an Existing Database
Customizing the Access Environment
Lesson 2: Designing a Database
Define Database Purpose
Review Existing Data
Determine Fields
Group Fields into Tables
Normalize Data
Lesson 3: Creating a Relational Database in Access
Creating a New Database
Creating a Table
Manage Tables
Create a Table Relationship
Saving the Table Structure
Save a Database as a Previous Version
Lesson 4: Managing Data in a Table
Modify Table Data
Sort Records
Work with Subdatasheets
Lesson 5: Querying a Database
Filter Records
Exploring Query Types
Creating and Running a Query
Updating Data Using a Query
Summarizing Data in a Query
Lesson 6: Designing Forms
Creating a Form Using the Forms Wizard
Changing a Form's AutoFormat
Finding Data Using a Form
Maintaining Table Data Using a Form
Filtering Data in a Form
Lesson 7: Working With Reports
The Report Window
Exploring Report Types
Creating a Report Using the Report Wizard
Grouping Data within a Report
Summarizing Data in a Report
Formatting Report Detail and Printing Reports
Day Two
Lesson 1: Controlling Data Entry
Restrict Data Entry Using Field Properties
Establish a Pattern for Entering Field Values
Create a List of Values for a Field
Lesson 2: Joining Tables
Create Query Joins
Join Unrelated Tables
Relate Data Within Table
Lesson 3: Creating Flexible Queries
Set Select Query Properties
Create Parameter and Action Queries
Lesson 4: Improving Forms
Create a Form Layout
Restrict Data Entry in Forms
Add a Command Button to a Form
Create a Subform
Lesson 5: Customizing Reports
Organize Report Information
Formatting and Setting Report Control Properties
Summarize Report Information
Create a Mailing Label Report
Lesson 6: Sharing Data Across Applications
Import Data into Access
Export Data
Analyze Access Data in Excel
Export Data to a Text File
Merge Access Data with a Word Document
Frequently Asked Questions
Do I need to bring a computer?

No. We provide a computer with the necessary software for each attendee. This course is available on Windows PC only.

Are discounts available for this course?

This program is a discounted package of classes that is 15–25% off the individual class prices.

Does this course come with a book?

Yes. This course includes a complimentary book or manual at no additional cost.

What if I need to retake this course? May I retake it for free?

Yes. You may retake this course for free once within six months, provided that the class is running with an available seat. For more information, visit our policies page.