SQL Level I
SQL Classes for Beginners
Learn how SQL is used within relational database management systems. Connect to SQL Server and write queries with conditions. Use functions to calculate data before it's presented on screen. In SQL Level 1, you'll learn everything you need to write SQL queries on your own.
If you're committed to learning SQL, check out our three-day SQL bootcamp, which includes our beginner, intermediate and advanced classes at a 15% discount!
More on SQL Level 1
This course provides essential training in the basics of three core components:
Relational DBMSs: Gain a solid understanding of Relational Database Management Systems (RDBMSs) and how they are structured.
SQL: Begin writing SQL code, including SELECT statements. Learn to sort, filter, and produce analysis based on your data and queries.
Microsoft SQL Server: Launch SQL Server and learn how to use SQL within one of the most popular DBMSs used worldwide.
You will work through practical hands-on exercises, writing real SQL code and reinforcing your knowledge of database architecture along the way. At the end of this course, you'll understand how to write SQL queries in Microsoft SQL Server and apply your skills to other DBMSs that are compatible with SQL, such as MySQL. The course includes our custom manual as well as a free retake within months. 
Register for a Class
Choose a date below to add it to your cart. At checkout, you can change the quantity for multiple registrants, add other classes, and change your dates.
$325
8 Hours
185 Madison Avenue, NYC
Corporate training available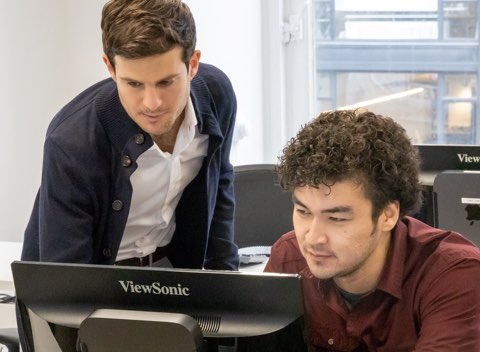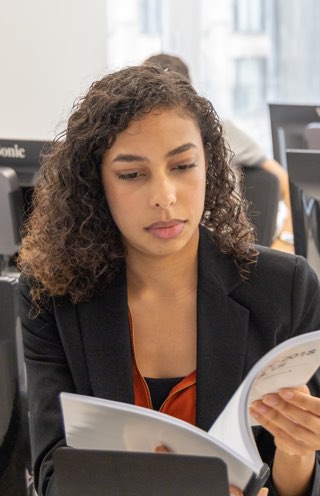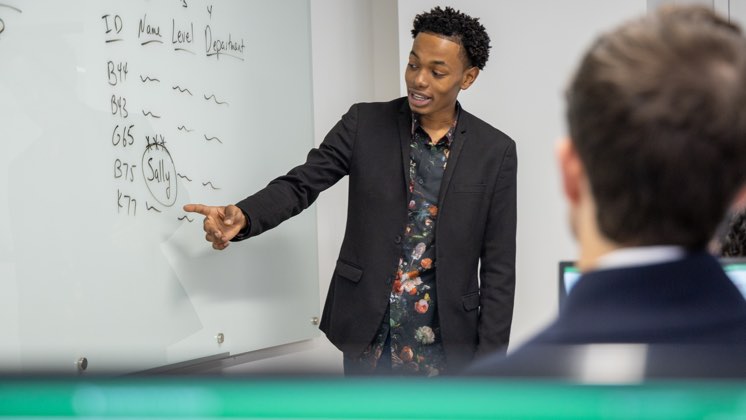 Workbook Included

Students get a custom workbook with step-by-step instructions.

Computer Provided

Modern computer classroom with a PC for each student to work on.

Small In-Person Classes

Get personalized attention in small groups with an expert instructor in the classroom.

Free Retake

Refresh the course materials within six months for free as long as there's space in the class.
What You'll Learn
Fundamentals of Relational Databases
What is SQL and SQL Server?
Major clauses including SELECT and FROM
Sort data with ORDER BY clause
Filter and group data with WHERE, GROUP BY, HAVING
Simplify queries with aliases
Extract data with queries
Use inner joins to pull data from multiple tables
Summarize data with aggregate functions: SUM, AVERAGE, MIN, MAX, COUNT
I took a SQL level 1 class on a Saturday and it was soo helpful. The instructor was humorous, extremely knowledgeable, and was an efficient communicator. He knew exactly how SQL was utilized in a real-world business aspect and was able to give examples of times you'd need to use certain queries and how they can be used most effectively.
Eric B. attended SQL Level I
I had self taught myself SQL while on the job a couple of years ago. I took this as a refresher since I haven't used SQL in a while and I left learning a lot more b/c I finally understood why everything worked a certain way.
Judy Y. attended SQL Level I
Jeanette is a really wonderful teacher who is very helpful and explains SQL material very well.
Jenyu W. attended SQL Level I
SQL level one is very comprehensive and covers a lot of ground.
Kyle S. attended SQL Level I
The SQL I class was thorough, enjoyable, and made learning SQL easy! Will definitely continue the SQL courses and come back for Python. Great teachers and classrooms.
brianna s. attended SQL Level I
I felt that this class was a great introduction to SQL, coming from someone who had very little exposure to it before the class. They broke it down for us in a very comprehensible manner and provided examples along the way that we could practice. I look forward to taking Level 2!
Alie R. attended SQL Level I
I took the SQL Level 1 course and had a great experience. The course was very thoughtfully laid out, with easy to follow materials provided. The teacher was great and answered all questions well. Overall, I definitely recommend the course and will be taking more courses from NYIM in the future.
Chris G. attended SQL Level I
SQL Level 1 is a great course to introduce you to writing SQL queries. Starting with the basics, by the end you will understand complex queries with inner or outer joins. Peter was our instructor and his customized course material is very well laid out with practical examples. You work on a local sample database, so you can type notes and test your queries to better understand the output you get. The facility is neat, the equipment is fairly new and ready to use, and beverages are provided.
Martie B. attended SQL Level I
Took the SQL level 1 course with no prior knowledge. It was extremely helpful and it went a pace slow enough for me to understand, while being fast enough that I did not get bored.
Jack D. attended SQL Level I
SQL level 1 was a great class to introduce SQL and to practice it. The instructor, Peter, was very informative and made sure we understood the concepts before moving on. He did a great job of testing our knowledge throughout the class.
Great beginners class! The instructor was entertaining as she taught. Learned the fundamentals! I would definitely recommend this course.
Randie S. attended SQL Level I
The class was very informative, the instructor was very detailed & I highly recommend the course for all SQL beginners.
Kevin M. attended SQL Level I
I took SQL Levels 1, 2 and 3 with Peter. He is a great instructor who provides practical training you experience with databases. He was very clear with the explanations. Highly recommended!
Naveed K. attended SQL Level I
This class was a great introduction. The instructor made the material relevant and fun. He did a great job reinforcing the basics and laying the groundwork to continue advancing with next course levels.
Colleen M. attended SQL Level I
Very informative, great teacher, one good thing is you can retake once for no cost.
Michael G. attended SQL Level I
Full Course Syllabus
Download PDF Outline
Basic Concepts
1) Microsoft SQL Server
2) What is SQL?
3) What are Relational Databases?
The Graphic User Interface
4) Object Explorer
5) Query Window
6) Results Grid
7) Options
The Code
8) Basic Clauses
9) Field and Table Aliases
10) Creative use of Aliases
11) Inner Table Joins
12) Aggregations
13) Distinct Records
14) Text Criteria & Operators
15) Wildcard Filters
16) Numeric Criteria & Operators
Student Labs
Frequently Asked Questions
Do I need to bring a computer?

No. We provide a computer with the necessary software for each attendee. This course is available on Windows PC only.

Are discounts available for this course?

No. This course is not eligible for any discounts.

We offer discounts for packages of classes, including our Excel Bootcamp, SQL Bootcamp, Data Analytics, and PowerPoint Bootcamp.

We also provide discounts for ten or more classes purchased together. Please reach out for more information on our voucher programs.

Does this course come with a book?

Yes. This course includes a complimentary book or manual at no additional cost.

What if I need to retake this course? May I retake it for free?

Yes. You may retake this course for free once within six months, provided that the class is running with an available seat. For more information, visit our policies page.
Beginner SQL Classes New York City
Learn database fundamentals—Write Database Queries with SQL
SQL is the most commonly used coding language in databases around the world. SQL Level I covers the fundamentals of relational databases, Microsoft SQL Server, and the SQL database language. Learn how databases store data within tables and how to write queries to understand data.
At the end of this course, you'll be able to do the following:
Define a database and describe how it manages data
Explain the difference between SQL and DBMSs
Connect and write queries using Microsoft SQL Server
Write SQL queries
Save 15% and Become a SQL Expert in 3 Days!
Is your ultimate goal to become a SQL pro? Go from Beginner to Expert in three days with our SQL bootcamp. You'll start out with the same basic training in SQL fundamentals, and quickly move to advanced functions and creating SQL databases and storing SQL code to automate workflow. Best of all, you'll save 15%!
Our experienced instructor will guide you through a variety of queries, including wildcard filters and multi-table queries with inner and outer joins. At the end of the class, apply the skills you've learned in a series of practice tasks. Our course workbook includes step-by-step instructions for each activity so you can brush up on the tasks at work or home.
Why Take SQL Classes in NYC at NYIM?
At NYIM, we provide everything you need for SQL Level 1. Exploring SQL and not sure if you're ready to commit? This is the perfect course for you. We supply computers (PC), SQL software, and course workbooks for each student that enrolls in our classes.
Within six months of completing the class, you can retake the course again at no additional charge. SQL Level 1 is the perfect course for beginners or individuals that would like to know the basics of databases and queries.