Microsoft Master Certification Program with Access
Microsoft Certification Classes & Exams in NYC
This Microsoft Certification Program will get you certified in Excel, PowerPoint, Word, and Access. The package includes seven group classes, six hours of private training, and four Microsoft certification exams. Each group class and exam comes with a free retake, and you'll also receive the MOS study guides.
Registration: Check out with "Flexible Scheduling." Then call or email us to schedule your group classes, private training, and exam dates. After the exam, they will let you know if you passed or failed. If you pass, you will have a digital certification certificate available to you immediately. They will also send you a physical certificate in the mail, which takes about 2-4 weeks to receive.
Register for a Package
Customize your own schedule (choose dates at checkout), or choose a preset package track by expanding the dates below.
$2699
73 Hours
185 Madison Avenue, NYC
Corporate training available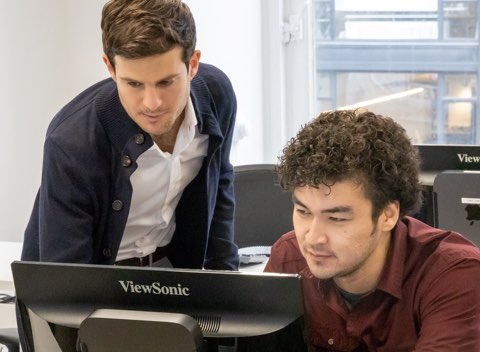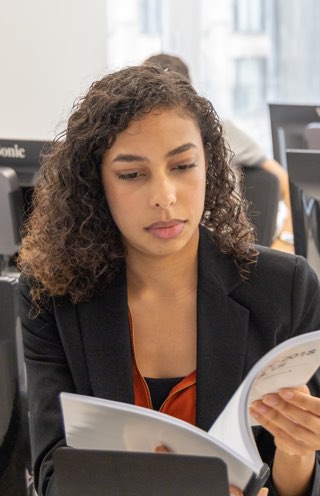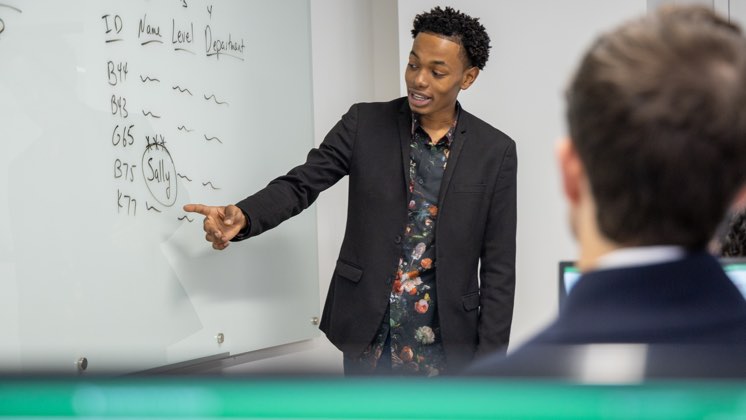 Workbook Included

Students get a custom workbook with step-by-step instructions.

Computer Provided

Modern computer classroom with a PC for each student to work on.

Small In-Person Classes

Get personalized attention in small groups with an expert instructor in the classroom.

Free Retake

Refresh the course materials within six months for free as long as there's space in the class.
The Microsoft Master Certification Program with Access includes
Excel for Business Fundamentals
Master the core Microsoft Excel functions in this one-day course. Automate calculations and data entry. Apply formatting to text and cells to make your spreadsheet scannable and visually appealing. In this hands-on training, you will learn all the basics to use Excel as your primary data processing tool. You'll produce polished and print ready spreadsheets while learning tricks to accelerate your workflow.
Intermediate Excel for Business
Go from beginner to experienced professional: summarize data with Pivot Tables, write advanced functions including VLOOKUP, and learn techniques to expedite your workflow. Use tools and formulas to format text. Manipulate data visuals with advanced charting skills. Use statistical formulas like COUNTIFS and SUMIFS to learn more about your data. At the end of intermediate Excel, you'll unlock powerful techniques that will help you complete tasks more quickly.
Advanced Excel for Business
Advance your career with this essential course for professionals that use Excel daily. You'll make functions more flexible, take Pivot Tables to the next level, and automate tasks with macros. Utilize Excel's most important tools with training in core database functions. If you have a strong working knowledge in Excel and want to save even more time with custom shortcuts and advanced features, this is the perfect course for you. 
PowerPoint for Business
In this beginner PowerPoint course, you'll create and run dynamic presentations; add images, shapes, animations and layered objects; create tables and charts; and prepare the slideshow for presentation.
Advanced PowerPoint for Business
In this advanced PowerPoint class, you'll create a reusable PowerPoint Template, make an easily updatable, engaging, consistent presentation, import charts from Excel, use multimedia and layered objects, and record a slideshow.
Microsoft Word Level I
Master Microsoft Word's essential shortcuts and techniques in one day. Prepare and send mass emails, letters, and labels with one click. Learn everyday functions used in firms throughout New York City. Eliminate formatting blunders with bullets and page numbers. By the end of this class, you'll be able to apply shortcuts that save hours on daily tasks and optimize your time in Microsoft Word. 
Microsoft Word Level II
Advance your career with training in Microsoft Word's most advanced functions and features. Automate useful tools like mail merge. Record tasks and write macros to save time. Create custom document styles and templates to improve productivity within your entire team. By the end of this course, you'll master advanced techniques that expedite your workflow. If you use Microsoft Word daily, this course provides essential training in everything you need to know.
Microsoft Access Level I
The course begins by reviewing the core features and functions of the Access database, so if you've never used Access, it's the perfect place to start! By the end of the course, you'll know how to work with tables, query data, create forms, and generate reports. You'll have skills to use Microsoft Access for everyday tasks.
Microsoft Access Level II
In Microsoft Access Level II, you'll learn how to write advanced queries and organize your database for maximum efficiency. If you've taken Microsoft Access Essentials or already understand the basics, this is the perfect course for you. At the end of this intermediate Microsoft Access class, you'll be able to join tables, implement data validation techniques, and use advanced reporting functions.
Additional Items
6 hours of private prep training 4 Exams with Free Retakes (Excel Expert Exam, Word Expert Exam, PowerPoint Specialist Exam, Access Specialist Exam) Proctoring for all exams
Frequently Asked Questions
Do I need to bring a computer?

No. We provide a computer with the necessary software for each attendee. This course is available on Windows PC only.

Are discounts available for this course?

This program is a discounted package of classes that is 15–25% off the individual class prices.

Does this course come with a book?

Yes. This course includes a complimentary book or manual at no additional cost.

What if I need to retake this course? May I retake it for free?

Yes. You may retake this course for free once within six months, provided that the class is running with an available seat. For more information, visit our policies page.