PowerPoint for Business
PowerPoint Classes for Beginners in NYC
In this beginner PowerPoint course, you'll create and run dynamic presentations; add images, shapes, animations, and layered objects; create tables and charts; prepare the slideshow for a presentation.
This class includes our revolutionary PowerPoint video suite with several hours of premium content. Review the course materials with high-quality video with lifetime access on desktop, tablet or mobile, a $95 value, included free with the course.
Register for a Class
Choose a date below to add it to your cart. At checkout, you can change the quantity for multiple registrants, add other classes, and change your dates.
$219
7 Hours
185 Madison Avenue, NYC
Corporate training available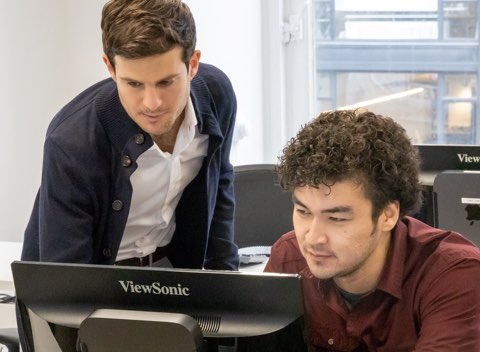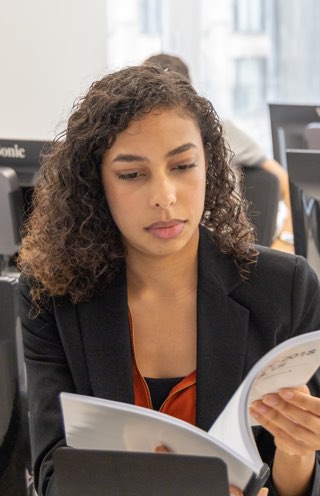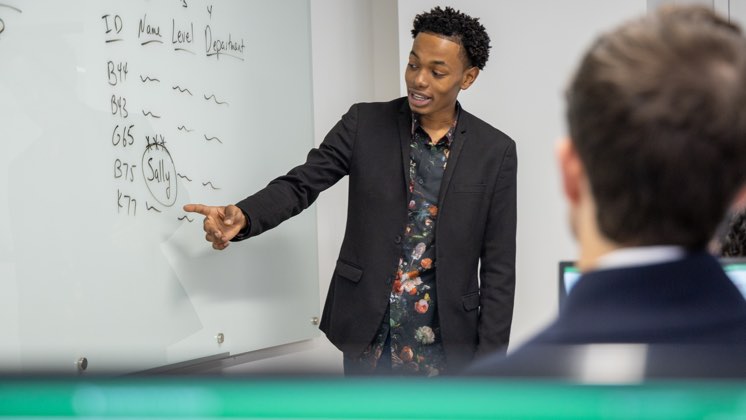 Video Training & Workbook Included

Students get a workbook and lifetime access to self-paced training videos, a $95 value.

Computer Provided

Modern computer classroom with your choice of Mac or PC to work on.

Small In-Person Classes

Get personalized attention in small groups with an expert instructor in the classroom.

Free Retake

Refresh the course materials within six months for free as long as there's space in the class.
What You'll Learn
Create presentations using the Outline View
Add images, SmartArt, and shapes
Work with layered objects
Insert tables, charts, and animations
Run a presentation in Presenter View
Exceeded my expectations in all aspects: course was well thought out, materials were presented clearly and engagingly, and Scott made sure at every step that he'd brought everyone along with him. He was truly excellent, a superb teacher. Needless to say, I'd gladly take another class with him.
Jonathan M. attended PowerPoint for Business
Yesterday I took an all day PowerPoint class with Scott. He is a fabulous trainer. I now have an excellent understanding of PP. A booklet is given to each student that reviews all the lessons from the class. This is a tremendous help when you return to your own computer and start to work in this program. Thank you Scott and NYIM Training.
Barbara C. attended PowerPoint for Business
If you want to get introduced to the ins and outs of Powerpoint, take this class!
Liz H. attended PowerPoint for Business
Thank you for the coffee, teas and all the goodies out in the common area
Faina K. attended PowerPoint for Business
A great course to learn the very basic of PowerPoint. The instructor explained in an easy to understand way. No question was left unanswered and he made sure that each student understood the material and was not left behind. The course gave essential tools needed for creating presentations from start to it's completion. I am currently applying learned skills at work. Would highly recommend NYIM Training. I am coming back for PowerPoint for Business Level II.
Olga M. attended PowerPoint for Business
I attended the Powerpoint course last week at NYIM and really enjoyed it. No doubt you'll find them to be helpful!
Kitty M. attended PowerPoint for Business
I was extremely nervous but it turned out GREAT! Scott was a great instructor, funny and patient. Stopped when I needed extra info without making me feel like an idiot.
Kelley R. attended PowerPoint for Business
Full Course Syllabus
Download PDF Outline
Introduction
User Interface
File Management
Creating Presentation
Adding Text Using Outline View
Adding Slides
Images
Getting Images
Placing Images
Adjusting/Styling Images
SmartArt
Building Diagrams
Styling Diagrams
Converting Bullet Lists to SmartArt
Shapes
Creating Shapes
Styling Shapes
Adding Text to Shapes
Adjusting Shapes
Text Boxes
Connectors
Layered Objects
Aligning
Distributing
Grouping
Tables
Creating Tables
Designing Tables
Charts
Creating Charts
Designing Charts
Saving Chart Templates
Proofing and Editing
Spell Check
Using Slide Sorter View
Printing
Animation
Slide Transitions
Slide Animations
Running a Presentation
Starting and Stopping a Presentation
Presenting to an Audience
Navigating
Annotating
Using Speaker Notes
Using Presenter View
Frequently Asked Questions
Do I need to bring a computer?

No. We provide a computer with the necessary software for each attendee. Choose a Mac or a PC during the checkout process.

Are discounts available for this course?

No. This course is not eligible for any discounts.

We offer discounts for packages of classes, including our Excel Bootcamp, SQL Bootcamp, Data Analytics, and PowerPoint Bootcamp.

We also provide discounts for ten or more classes purchased together. Please reach out for more information on our voucher programs.

Does this course come with a book?

Yes. This course includes a complimentary book or manual at no additional cost.

What if I need to retake this course? May I retake it for free?

Yes. You may retake this course for free once within six months, provided that the class is running with an available seat. For more information, visit our policies page.
Detailed Course Overview
PowerPoint for Business is a great place to start for those interested both in learning how to use PowerPoint, as well as those that want to learn how to use it better. The course is as much about functionality, as it is about efficiency, so even those users who say they already know "the basics" can walk away with a toolkit of skills to significantly increase their effectiveness with the software.
Naturally, the course begins with basic features and such, but then quickly moves into alternative methods for developing a presentation: using the outline view. The outline view involves building a text-based outline in PowerPoint while allowing the software to populate the text within appropriate placeholders on each slide simultaneously.
Next, we cover different types of objects: images, SmartArt diagrams, and drawing shapes. Each lesson involves both creating your own example, as well as editing pre-existing ones. Tables and charts are also explained, with the focus being on how to create a table or chart from scratch (as opposed to importing one from another program).
Time is then devoted to proofing, editing, and printing (not just how to print, but what to print based on the situation). Printing can greatly enhance a presentation, as the presenter can choose from a variety of printouts: full page slides, notes pages, outlines, or audience handouts.
Transitions and animations each receive their own lesson, as well. Transitions define how each slide progresses (or transitions) to the next one, regarding effects. Does the current slide fade out slowly, as the next one fades in? Is it pushed from left-to-right? Or maybe wiped from top-down? Animations dictate how the contents of a slide react. Does each bullet point appear in rapid succession? Or does one exit, before the next one enters? Transitions and animations, when used appropriately, can have a strong impact on those viewing your presentation.
Finally, we spend some time discussing how to run a PowerPoint presentation, by covering such topics as navigating, annotating, and the advantage of using Presenter View.
Learn more about our PowerPoint courses or contact us for more information.