Motion Graphics Certificate
Motion Graphics Courses & Portfolio Development
Learn video editing, motion graphics, and special effects by mastering two of the most powerful pieces of software: Adobe Premiere Pro and After Effects. By the end of this certificate, you'll showcase what you've learned by creating a motion graphics demo reel.
Learn Video Editing
Learn how to edit music, voiceover, and dialogue, timing out video clips and adjusting their placement, speed, and color.
Animate Motion Graphics
Learn how to add animation to layered Photoshop and Illustrator files, photos and videos. 
Learn Visual Effects
Learn greenscreen removal, background replacement, rotoscoping and cell-phone screen replacement.
Create a Demo Reel
You'll leave with a portfolio-ready demo reel, so that you can showcase your skills for prospective clients.
Prerequisites: Working knowledge of Adobe Photoshop and/or Adobe Illustrator. Basic knowledge of video timeline editing and basic design skills are helpful, but not required. 
This Motion Graphics Certificate is held at our design school, Noble Desktop, in SoHo.
This course is offered at our design school, Noble Desktop. View upcoming dates and register for this course directly on Noble Desktop's website.
Register at nobledesktop.com
$3900

$3900
72 Hours
185 Madison Ave, 3rd Floor, NYC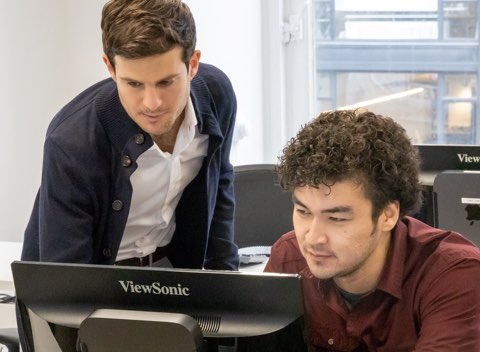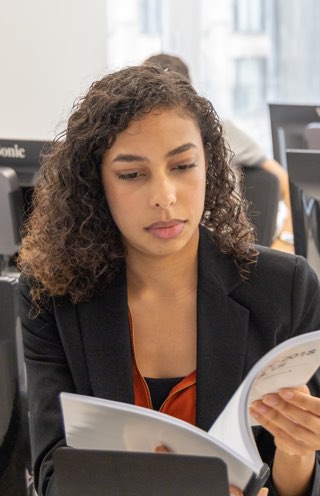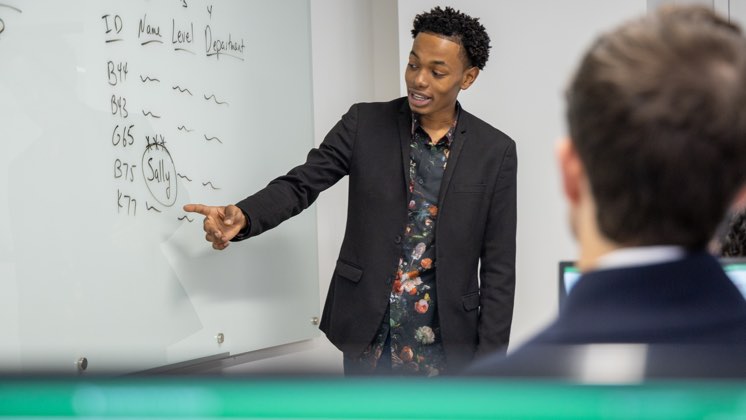 Workbook Included

Students get a custom workbook with step-by-step instructions.

Computer Provided

Modern computer classroom with your choice of Mac or PC to work on.

Small In-Person Classes

Get personalized attention in small groups with an expert instructor in the classroom.

Free Retake

Refresh the course materials within six months for free as long as there's space in the class.
The Motion Graphics Certificate includes
Premiere Pro Bootcamp
You'll learn how to organize and import footage, exporting options, how to use the Timeline, create titles, work with PSDs, use audio tracks, and more. Then, we'll dive into more advanced features including multicam editing, color correction, speeding up footage, and stop-motion loops. By the end of the course, you'll be able to add Adobe Premiere to your design repertoire, and you'll have some portfolio-worthy projects under your belt.
Adobe After Effects CC Level 1
Get comfortable with After Effects by creating standalone videos, animations, special effects, animated titles, and more. Make professional videos for web and TV broadcast in no time at all.
Adobe After Effects CC Level 2
In this intermediate/advanced After Effects course, we'll master motion graphics workflow to create advanced projects, from initial design to final delivery.
Motion Graphics Portfolio Development
Learn the essential motion design concepts from a leading motion graphics professional who has produced animations for a wide range of clientele including CNBC, Nickelodeon, and Cartoon Network. You'll walk away with an impressive portfolio to show prospective clients. 
Frequently Asked Questions
Do I need to bring a computer?

No. We provide a computer with the necessary software for each attendee. Choose a Mac or a PC during the checkout process.

Are discounts available for this course?

This program is a discounted package of classes that is 15–25% off the individual class prices.

Does this course come with a book?

Yes. This course includes a complimentary book or manual at no additional cost.

What if I need to retake this course? May I retake it for free?

Yes. You may retake this course for free once within six months, provided that the class is running with an available seat. For more information, visit our policies page.