Microsoft Project Level I
Beginner Microsoft Project Training in NYC
This beginner Microsoft Project class is designed to familiarize you with the basic features and functions of Microsoft Project Professional 2016 so you can use it effectively and efficiently in a real-world environment. When you are finished with this class, you will be able to manage projects more efficiently, track costs, and allocate resources. This class is perfect for those who have multiple projects that need management, those who want to increase efficiencies, and those who need to better manage project costs and resources.
Microsoft Project is the leading software for project management. Looking to gain experience in project management? NYIM offers a full suite of project management classes & PMP certification courses.
Register for a Class
Choose a date below to add it to your cart. At checkout, you can change the quantity for multiple registrants, add other classes, and change your dates.
$229
6 Hours
185 Madison Avenue, NYC
Corporate training available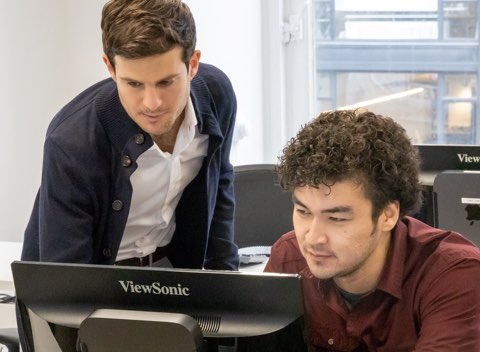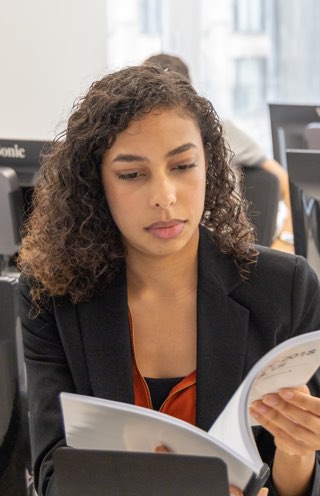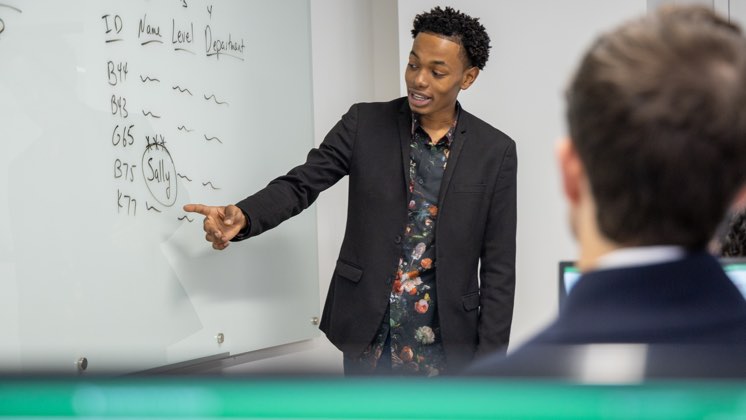 Workbook Included

Students get a custom workbook with step-by-step instructions.

Computer Provided

Modern computer classroom with a PC for each student to work on.

Small In-Person Classes

Get personalized attention in small groups with an expert instructor in the classroom.

Free Retake

Refresh the course materials within six months for free as long as there's space in the class.
What You'll Learn
Essential project management concepts
Defining projects
Entering tasks and examining task relationships
Managing resources
Optimize, set baselines, and share project plans
Full Course Syllabus
Download PDF Outline
Getting Started with Microsoft Project
Identify Project Management Concepts
Navigate the Microsoft Project 2016 Environment
Defining a Project
Create a New Project Plan
Define a Project
Assign a Project Calendar
Creating and Organizing Tasks
Add Tasks to a Project Plan
Import Tasks From Other Programs
Create a Work Breakdown Structure
Define Task Relationships
Schedule Tasks
Managing Project Plan Resources
Add Resources to a Project Plan
Create a Resource Calendar
Enter Costs for Resources
Assign Resources to Tasks
Resolve Resource Conflicts
Finalizing a Project Plan
Optimize a Project Plan
Set a Baseline
Share a Project Plan
Frequently Asked Questions
Do I need to bring a computer?

No. We provide a computer with the necessary software for each attendee. This course is available on Windows PC only.

Are discounts available for this course?

No. This course is not eligible for any discounts.

We offer discounts for packages of classes, including our Excel Bootcamp, SQL Bootcamp, Data Analytics, and PowerPoint Bootcamp.

We also provide discounts for ten or more classes purchased together. Please reach out for more information on our voucher programs.

Does this course come with a book?

Yes. This course includes a complimentary book or manual at no additional cost.

What if I need to retake this course? May I retake it for free?

Yes. You may retake this course for free once within six months, provided that the class is running with an available seat. For more information, visit our policies page.
Microsoft Project Level 1 Course Overview
Microsoft Project is an indispensable software for project management. It can help you to build highly-detailed task lists and Gannt charts, accurately track resources and create sophisticated reports.
However, MS Project is not solely used by career professionals, but also by event planners and goal-oriented people, in general. The Level 1 Project class is an excellent choice for those interested in learning the basics of using MS Project. You do not have to be a Project Manager to benefit from Microsoft Project, as it allows you to choose the level of granularity you want to achieve.
In Lesson 1, we begin by discussing some basic Project Management concepts, such as the characteristics of a project and the Project Triangle. We then turn to the Project interface itself, and take a brief tour around the screen, pointing out various icons and shortcuts for increasing efficiency.
Lesson 2 transitions into defining a project. This is where a new plan is created and entered into the software. While it seems pretty basic to "define" a project, a well-defined project can end up saving both time and money, as revisions to the project plan can be minimized before the project even begins. Once the project itself is officially defined, we can create the project calendars, which will dictate the working time schedules for the project resources.
Lesson 3 focuses on tasks. Tasks are the individual jobs that must be completed to move forward in your project. In Project, we examine how tasks can either be manually entered into the software, or imported from another program, such as Excel. This task list can further be refined by assigning a work breakdown structure (WBS), which makes the tracking of tasks much easier.
We then examine task relationships. By default, most tasks proceed in a step-by-step fashion: task 1 begins and ends before we move to task 2. However, when multiple people (resources) are involved in a project, multiple tasks may be worked on simultaneously by different resources. It is therefore vital to evaluate the task relationships for each task on the list. Following relationships, tasks are then scheduled.
Lesson 4 deals with managing resources. We can easily add resources to a project plan and create or assign project calendars for each resource. It is then that resources can be assigned to each task. It is inevitable that conflicts may occur, so we also discuss the way to easily recognize and resolve scheduling conflicts in MS Project.
Lesson 5 finishes out the last steps in the planning phase of MS Project. This includes optimization of a project, setting a Baseline for comparison and reporting purposes, and sharing the project plan with others.