QuickBooks Level 1
Beginner QuickBooks Training in NYC
This one-day class is for the QuickBooks Desktop software. When you are finished with this class you will feel comfortable with the fundamentals of QuickBooks, and be able to set up a company, write checks, and enter invoices and payments. You will also be familiar with general accounting terms and procedures.
This class is perfect for accountants who use QuickBooks or have clients who use it, small business owners -- sole proprietorships and S-Corps, and administrative or executive assistants.
Register for a Class
Choose a date below to add it to your cart. At checkout, you can change the quantity for multiple registrants, add other classes, and change your dates.
$209
7 Hours
185 Madison Avenue, NYC
Corporate training available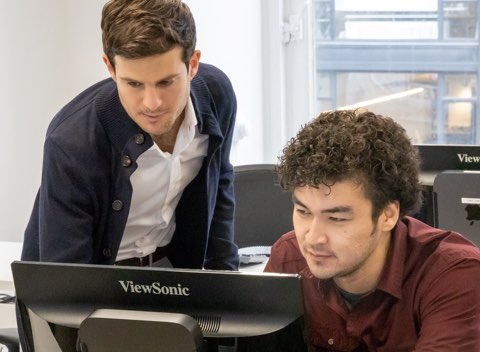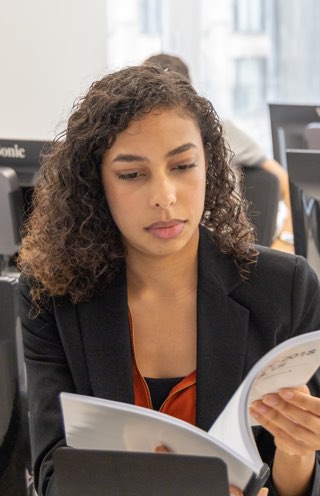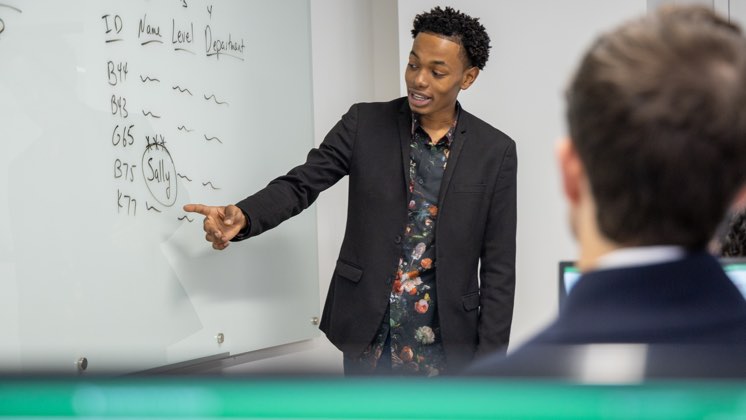 Hands-on Training

Strengthen skills by working on real-world exercises and projects.

Computer Provided

Modern computer classroom with a PC for each student to work on.

Small In-Person Classes

Get personalized attention in small groups with an expert instructor in the classroom.

Free Retake

Refresh the course materials within six months for free as long as there's space in the class.
What You'll Learn
How to create a company
Working with vendors and customers
Banking with QuickBooks
Reconciling Bank Accounts
Save valuable time setting up the financial part of your business and take QuickBooks class. Do it right!!
anna s. attended QuickBooks Level 1
I took QuickBooks Level 1 for PC class with Paul. He is a wonderful instructor, very knowledgeable, patient and kind. He was very detailed and also gave great tips in bookkeeping. I enjoyed his class very much and will definitely take level 2.
Denise L. attended QuickBooks Level 1
I have never taken the time to write a Yelp review, but I just had to this time because I had such a great experience taking the QuickBooks 2015 Level 1 PC class with Paul! I took another level 1 class a year ago and felt like I didn't come away with knowledge that was useful to me (I work at a law firm and the class was structured for a sales business) and Paul was great at addressing questions I had related to my specific needs. Also, he is clearly a passionate teacher and it was infectious! I am a writer/performer by night and a bookkeeper to pay the bills, so I am not someone who thought I could ever be engaged in this kind of work, but Paul made the subject accessible and easy to understand. I somehow wasn't bored and I left the class feeling that I can use the system with confidence!
Karina R. attended QuickBooks Level 1
Paul is a great teacher. You can tell he enjoys what he does by the way he teaches. He is very thorough and takes his time to help everyone and answer their questions.
Wanda M. attended QuickBooks Level 1
Paul is amazing!Instructors are great and patient. Location is convenient! I am recommending this to my colleagues!
Paul was able to pace the instructions so that I could really get a handle on the essence of what QuickBooks is all about. He also was very practical in his approach so that I could adapt it to my needs at our agency.
L.Z. attended QuickBooks Level 1
This QuickBooks class was quite informative. I didn't have any knowledge of it and the instructor made it easy to understand. I plan on taking the advanced class soon and would recommend this class to everyone!
M.A. attended QuickBooks Level 1
Paul is terrific, very informative, well paced, and well knowledgeable in this field. He has a great love and interest for it and in teaching the subject.
D.D. attended QuickBooks Level 1
Paul was able to pace the instructions so that I could really get a handle on the essence of what QuickBooks is all about. He also was very practical in his approach so that I could adapt it to my needs at our agency.
J.C. attended QuickBooks Level 1
Paul was great, knowledgeable and very approachable. He kept everyone up to speed without rushing or boring anyone. He really knows QuickBooks inside out and shows alot of shortcuts too! Thanks!
G.C. attended QuickBooks Level 1
I loved Paul! He was great, very friendly, very clear, dealt exactly with issues that would face my company. Between Arlene (client manager) and Paul, working with NYIM, as been amazing. Arlene was always quick to answer my emails and questions, and Paul was exactly what we needed. Being a small business owner I really appreciate good service.
A.C. attended QuickBooks Level 1
The instructor was phenomenal! He tailored the class to the student's needs and was very receptive to questions asked during class.
Anonymous attended QuickBooks Level 1
Full Course Syllabus
Download PDF Outline
Getting Started
Discovering what's new in QuickBooks
Presenting QuickBooks Pro
Understanding Basic Accounting
Managing Basic QuickBooks Files
Working with the QuickBooks Window
Backing up and Updating Your Company File
Creating a Company
Planning and Creating a Company
Editing Your QuickBooks Preferences
Working with Opening Balances and Historical Transactions
Finding Help in QuickBooks
Setting up Users
Customizing a Company File
Entering Customers and Vendors
Inventory Items, Sales Tax Items and Service Items
Viewing the reminders list and the classifications list
Creating QuickReports from Vendors, Customers and Charts of Accounts
Working with Vendors
Exploring the Vendor Center
Working with Customer and Vendor Profile Lists
Creating Custom Fields
Entering Bills
Paying Bills
Writing and Printing Checks
Working with Customers
Working with the Customer Center
Understanding and Creating Items
Creating Invoices
Receiving Payments
Entering Sales Receipts
Integrating with Microsoft Word
Banking with QuickBooks
Creating Bank Accounts
Making Deposits
Transferring Funds
Understanding Banking Online
Understanding the Process of Reconciliation
Reconciling Bank Accounts
Additional Fundamentals
Backing up and restoring data
Entering Opening Balances
Frequently Asked Questions
Do I need to bring a computer?

No. We provide a computer with the necessary software for each attendee. This course is available on Windows PC only.

Are discounts available for this course?

No. This course is not eligible for any discounts.

We offer discounts for packages of classes, including our Excel Bootcamp, SQL Bootcamp, Data Analytics, and PowerPoint Bootcamp.

We also provide discounts for ten or more classes purchased together. Please reach out for more information on our voucher programs.

What if I need to retake this course? May I retake it for free?

Yes. You may retake this course for free once within six months, provided that the class is running with an available seat. For more information, visit our policies page.