Financial Modeling Bootcamp
Advanced Excel & Financial Modeling Training in NYC
Master the advanced Excel, financial modeling, corporate finance, and accounting skills you need to succeed as a financial analyst. Build a financial model to value a public company, and learn industry best practices from experienced investment bankers and hedge fund analysts.
Advanced Excel for Financial Modeling: Master advanced techniques including sensitivity analysis, financial functions, modeling shortcuts, and cash flow projection tools. 
Crash Course in Finance & Accounting: Review corporate finance and accounting concepts, including enterprise value, financial statements, investments, and corporate valuation.
Real-World Financial Modeling Project: Create a valuation model for a public restaurant company using current financial data. Review company presentations, earnings releases, and financial reports to determine the model drivers and assumptions. Derive a share value using corporate valuation principles and evaluate the stock for a potential investment.
Register today to reserve your seat. This course has very limited availability.
Prerequisites
This course assumes intermediate knowledge of Excel equivalent to our Intermediate Excel for Business course. Finance, accounting, or financial modeling knowledge is helpful but not required. Students without any background in corporate finance or financial accounting should review our free online prep materials before the course (request the free materials after registration). 
Related Courses
Need to learn prerequisite Excel skills? Check out our Excel courses, or learn financial modeling and Excel together in our Financial Analyst Training Program.
Still Have Questions?
We're here to help. Email the program director directly and find out if this is the right course for you.
Register for a Class
Choose a date below to add it to your cart. At checkout, you can change the quantity for multiple registrants, add other classes, and change your dates.
$895
21 Hours
185 Madison Avenue, NYC
Corporate training available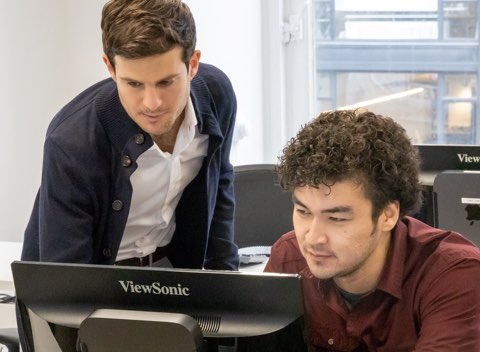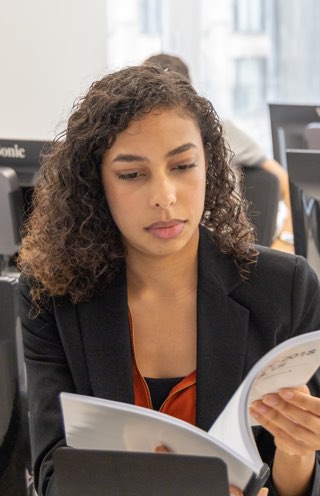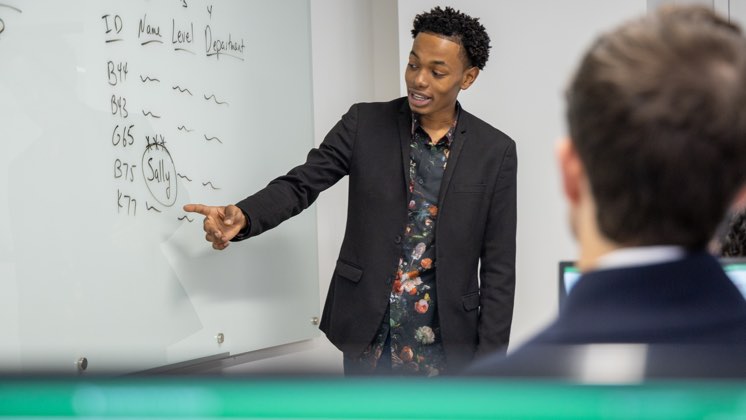 Workbook Included

Students get a custom workbook with step-by-step instructions.

Computer Provided

Modern computer classroom with a PC for each student to work on.

Small In-Person Classes

Get personalized attention in small groups with an expert instructor in the classroom.

Learn From The Best

We've been training professionals since 1998, with hundreds of 5-star reviews.
What You'll Learn
Advanced Excel for Finance: Financial functions, advanced formulas, Data Tables, & Excel tricks
Corporate Finance: Market Capitalization, Enterprise Value, Stocks & Bonds, NPV, IRR
Financial Accounting: Financial statements, financial ratios, and working capital
Company Analysis: Analyze companies through financial statements, presentations, & recent news
Discount Cash Flow Modeling: Project and discount future cash flows
Corporate Valuation: Corporate valuation principles to value companies
Financial Analyst Best Practices: Tips and tricks financial analysts need to know
Investment Banking Interviews: Review concepts typically asked in investment banking interviews
Took the two day Financial Modeling Bootcamp. Extremely informative and useful. Smaller class size allows for one on one help and enables you to really understand the material you are working through. Additionally you build out a model on an actual company during the course, allowing you to perform the same kind of analysis you would use in a real office setting, as opposed to looking at generic accounting problems. Office itself is very nice, and the professors are extremely well informed. 10/10 would recommend to anyone looking to develop, sharpen, or reestablish their financial modeling skills.
Robert F. attended Financial Modeling Bootcamp
Whether you want a quick refresher or crash course, Financial Modeling in Excel will benefit anyone in the M&A field looking to expand their skills.
Charles K. attended Financial Modeling Bootcamp
Great experience, I highly recommend for anyone looking to break into consulting/banking!
Thomas P. attended Financial Modeling Bootcamp
This was a great refresher course for some of the deeper financial concepts I have not used since undergrad. I think this course is phenomenal for recent college grads starting off their careers in finance or budget. It's a great intro for learning to navigate excel shortcuts. I am 5 years in my career now and have never had the investment banking background but still have been a financial analyst and been involved in raising capital so the concepts covered were a great refresher for me. Additionally the instructor did a great job with playing to the students in the course and our backgrounds and what subjects to go more in-depth with and vice versa.
Alexandria B. attended Financial Modeling Bootcamp
This financial modeling bootcamp helped me round off my excel shortcut skills. All of the excel shortcuts I didn't already know; I learned in this course. This will help me work fast and smarter. I also appreciated the applicability of the financial analysis we conducted. We moved in a very timely fashion and this was a very productive course that will help me as I start off as an investment analyst.
John C. attended Financial Modeling Bootcamp
The financial modeling boot-camp class was a great review for everything I have learned during my undergraduate studies and was also very relevant to my working experience. I also liked that the size of the classes were not too big; this allowed the participants to be actively engaged. As I work in fixed income and while this boot-camp focused on projecting stock price, the research and excel model/setup is very similar so there was very relevant crossover. All in all, I wish I had taken this class earlier this year. Great class.
Nico S. attended Financial Modeling Bootcamp
I took the Financial Modeling Bootcamp. The instructors are very knowledgeable about what they teach and encourage questions throughout the workshop.
Kelvin L. attended Financial Modeling Bootcamp
Full Course Syllabus
Download PDF Outline
Day I: Advanced Excel for Financial Modeling
Advanced techniques to Expedite Workflow
Efficient formula writing
Formula & model auditing
Advanced cell locking
Hot Keys to work without the mouse
Windows & work with multiple applications
Go To Special
Paste Special
Project #1: Revenue build-up by store count and same store sales growth
Advanced Analytical Tools & Sensitivity Analysis
Goal Seek
Data Tables
Scenario Manager
Project #2: Cash flow modeling & sensitivity analysis
Database Functions for Finance
Advanced SUMIFS
VLOOKUP-MATCH
INDEX-MATCH
Functions for Financial Modeling
Financial functions
Date functions
Nested IF statements
IF Statements with AND/OR
CHOOSE function
Weighted average calculations
IFERROR
Projects #3: Loan amortization model
Day II: Intro to Corporate Finance, Accounting, & Modeling
Intro to Corporate Finance
Net Present Value (NPV) and Internal Rate of Return (IRR)
How are PV and IRR used in financial modeling?
How companies raise capital through debt and equity issuances
Enterprise value
Stocks, dividend yields, trading terminologoy, and valuation metrics
Market Capitalization: Calculate the market cap for public companies
Shares outstanding: How does share count change over time?
Enterprise Value: Calculate the enterprise value for public companies
Financial Accounting & Statement Analysis
Cash vs. accrual accounting
Assets = Liabilities + Shareholder's Equity
Annual and quarterly filings, and press releases
Income Statement: Analyze line items on an income statement; calculate growth rates, and TTM
Balance Sheet: Review assets, liabilities and shareholder's equity
Cash Flow Statement: Analyze a public company cash flow statement
Working Capital: Calculate and understand working capital
Integrated Financial Modeling
Calculate historical ratios for revenue growth, margins, and working capital
Project cash flows based on historical metrics
Create debt, equity, and working capital supporting schedules
Review how financial statements tie together and balance the model
Integrate the income statement, balance sheet, and cash flow statement in Excel
Intro to DCF Modeling
Calculate unlevered free cash flow from the integrated model
Discount cash flows using the WACC
Derive a share price from total company value
Sensitivity Analysis
Use Data Tables to sensitize the model's key inputs
Conditional Format with formulas to highlight cells that meet certain criteria
Calculate the revenue growth required to hit a certain share price
Intro to LBO Modeling
Review Leveraged Buyouts (LBOs) basics
Create a simple LBO model
Calculate the IRR and Equity Multiple
Day III: In-depth Financial Modeling & Valuation
Company Analysis
Discuss the business model and value drivers of a public restaurant company
Capital Structure: Calculate the total enterprise value and build a capital structure table
Historical Financials: Populate the historical financials
Ratios: Calculate the financial ratios
Financial projections
Create financial projections for revenues
Create financial projections for expenses
Create projections for the working capital items
Terminal Value
Estimate the company's terminal value using the Gordon Growth Model
Discounting Cash Flows
Use CAPM to estimate the company's cost of equity
Calculate the weighted average cost of capital (WACC)
Discount future cash flows with the midpoint convention
Corporate Valuation
Calculate the diluted shares outstanding using the treasury stock method
Derive a value per share from total enterprise value
Final Analysis & Reasonability Testing
Where does our model need additional analysis?
How does our value per share compare to the current price?
How do our financial projections compare to management's and the analyst community
Analyze the output and determine reasonability of the model and assumptions
What areas or assumptions require additional research?
What assumptions drive the valuation and how would changes impact our thesis
Should we invest in the stock at current prices?
Frequently Asked Questions
Do I need to bring a computer?

No. We provide a computer with the necessary software for each attendee. This course is available on Windows PC only.

Are discounts available for this course?

No. This course is not eligible for any discounts.

We offer discounts for packages of classes, including our Excel Bootcamp, SQL Bootcamp, Data Analytics, and PowerPoint Bootcamp.

We also provide discounts for ten or more classes purchased together. Please reach out for more information on our voucher programs.

Does this course come with a book?

Yes. This course includes a complimentary book or manual at no additional cost.

What if I need to retake this course? May I retake it for free?

Most of our courses can be taken again for free. However, this course is not available to retake for free.
NYC's Top Finacial Modeling Course
What separates this financial modeling program from others?
At NYIM, we've created a comprehensive and affordable program that provides financial analysts with the essentials tools they need. You'll review the advanced Excel skills you need to efficiently build models and perform day-to-day tasks required at an investment bank or financial firm. Prior financial accounting and corporate finance are not required, so the course is open to non-finance professionals looking starting a career or switching over, or those currently in finance seeking a refresher. To ensure that your time is well-spent, a variety of pre-work materials and assignments are provided throughout the course, with additional practice projects afterward.
Our curriculum is 100% proprietary and hands-on. The materials were developed by seasoned professionals and are constantly updated to reflects new tools and tricks available for the new generation of analysts. Throughout the course, you will on real-world case studies and projects. While financial theory is discussed throughout, the central focus is on how that theory is applied to the job. At no point in the bootcamp will you sit through more than a few minutes of lecture without working on a project.
Finally, you will learn tricks and tools other programs don't emphasize, including shortcuts to quickly input financial data and build and format models quickly. Instead of memorizing formulas and processes, you will learn to think like an analyst by reading company presentations, earnings reports, news releases, and earnings transcripts.
Who should attend this course?
This course is perfect for incoming or current financial analysts seeking to learn or review finance, accounting, valuation, and Excel. This bootcamp will be particularly helpful for analysts working in investment banking, private equity, hedge funds, real estate, and venture capital, as well as professionals working in finance departments of non-financial companies. Additionally, the course covers many concepts covered in investment banking interviews.
Comprehensive & Affordable Training for Financial Analysts
"Took the two-day Financial Modeling Bootcamp. Extremely informative and useful. Smaller class size allows for one on one help and enables you to really understand the material you are working through. Additionally, you build out a model on an actual company during the course, allowing you to perform the same kind of analysis you would use in a real office setting, as opposed to looking at generic accounting problems. The office itself is very nice, and the professors are extremely well informed. 10/10 would recommend to anyone looking to develop, sharpen, or reestablish their financial modeling skills."
Robert F. attended the Financial Modeling Bootcamp