SPSS Bootcamp
Hands-on SPSS Training in NYC
This 3-day SPSS training concentrates on the most common topics that researchers use.
Learn to create a data file and enter data, conduct preliminary analyses, use graphs to describe and explore the data, manipulate the data, check the reliability of a scale, apply correlations, conduct significance tests, and perform regression analysis.
This class is perfect for those conducting quantitative research, analyzing big data and to those who want to use SPSS more effectively. We are proud to have one of the best SPSS instructors in the country.
Register for a Class
Choose a date below to add it to your cart. At checkout, you can change the quantity for multiple registrants, add other classes, and change your dates.
$999
21 Hours
185 Madison Avenue, NYC
Corporate training available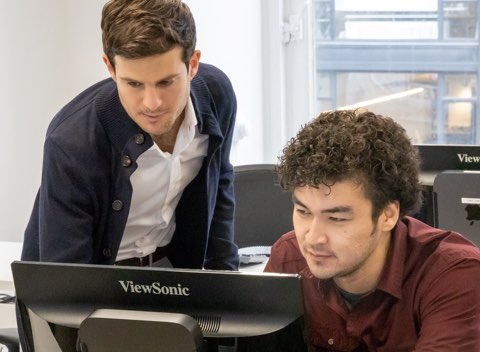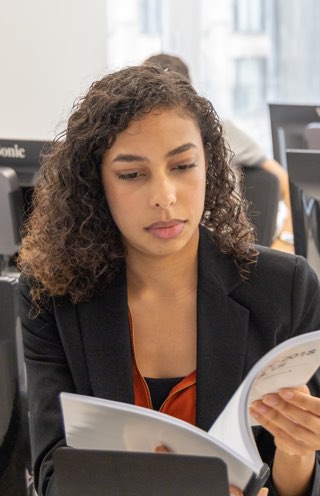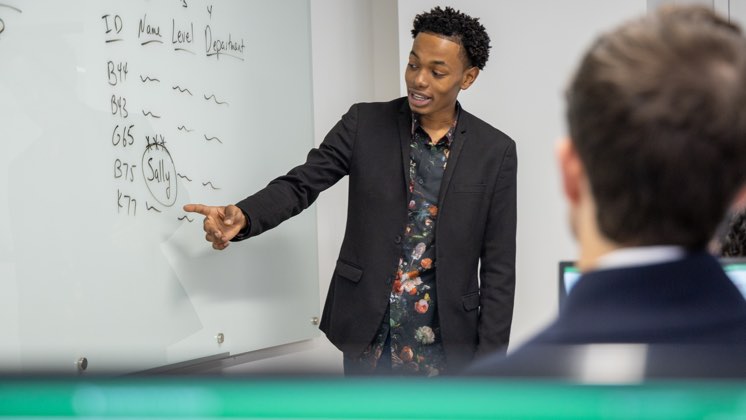 Workbook Included

Students get a custom workbook with step-by-step instructions.

Computer Provided

Modern computer classroom with a PC for each student to work on.

Small In-Person Classes

Get personalized attention in small groups with an expert instructor in the classroom.

Free Retake

Refresh the course materials within six months for free as long as there's space in the class.
What You'll Learn
Creating data files and entering data
Preliminary analyses
Manipulating the data
Correlations
Significance tests
Regression
Jeff was excellent; he knows how to break down the stats and show you how to run the analyses needed in SPSS!
Mia M. attended SPSS Bootcamp
Paul did a great job. He was very helpful and answered all of our questions and took time to show steps if you were having trouble. He is very personable and patient and uses a lot of examples to help reinforce the teachings.
K.G. attended SPSS Bootcamp
Thanks again, Paul, for the informative course. I did come away with more than anticipated. It definitely was worth it and i will come back for private training. The examples you provided were helpful!
M.K. attended SPSS Bootcamp
Paul had a great attitude. Patient w/ lots of different personalities and skill sets. Willing to answer any questions that were asked. He used alot of examples to help reinforce what he was teaching and reviewed anything we had trouble with.
R T. attended SPSS Bootcamp
Paul was a very good tutor. He covered the topics in the book and those of importance to us, which were not sometimes in the book. He was attentive to our needs and keep the class engaged through out the training. Overall, it was a good experience.
K.O. attended SPSS Bootcamp
Full Course Syllabus
Download PDF Outline
Getting Started
Getting to know SPSS
Starting SPSS
Working with data files
SPSS windows
Menus
Dialogue boxes
Closing SPSS
Getting help
Creating a data file and entering data
Defining the variables
Entering data
Modifying the data file
Data entry using Excel
Preliminary Analyses
Descriptive Statistics
Frequencies (categorical variables)
Central tendency, standard deviations, and range (continuous variables)
Using graphs to describe and explore the data
Histograms
Bar graphs
Boxplots
Line graphs
Editing a chart/graph
Graphs using Excel
Manipulating the data
Calculating total scale scores
Transforming variables
Collapsing a continuous variable into groups
Checking the reliability of a scale
Procedure for checking reliability
Interpreting the output from reliability
Correlations
Pearson product-moment correlation
Interpretation of output from correlation
Significance Tests
T-tests
Independent t-tests
Interpreting the output from independent t-test
Paired t-tests
Interpreting the output from paired t-test
Chi-square test of independence
Interpreting the output from chi-square test
Continuing with significance tests
Analysis of Variance
One-Way between-groups ANOVA
Post-hoc comparisons
Interpreting the output from one-way ANOVA
Two-Way between-groups ANOVA
Interpreting the output from two-way ANOVA
One-Way Repeated measures ANOVA
Interpreting the output from repeated measures ANOVA
Regression
Multiple linear regression
Interpreting the output from multiple linear regression
Logistic regression
Interpreting the output from logistic regression
Frequently Asked Questions
Do I need to bring a computer?

No. We provide a computer with the necessary software for each attendee. This course is available on Windows PC only.

Are discounts available for this course?

No. This course is not eligible for any discounts.

We offer discounts for packages of classes, including our Excel Bootcamp, SQL Bootcamp, Data Analytics, and PowerPoint Bootcamp.

We also provide discounts for ten or more classes purchased together. Please reach out for more information on our voucher programs.

Does this course come with a book?

Yes. This course includes a complimentary book or manual at no additional cost.

What if I need to retake this course? May I retake it for free?

Yes. You may retake this course for free once within six months, provided that the class is running with an available seat. For more information, visit our policies page.