Visual Design Bootcamp
UI Design Classes in New York City
Learn Current User Interface (UI) Design Techniques
Learn to design websites for mobile phones, tablets, and desktops using the visual design principles of color, layout, and typography.
You'll learn about visual conventions, standards, and industry trends, and gain experience with the process and principles for designing responsive websites through lecture and hands-on practice.
You will design and produce one or more projects in this class to come out with portfolio material. Your work will be critiqued and you'll get the feedback you need to help improve your designs.
Prerequisites: This is a design class, not a coding class. Knowledge of a design app such as Sketch, Adobe XD, or Photoshop is required.
This Visual Design Bootcamp is held at our web development school in SoHo, located at 594 Broadway, New York, NY.
This course is offered at our design school, Noble Desktop. View upcoming dates and register for this course directly on Noble Desktop's website.
Register at nobledesktop.com
$975
18 Hours
185 Madison Ave, 3rd Floor, NYC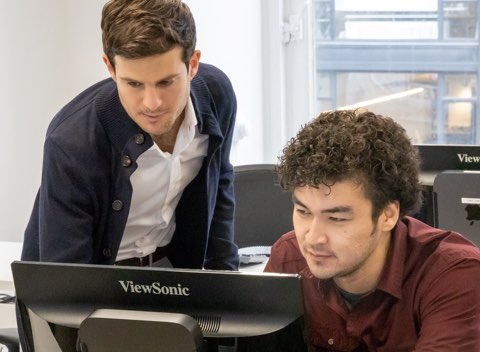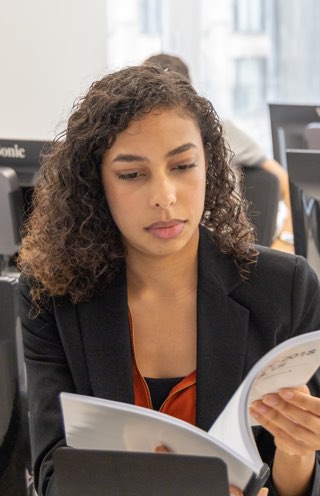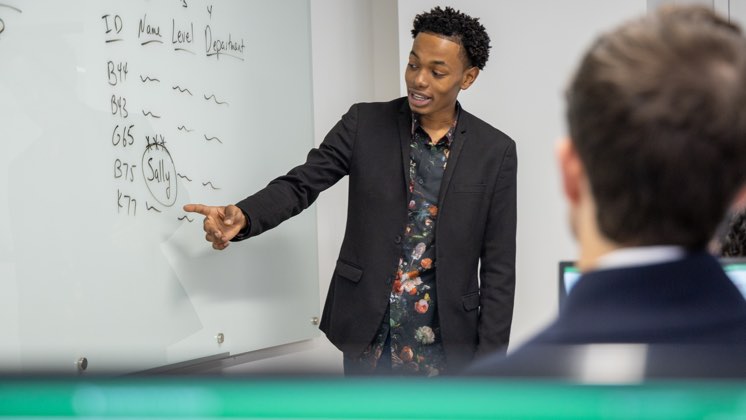 Workbook Included

Students get a custom workbook with step-by-step instructions.

Computer Provided

Modern computer classroom with your choice of Mac or PC to work on.

Small In-Person Classes

Get personalized attention in small groups with an expert instructor in the classroom.

Free Retake

Refresh the course materials within six months for free as long as there's space in the class.
What You'll Learn
Learn to design websites for mobile, and desktop
Apply design principles such as color, layout, and typography to webpages
Learn about visual conventions, standards, and trends
Full Course Syllabus
Download PDF Outline
What You'll Learn
Design Overview
User Experience (UX) Design
Visual Design
UX Is Not UI
Learning from Existing Websites
What Works & What Does Not?
Color
Color Harmonies
Creating Contrast with Color
Guidelines for Proper Color Usage
Typography & Fonts
Display Text (Such as Headings) versus Body Text
Legibility
Type Trends
Typeface Selection & Pairing
Where to Get Web Fonts
Ideal Line Height
Column Width (Line Length)
Hyphenation & Justification
Design Elements
Proximity
Similarity
Continuity
Trends in Web Design
Analysis of Example Websites
Design Patterns
Multiple Screen Sizes
Responsive Web Design
Mobile Considerations & Limitations
Discoverability Challenges
Mobile Navigation
Workflow: Idea to Design
Example Web Design Workflows
Getting to Know a Project: Creative Briefs
What is a Creative Brief?
What to Include in a Creative Brief
Wireframing
Issues to Solve
Steps in Creating a Wireframe
Designing on a Grid System (like Bootstrap)
Wireframe to Refined Design
Iterate & Refine
Understanding the Mobile Experience
Time for You to Design
Project Work
Create Wireframes
Turn Your Wireframes into Refined Designs
Get Critiques
Incorporate Feedback & Improve Your Designs
Frequently Asked Questions
Do I need to bring a computer?

No. We provide a computer with the necessary software for each attendee. Choose a Mac or a PC during the checkout process.

Are discounts available for this course?

No. This course is not eligible for any discounts.

We offer discounts for packages of classes, including our Excel Bootcamp, SQL Bootcamp, Data Analytics, and PowerPoint Bootcamp.

We also provide discounts for ten or more classes purchased together. Please reach out for more information on our voucher programs.

Does this course come with a book?

Yes. This course includes a complimentary book or manual at no additional cost.

What if I need to retake this course? May I retake it for free?

Yes. You may retake this course for free once within six months, provided that the class is running with an available seat. For more information, visit our policies page.