Web Design Certificate
Web Design & Front-End Web Development Bootcamp
In this comprehensive front-end bootcamp, you'll learn HTML, CSS, JavaScript/jQuery, Photoshop (for web graphics creation), HTML email design, and more. Gain essential, hands-on experience with web design, and earn a NY State-licensed Web Design Certificate.
Learn Front-End Coding
Learn HTML to mark up pages, CSS to style them, and JavaScript to add functionality and interactivity.
Create & Optimize Graphics
Learn the fundamentals of Photoshop so that you can design your own images and graphics.
Make Responsive Websites
Learn how to optimize your websites for mobile, tablet, and desktop.
Our Web Design certificate is offered in NYC and live online.  You'll get hands-on training, step-by-step training workbooks that we've written ourselves, and a free retake. 
If you only want to focus on coding/programming websites (not web graphics and emails), you should take our Front-End Web Development Certificate program.
This course is offered at our design school, Noble Desktop. View upcoming dates and register for this course directly on Noble Desktop's website.
Register at nobledesktop.com
$4850

$3800
90 Hours
185 Madison Ave, 3rd Floor, NYC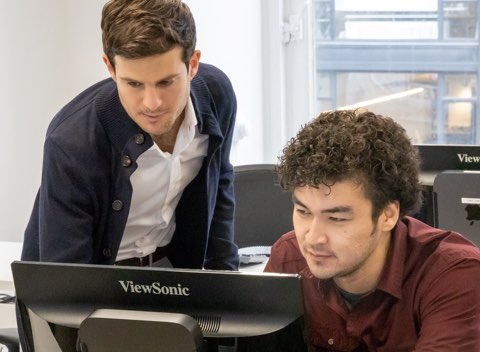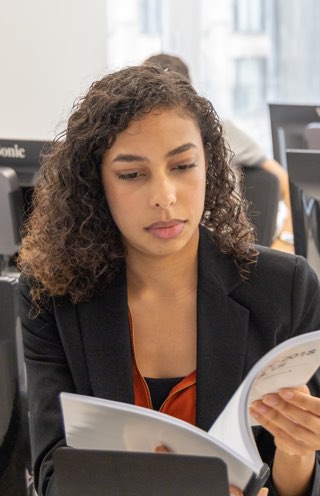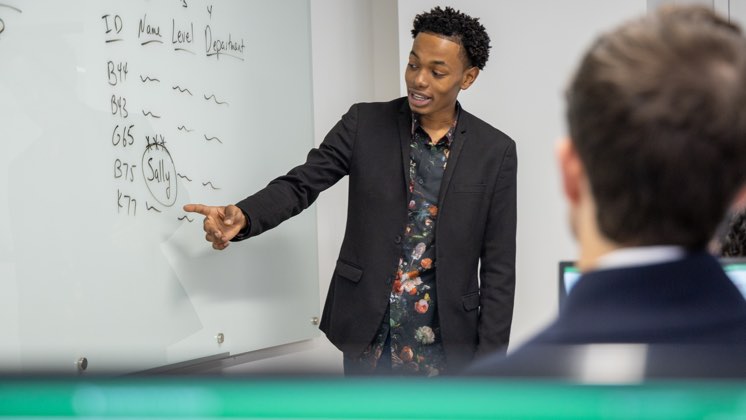 Workbook Included

Students get a custom workbook with step-by-step instructions.

Computer Provided

Modern computer classroom with your choice of Mac or PC to work on.

Small In-Person Classes

Get personalized attention in small groups with an expert instructor in the classroom.

Free Retake

Refresh the course materials within six months for free as long as there's space in the class.
The Web Design Certificate includes
Web Development Level 1
In this web development course, you'll learn how to develop websites with HTML and CSS, the languages used to create webpages.
Photoshop for Web Design & UI
In this course, you'll learn to use Photoshop to create and optimize graphics specifically for web and user interface design (without spending time on image retouching or color correction).
Web Development Level 2
Kick your CSS skills up a notch and learn how to code more complex layouts. In this CSS course, you'll master the positioning of elements (relative, absolute, fixed), create multi-column layouts, and learn about newer CSS3 transitions, transformations, and animations.
JavaScript & jQuery
Give your websites a jolt of functionality and interactivity with JavaScript & jQuery. Learn to hide and show elements, customize animations, validate forms, and much more. 
Flexbox & Grid: CSS Layout Techniques
Learn how to use CSS Flexbox and Grid to create responsive web layouts that adjust to different screen sizes.
Git Going: An Intro to Git
Git is the most commonly used version control system. Git helps you track the change you make to your code. Collaboration is seamless; Git allows multiple developers to work together on the same files. Your profile on GitHub can even serve as a portfolio of your work.
Coding Tips & Tricks: Emmet, Sass, & Code Editors
Coding doesn't have to take a long time.  In this class, we'll help you shave hours off each project you create by using Emmet, Sass, and Sublime Text.
HTML Email
In this hands-on HTML Email class, you will learn how to code rich, graphics-based emails using HTML and CSS. Work with different layouts to create visually stunning email blasts and newsletters.
Full Course Syllabus
Download PDF Outline
Coding Webpages
HTML: Create web pages and emails using HTML code to mark up content (text, images, etc.)
CSS: Style the contents of a webpage or email.
JavaScript & jQuery: Add interactivity, animation, and more to webpages.
Responsive Web Design: Create pages that are optimized for all size screens.
FTP: Upload your files to make the site go live.
Web Design & Graphics
Layout webpage designs using Photoshop.
Create and optimize web graphics for fast download.
Frequently Asked Questions
Do I need to bring a computer?

No. We provide a computer with the necessary software for each attendee. Choose a Mac or a PC during the checkout process.

Are discounts available for this course?

This program is a discounted package of classes that is 15–25% off the individual class prices.

Does this course come with a book?

Yes. This course includes a complimentary book or manual at no additional cost.

What if I need to retake this course? May I retake it for free?

Yes. You may retake this course for free once within six months, provided that the class is running with an available seat. For more information, visit our policies page.