Intermediate Excel for Business
Master VLOOKUP, Pivot Tables, Formulas & Functions
Go from beginner to experienced professional: summarize data with Pivot Tables, write advanced functions including VLOOKUP, and learn techniques to expedite your workflow. Split and join text, create drop-down menus, and sort and filter data. Use statistical formulas like COUNTIFS and SUMIFS to learn more about your data. At the end of this class, you'll unlock powerful techniques that will help you complete tasks more quickly.
Save 15% on Enrollment with Excel Bootcamp
Do you want to become an advanced Excel user in just 3 days? Sign up for our Microsoft Excel Bootcamp and get a 15% package discount. 
Prerequisites: Attendees must have Excel proficiency equivalent to our Excel Fundamentals course.
Class Notes: A PC or Mac with Excel will be provided (choose your operating system at checkout). The instructor will present on a PC but will explain the differences for Mac students, and the class files clearly outline the differences.
Register for a Class
Choose a date below to add it to your cart. At checkout, you can change the quantity for multiple registrants, add other classes, and change your dates.
$219
7 Hours
185 Madison Avenue, NYC
Corporate training available
Upgrade to a bootcamp or certification program and save on tuition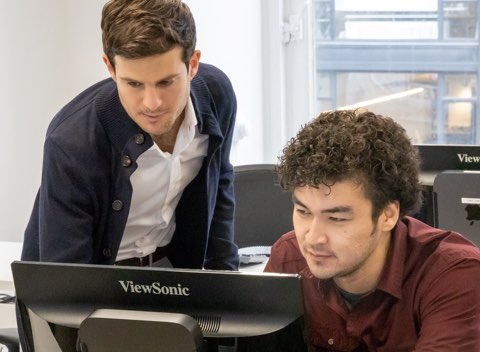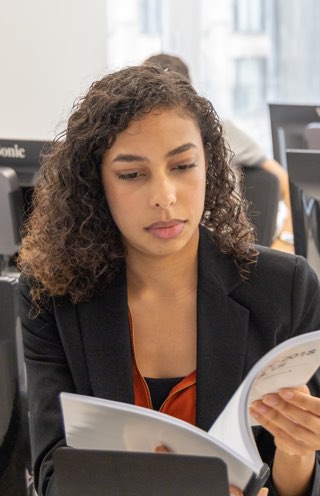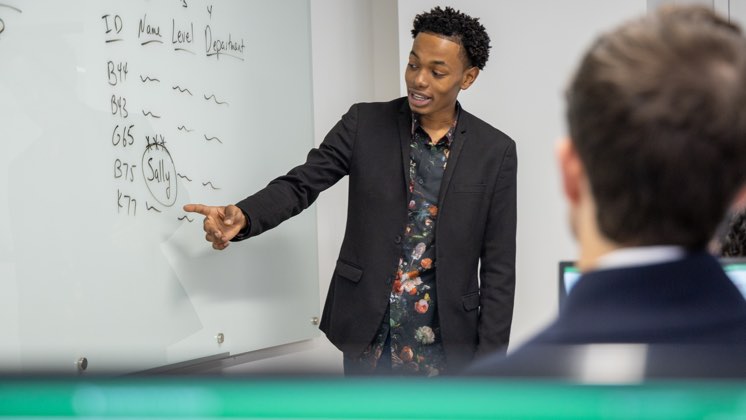 Video Training & Workbook Included

Students get a workbook and lifetime access to self-paced training videos, a $95 value.

Computer Provided

Modern computer classroom with your choice of Mac or PC to work on.

Small In-Person Classes

Get personalized attention in small groups with an expert instructor in the classroom.

Free Retake

Refresh the course materials within six months for free as long as there's space in the class.
What You'll Learn
Navigation tricks & shortcuts
Summarize data with Pivot Tables
VLOOKUP function
Join and split text
Create drop-down menus
Sort & filter data
Tricks to speed up workflow
Logical functions: IF, AND, OR
I took NYIM Training's Intermediate Excel 2016 training this week, and I was impressed by the content and the trainer, Mike. The in-class exercises were all in one multi-tab spreadsheet which included step-by-step instructions for almost all of these, and you send the spreadsheet with any notes you made to yourself at the end of the day for future reference. No wasted time. Plenty of opportunity for questions. I have had other computer training elsewhere, but NYIM was unique in providing big-picture methods, tips, and shortcuts that were useful even for Excel tasks I already knew well. Plus, coffee and snacks to keep you going!
Rob P. attended Intermediate Excel for Business
I have taken two Excel classes at NYIM and they were both fantastic. Garfield is a really skilled teacher and I learned so much! I plan on taking more classes when I can. Highly recommend these classes!
Sandhya B. attended Intermediate Excel for Business
Overall great experience in taking the Intermediate Excel Class today! Content was well organized and had appropriate progression from easy to more complex examples. Garfield, our instructor, was very knowledgabe, patient, and thorough. He also had a great sense of humor and kept the class interesting, time really flew by! I will be back to take the Advanced class and also the VBA.
Patrick M. attended Intermediate Excel for Business
This class was the perfect balance between learning new and reviewing some old topics. Garfield was very informative, but had a good sense of humor and real world examples.
Rebekah R. attended Intermediate Excel for Business
I've been taking classes here over the course of many years. Convenient location, class schedule availability, individual attention, reasonably priced. Great opportunity if you want a classroom setting.
Phyllis O. attended Intermediate Excel for Business
Michael covered all of the content I expected, as well as content I didn't expect, but found valuable. Workshop was practical, and the nature of the problem sets were relevant to the business world, which I appreciated. Also really appreciate that you guys provide access to a digital course for our review, and a 6 month retake policy. That's very generous.
Renee E. attended Intermediate Excel for Business
I feel confident about VLOOKUPs now after attending this course.
Alexandra C. attended Intermediate Excel for Business
I took the 1-day Intermediate Excel class in-person at the NYIM center. Garfield is an excellent instructor - engaging and very knowledgeable. It was a small group setting with ~10 people, and we had one-on-one if needed. The space is comfortable with coffee and tea, and computers very good. You are able to access an online version of the training after completing the in person. I would highly recommend this class!
Liz P. attended Intermediate Excel for Business
I had a great experience in my level 2 Excel for business course. The instructor, Garfield, was very knowledgeable and patient with questions. He taught all the sections effectively and I really feel like I learned a lot from that one day session. NYIM has a really nice facility with modern computers (Macs too). The fact that they give you the chance to re-take a class free of charge within a year after the first one is amazing. I highly recommend their courses and will definitely be taking another class, or two!
Tessa P. attended Intermediate Excel for Business
Garfield was very knowledgeable and took his time working with my group. Whenever one of us didn't understand he was more than happy to slow down and figure out where we were confused. Definitely recommend this place!
Sanura D. attended Intermediate Excel for Business
Had an amazing experience taking Excel for Business Level 2 at NYIM. The excel class helped me get back up to speed on a ton of fundamental techniques and short cuts, and the instructor was awesome. They even gave us videos to look at after we finished the class for some extra help on our own time. The actual location was convenient and comfortable, they gave us coffee tea and chcocolate- an overall great experience. Will definitely be going back for level 3.
Eddie H. attended Intermediate Excel for Business
The instructor Garfield was patient, informative and precise!
Lisa N. attended Intermediate Excel for Business
Just finished excel level 2 class. Went to review my excel skills before starting new job but ended up learning new tricks and functions also. The lecturer (Garfield) was very calm,kind, and informative. Thank you, Garfield!
Bokyong A. attended Intermediate Excel for Business
I retook this course. Garfield did not teach my first course but he taught my second course. He is a fantastic teacher. He is so clear and methodological. I highly recommend this class.
Dominika J. attended Intermediate Excel for Business
Great Excel Training! Garfield does a great job at instilling actionable tips and shortcuts that can really be used ASAP! Would recommend to anyone looking enhance their skillset!
Aston F. attended Intermediate Excel for Business
Thank you Michael for teaching this course!! Your knowledge of the material really help me to feel confident in taking what I've learned in the classroom and applying it to my newly assigned work projects. I would recommend this class to anyone wanting a better understanding of Excel.
Tracy A. attended Intermediate Excel for Business
The class was amazing and the instructor was superb!
Melissa L. attended Intermediate Excel for Business
I had a fantastic experience in NYIM's Intermediate Excel class. Staff was very helpful in guiding me on which course to take based on my current skill set. Scheduling was easy as there were multiple days, times, and formats offered. I took the course over two weekday nights with Garfield. The facilities are clean and modern and offer complimentary water, coffee, and snacks. Garfield was an expert and made learning excel fun (which is not easy to do). I am able to apply what I learned directly to my work. At the end of the course, they offer a handout, online courses, and a copy of the workbook from the training which makes it an incredible value. Would highly recommend NYIM for any excel training, and will definitely be booking advanced excel courses with them in the near future.
David C. attended Intermediate Excel for Business
Great instructors, they are patient! The materials are great, and you can retake the class once if you need a refresher! I highly recommend them!
Eun K. attended Intermediate Excel for Business
Full Course Syllabus
Download PDF Outline
Worksheet Management
Navigation
Keyboard shortcuts that facilitate quick and easy navigation around the worksheet
Paste Special
Use Paste Special to apply formats, as well as perform calculations on selected cells
Working with Text
Splitting Text
Use Text to Columns to split text into multiple cells
Joining Text
Join text from separate cells
Named Ranges
Assign a name to a range of cells to make it easier to reference those ranges in calculations
Data Validation
Create a drop-down menu to make data entry quicker and more efficient
Sort & Filter
Use Sort & Filter to find and organize data in large databases
Remove Duplicates
Use Remove Duplicates to eliminate duplicate data
Database Functions
VLOOKUP
Use Vlookup to find information in one column and return information from another column
HLOOKUP
Use Hlookup to find information in one row and return information from a second row
VLOOKUP - Closet Match
If an "Exact Match" cannot be found, Vlookup can still be used to find the closest match
Logical Functions
AND, OR
Tests to see whether multiple conditions are true
IF statements
Use IF statements to return output based on the contents of another cell
Pivot Tables
Pivot Tables
Create Pivot Tables to quickly summarize large databases
Pivot Tables & Grouping
Group within Pivot Tables
Multiple Pivot Tables
Create multiple Pivot Tables on a single worksheet
Statistical Functions
Ranking
Use Rank.eq and Rank.avg functions to determine a cell's position within a larger array
COUNTIFS
Use COUNTIFS function to count cells based on one or more conditions
SUMIFS
Use SUMIFS function to sum cells based on one or more conditions
Advanced Charts
Combo Charts
Combine two or more charts into a single chart, with the option of adding a secondary axis
End of Class Project
Project
End of class project to review key concepts from the class
Frequently Asked Questions
Do I need to bring a computer?

No. We provide a computer with the necessary software for each attendee. Choose a Mac or a PC during the checkout process.

Are discounts available for this course?

No. This course is not eligible for any discounts.

We offer discounts for packages of classes, including our Excel Bootcamp, SQL Bootcamp, Data Analytics, and PowerPoint Bootcamp.

We also provide discounts for ten or more classes purchased together. Please reach out for more information on our voucher programs.

You may be interested in these similar discounted packages:

Does this course come with a book?

Yes. This course includes a complimentary book or manual at no additional cost.

What if I need to retake this course? May I retake it for free?

Yes. You may retake this course for free once within six months, provided that the class is running with an available seat. For more information, visit our policies page.
Intermediate Excel Classes in NYC
Are you comfortable with the essential functions of Excel, such as entering data, basic calculations, and formatting spreadsheets? If so, there's a lot more Excel can do to help with your business needs. In this intermediate course, you'll learn the following skills:
Use Pivot Tables to summarize large datasets
Query Excel data with VLOOKUP and other database features
Perform descriptive statistics functions with COUNTIFS and SUMIFS
Combine charts to illustrate complex relationships between data
Intermediate Microsoft Excel Course at NYIM
Intermediate Excel for Business covers the essential applications of Excel used frequently by business professionals. This course is perfect for those with an understanding of basic formulas and functions, charts, and workbook management techniques. In this intermediate-level course, you will learn Pivot Tables, summary tables that calculate statistics and essential information from massive datasets.
Learn Functions to Manage Your Excel Database
If you're using Excel to manage large datasets, Intermediate Excel will help you manage data better with lessons on basic database functions. Intermediate Excel also covers VLOOKUP and HLOOKUP to query columns and rows. We will show you crucial database management tools including Named Ranges, Sort & Filter, and Data Validation to help you enter data quickly and efficiently.
Accelerate Your Workflow with Shortcuts
Throughout the class, we'll show you tricks and techniques to speed up your workflow, including navigational and keyboard shortcuts. In this hands-on course, you will work on real-world examples, reinforcing the concepts with practice throughout the class, as well as a cumulative project at the end.
Enroll Now and Get Access to Our Free Training Videos
Our Excel video suite provides premium video lessons for Excel students. Review the course materials anytime you need a refresh with high-quality video and lifetime access on desktop, tablet or mobile. Intermediate Excel students receive the video suite, a $95 value, completely free with course sign up.
The Best Intermediate Excel Courses NYC Has to Offer:
Step-by-Step project-basic exercises
Practical training for your career
Taught by experienced Excel gurus
Lifetime access to training videos
Workbooks and shortcut sheets for Practice
Small classes and one-on-one attention
What are Intermediate Excel functions?
Do you want to improve your abilities in Excel? Our Intermediate Excel for Business course is the perfect option. This course offers comprehensive training in Excel with hands-on exercises in our custom workbooks. You'll leave this class with confidence and eager to demonstrate your knowledge of Excel at work!
Worksheet Management
Worksheet Management begins with Navigation techniques. To save time switching between keyboard and mouse, you can apply basic keyboard shortcuts to navigate around worksheets. You don't need the mouse to highlight or move text from one cell to another. Paste Special, which illustrates how to copy data, formatting, and even formulas from one cell to another with a quick keyboard shortcut.
Working with Text
What if you put the first and last name of each client in one cell, but want to divide them into two cells? If you have 200 clients in one Excel spreadsheet it could take hours. Do you have to copy and paste text from one cell to another? Not with Intermediate Excel functions!
Split Text from one cell into multiple cells by using the ribbon and Join Text from multiple cells into a single cell with CONCATENATE and the ampersand "&". You can also make calculations easier by using Named Ranges to classify an individual cell or a range of cells.
Keeping your data organized is essential to perform calculations and other data functions in Excel. Data Validation formats cells with a drop-down menu, thereby restricting the data that can be entered into a cell.
Sort & Filter will show you how to organize and search your data efficiently. Remove Duplicates demonstrates Excel's ability to quickly examine a set of data and eliminate any duplicate rows.
Database Functions
Database Functions help you find data within the Excel worksheet quickly. For example, you may look up a product code, and return the name or the cost of that product. The VLOOKUP is easily considered the second most important skill in Excel and helps you find data within columns. HLOOKUP is used to find data within rows.
Logical Functions
Logical functions help you find data that meets certain criteria. For example, with the IF statement you can design a true/false test and designate specific actions to perform for both true and false results. This powerful ability allows a single cell to offer two different outcomes. AND/OR functions build on the basic True/False property by implementing multiple logical tests to determine in a statement is true.
Pivot Tables
Pivot Tables are easily the most-sought-after skill in Excel. Pivot Tables are another way to analyze data in Excel through both consolidation and analysis. With the Grouping technique, you can consolidate row and column data into groups. You can also create Multiple Pivot Tables on the same worksheet page.
Statistical Functions and Advanced Charts
It's hard to keep track of data within large datasets. The RANK.EQ, COUNTIFS, and SUMIFS provide additional information on data position and count within an Excel worksheet. Combo Charts are a unique visualization tool that allows Excel users to combine two charts.
Why Learn Intermediate Excel at NYIM?
At NYIM, helping professionals master Excel quickly and efficiently is our #1 priority. We offer a variety of benefits to ensure every student succeeds. When you attend classes at NYIM you'll find small class sizes, a modern computer lab with PCs and Macs, and patient instructors that ensure everyone understands.
We also provide a free course retakes for all courses include Intermediate Excel. After the course, take time to practice and reinforce what you've learned with your Excel workbook. Take your Intermediate Excel course again within six months absolutely free of charge!