Adobe Illustrator Bootcamp
Adobe Illustrator Training in NYC
This 18-hour Illustrator Bootcamp is a comprehensive look at the variety of tools available to you through Illustrator. Learn how to create and manipulate vector art for design and web, as well as master the Pen tool to create logos and digital art. Likewise, learn all about compound paths, effects, layers, masks, patterns, blends, colors, and how to save your files for both print and web.
This class is perfect for graphic designers, amateur and professional graphic artists, advertising designers, UI/UX designers, and anyone who wants to see what Illustrator has to offer.
This course is offered at our design school, Noble Desktop. View upcoming dates and register for this course directly on Noble Desktop's website.
Register at nobledesktop.com
$975
18 Hours
185 Madison Ave, 3rd Floor, NYC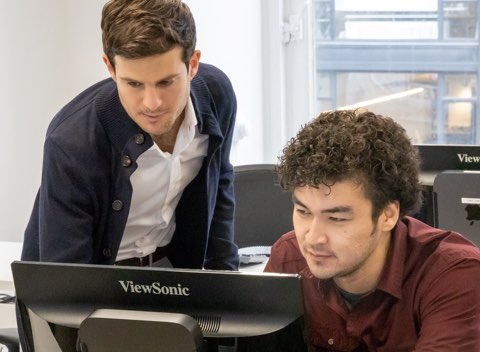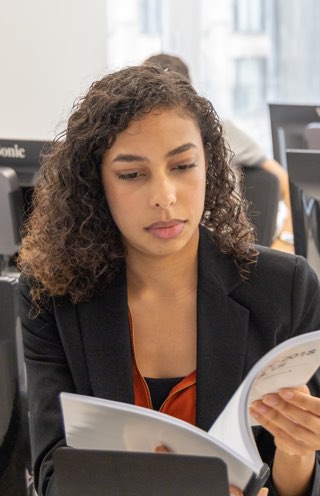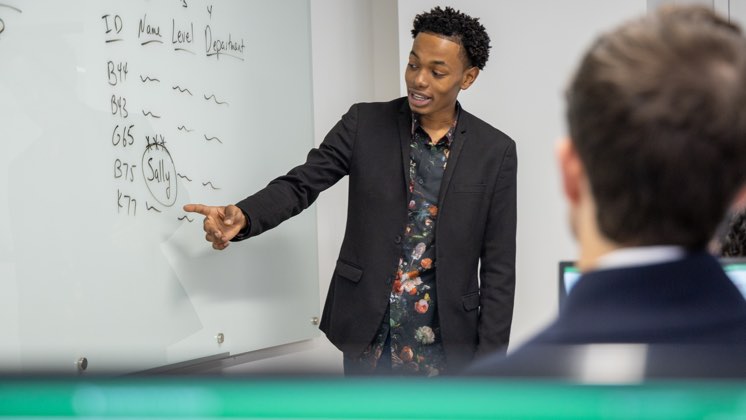 Workbook Included

Students get a custom workbook with step-by-step instructions.

Computer Provided

Modern computer classroom with your choice of Mac or PC to work on.

Small In-Person Classes

Get personalized attention in small groups with an expert instructor in the classroom.

Free Retake

Refresh the course materials within six months for free as long as there's space in the class.
What You'll Learn
How to work with shapes and objects
Drawing, color, and painting
Types and layers
Working with brushes and creating new brushes
Creating 3D objects from 2D artwork
I took a two-day Adobe Illustrator course here and found it well worth my time. Eugenio was the instructor and covered everything I was looking for, and more. The class was small, so he made extra effort to make sure our individual needs were met. His teaching style is mostly hands-on, and very quick, which I find to be helpful in courses like this, where there's a ton to learn and you really just need an overview. He had many examples to test out the tools in real time, printed takeaway material, and his contact information for questions later. If you're looking for a beginner to intermediate course on Illustrator, I'd definitely recommend NYIM, especially with Eugenio. Bring ideas and questions if you want more personalized help - there's time allotted for this.
John K. attended Adobe Illustrator Bootcamp
I just finished the 2-day Adobe Illustrator course. The course was one of the better computer software courses I have taken. The instructor, Eugenio, took the time to find out about us and tailor much of what we covered to our interests and needs. He gave welcome advice on where we should go next and what we should investigate to further our knowledge and our careers. Eugenio knew Adobe Illustrator inside and out so when I pressed the wrong keys, he knew exactly what I had done and got me on track again without numerous explanations. We were on the computer from the very first minute until the last; he walked us through each assignment. I particularly like that NYIM has the computers and the software on site for use (no need to bring your own). Loved the coffee available upon arrival on a Sunday morning!
K.M. attended Adobe Illustrator Bootcamp
Eugenio is such a patient teacher! He is so knowledgeable and always providing tips and tricks for the class. Very fun and very flexible with his teaching.
Rosanna C. attended Adobe Illustrator Bootcamp
Full Course Syllabus
Download PDF Outline
Section 1
Straight Lines
Using the Pen Tool
Adjusting the Workspace
Arranging Objects
Color Fills
Curves
Drawing Curves (Pen Tool)
Anchor Points and Direction Points
Default Fill and Stroke
Corners and Curves
Drawing Corners and Curves (Pen Tool)
Adjusting Anchor Points
Section 2
No Smoking Sign
Fill and Stroke
Basic Shape Tools
Grouping Objects
Layers Panel
Working with Templates
Saving Illustrator Files: Options
Super Hero
Live Trace and Live Paint
Tracing Hand-Drawn Images
Coloring Live Paint Objects
Brushes
Flare Tool
Section 3
What's Behind the Green Door?
Compound Paths
Group Selection Tool
Mask Till You Drop
Clipping Masks (Shapes)
Blob Brush Tool
Eraser Tool
Reflect Tool
Masking with Type
Type Tool
Clipping Masks (Editable Type)
Filling Text with a Photo
Placing Linked Images
3D Shape: Milk Duds Box
3D Extrude & Bevel
Creating Symbols from Artwork
Mapping Symbols onto 3D Objects
Lighting and Shadows for 3D Objects
Section 4
Will It Blend?
Blend Tool
Blending Options
Wavy Line Blend
Blending Lines
Reflect Tool
Rotate Tool
Juggling Colors and Gradients
Dashed Lines and Stroke Options
Saving Colors as Swatches
Blending Modes
Gradient Tool
Saving Gradient Swatches
Combining Shapes with the Pathfinder
Merging Paths (Pathfinder)
Transparency Options
Grouping Objects
Section 5
Patterns
Creating and Applying Pattern Swatches
Scaling and Rotating Patterns
Working with Layers
Align Panel
One-Page Advertisement
Working with Type
Text and Character Options
Adding a Drop Cap
Type on a Path
Text Wrap
Fill Text with a Pattern
Stylin' Effects
Using the Appearance Panel
Transparency
Blending Modes
Drop Shadows
Arrowheads
Appearance and Graphic Styles
Graphic Styles
Appearance Panel
Multiple Fills
Auto-sizing Text Boxes
Section 6
Illustrating a Shirt Design
Using Photoshop and Illustrator Together
Creating/Editing Clipping Masks
Compound Paths
Layers, Artboards & Recoloring Artwork
Adding and Removing Layers
Creating and Using Multiple Artboards
Recoloring Artwork
Converting CMYK Art to Spot Colors
Frequently Asked Questions
Do I need to bring a computer?

No. We provide a computer with the necessary software for each attendee. Choose a Mac or a PC during the checkout process.

Are discounts available for this course?

No. This course is not eligible for any discounts.

We offer discounts for packages of classes, including our Excel Bootcamp, SQL Bootcamp, Data Analytics, and PowerPoint Bootcamp.

We also provide discounts for ten or more classes purchased together. Please reach out for more information on our voucher programs.

Does this course come with a book?

Yes. This course includes a complimentary book or manual at no additional cost.

What if I need to retake this course? May I retake it for free?

Yes. You may retake this course for free once within six months, provided that the class is running with an available seat. For more information, visit our policies page.
3-day Adobe Illustrator Bootcamp in New York City
The Adobe Illustrator Bootcamp concentrates on the most common topics that you will need to quickly create vector graphics. By the end of this course, you'll be able to create vector art for design and websites, create perspective drawings, and control your brushes to create a more natural brush stroke. This class is perfect for graphic designers, amateur and professional graphic artists, advertising designers, UI/UX designers, and anyone who wants to see what Illustrator has to offer.