Project Management Bootcamp
Beginner to Advanced Project Management Training in NYC
This two-day bootcamp will cover an overview of project management theories and students will dig deeper into project management concepts.
Package includes our beginner and advanced Project Management classes at a 15% discount. Choose a predefined track or customize your own schedule.
This Class is For Students That:
Want an overview of project management theories and methodologies
Desire a career in project management
Need a review of project management concepts and approaches
Understand the five phases of a project
Know how to create a project proposal and business case
Desire a more in-depth study of project management
Need strategies and tools to work better with a project team
This course can be helpful for those pursuing a PMP certification.
Register for a Package
Customize your own schedule (choose dates at checkout), or choose a preset package track by expanding the dates below.
$528

$449
14 Hours
185 Madison Avenue, NYC
Corporate training available
Custom Schedule

Feb 18–20

Intro to Project Management

Tuesday, Feb 18, 10am–5pm

Advanced Project Management

Thursday, Feb 20, 10am–5pm

Apr 6–7

Intro to Project Management

Monday, Apr 6, 10am–5pm

Advanced Project Management

Tuesday, Apr 7, 10am–5pm

Jun 4–5

Intro to Project Management

Thursday, Jun 4, 10am–5pm

Advanced Project Management

Friday, Jun 5, 10am–5pm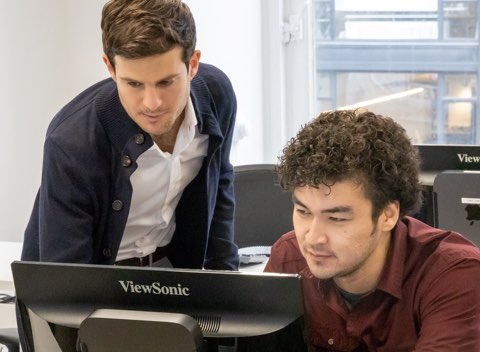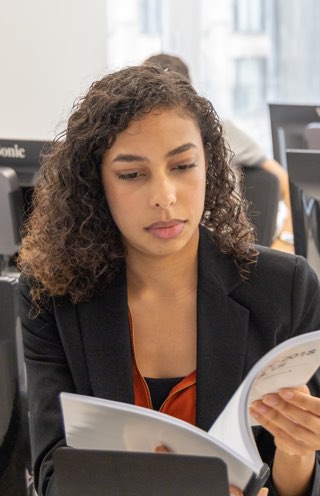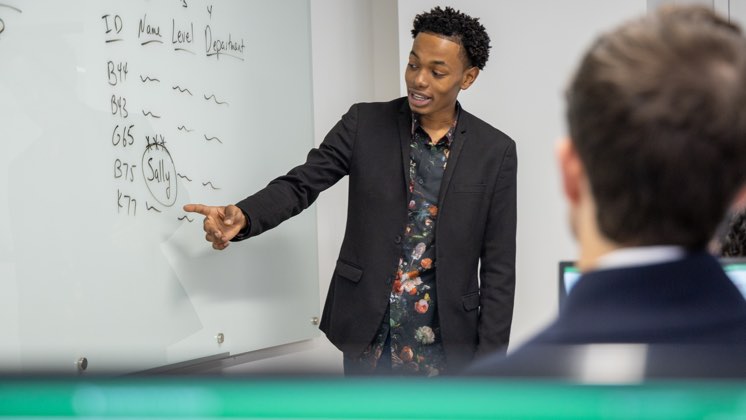 Workbook Included

Students get a custom workbook with step-by-step instructions.

Computer Provided

Modern computer classroom with a PC for each student to work on.

Small In-Person Classes

Get personalized attention in small groups with an expert instructor in the classroom.

Free Retake

Refresh the course materials within six months for free as long as there's space in the class.
The Project Management Bootcamp includes
Intro to Project Management
The course begins with a review of project management terminology so that students learn to speak the language of a project manager. Students will obtain a firm grasp of different methods and strategies used in the field of project management. Moving deeper into project management theory, students will explore a five-stage model of project management that includes the following stages: Initiation, Planning, Execution, Monitoring, and Closing.
Advanced Project Management
In this Advanced Project Management course, students delve deeper into project management concepts include task analysis, critical path method, planning, project timelines, and ongoing monitoring. Students will review the five phases of project management, examining the complexities of each stage.
Full Course Syllabus
Download PDF Outline
Intro to Project Management
Theories and Methods
Understand project management methodologies and tools
Initiation Phase
Defining the details of a project charter
Creating a business case
Planning Phase
Identify needs
Develop a timeline
Budget costs
Establish a communication plan
S.M.A.R.T. and C.L.E.A.R. Goals
Identify risks and mitigate challenges
Execution Phase
Lead the team
Maintain schedule
Track the budget
Evaluate quality
Monitoring Phase
Report progress and manage stakeholders
Monitor ongoing project tasks including risks, schedule, budget, work quality and resources
Closing Phase
Finish project and transfer deliverables; lessons learned
Capstone Project
Advanced Project Management
Initiation
Initiation phase overview
Review of the five phases of a project
Core tasks for defining a project
Things to consider before starting a project
Planning
Planning phase overview
Choosing a project
Planning and prioritizing a project
Project planning guidelines
Execution
Execution phase overview
Beginning a project
Tips for effective implementation
Stakeholders and human capital
Delegating tasks and communicating expectations
Assessing project status and foreseeing future challenges
Completing daily tasks and dealing with issues
Managing progress and timeline adjustments
Project execution guidelines
Monitoring
Monitoring phase overview
Key Performance Indicators
Evaluating progress
Setting baseline performance measures
Understanding and correcting variances
Assessing work quality
Setting quality assurance procedures
Monitoring risks and changes
Project monitoring guidelines
Closing
Closing phase overview
Obstacles in the closing phase
Evaluating project performance
Managing uncertainty and unexpected challenges
Final reports and managing records
Project closing guidelines
Frequently Asked Questions
Do I need to bring a computer?

No. We provide a computer with the necessary software for each attendee. This course is available on Windows PC only.

Are discounts available for this course?

This program is a discounted package of classes that is 15–25% off the individual class prices.

Does this course come with a book?

Yes. This course includes a complimentary book or manual at no additional cost.

What if I need to retake this course? May I retake it for free?

Yes. You may retake this course for free once within six months, provided that the class is running with an available seat. For more information, visit our policies page.