Python for Data Science Bootcamp
Hands-on Python Bootcamp in NYC
Python is by far the most popular language used by programmers for data science, and it is also quite popular in web applications and game development. Python is considered a high-level programming language, but with its easy syntax and robust documentation, it is considered one of the easiest languages for beginners to learn.
In this 5-day hands-on Python course, you'll learn the fundamentals of Python, and then you'll transition into more complicated programming tasks. We'll focus heavily on data science using Pandas, Matplotlib, and Sci-Kit learn. With these packages, you'll learn how to input, analyze, and make visual representations of data.
Related Classes: You may also be interested in our Data Science Certificate or our other data analytics classes, including SQL, Excel, and Tableau. 
This Python Bootcamp is offered at Noble Desktop, our coding school in NYC.
This course is offered at our design school, Noble Desktop. View upcoming dates and register for this course directly on Noble Desktop's website.
Register at nobledesktop.com
$1595
30 Hours
185 Madison Ave, 3rd Floor, NYC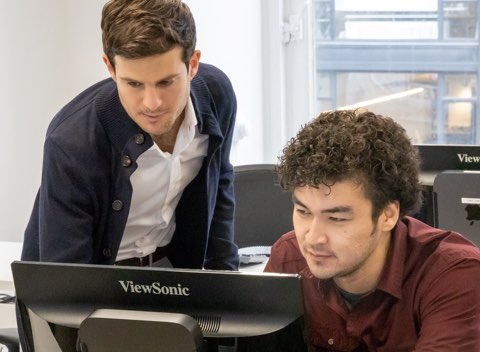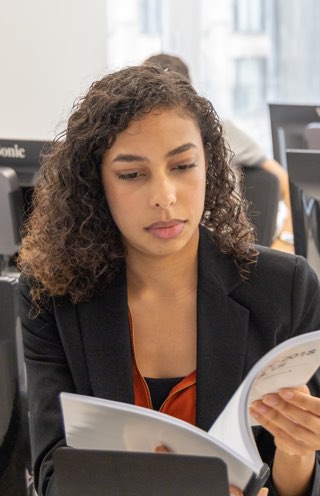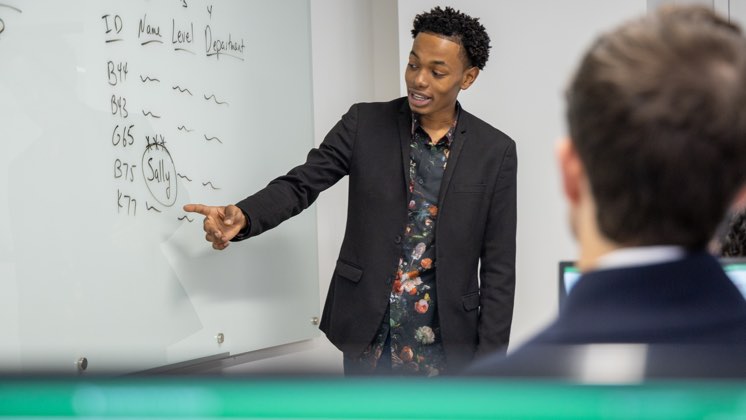 Workbook Included

Students get a custom workbook with step-by-step instructions.

Computer Provided

Modern computer classroom with your choice of Mac or PC to work on.

Small In-Person Classes

Get personalized attention in small groups with an expert instructor in the classroom.

Free Retake

Refresh the course materials within six months for free as long as there's space in the class.
What You'll Learn
Data types within Python which include strings, integers, list, floats, etc.
Control flow, looping, and function which will allow you to create powerful programs.
Object-oriented programming, which allows for the creation of reusable programs.
Combine these skills into a special project in data science.
Full Course Syllabus
Download PDF Outline
Section 1
Introduction to Programming
History of Computers
Understanding Hardware
Writing First Program ("Hello World")
Variables & Data Types
Strings, Integers, Integers, Floats, Boolean, etc.
Assigning Variables
Operators
Section 2
Control Flow
Define motivation behind control flow
If, If-Else, Elif, Switch Statements
Complex Data Types
Initializing Lists
Printing Lists
List functions such as length, append, pop, etc.
Introduction to Dictionaries & their structures
Loops
Define the motivation behind using a loop
For, While, Do-While, For Each loops
Error Handling
Functions
Identify when to use a function
Syntax & Implementation
Arguments & Return values
Section 3
Object Oriented Programming
Introduction to O.O.P paradigm
Introduction to Objects, Classes,Instances
Inheritance, Abstraction, and Sets
Section 4
Advanced Python
File Input
User Input
List Comprehension
Packages
Section 5
Data Science
Introduction to Data Science
Review Python Fundamentals
Understanding the data science discipline
Pandas
Data set reading
Filtering, Cleaning, Manipulating Data
Excel vs Python
Data Visualization
Matplotlib Package
Understanding motivations between different graphs
Machine Learning
Sci-Kit Learn package
Understand motivation and definition of machine learning
Frequently Asked Questions
Do I need to bring a computer?

No. We provide a computer with the necessary software for each attendee. Choose a Mac or a PC during the checkout process.

Are discounts available for this course?

No. This course is not eligible for any discounts.

We offer discounts for packages of classes, including our Excel Bootcamp, SQL Bootcamp, Data Analytics, and PowerPoint Bootcamp.

We also provide discounts for ten or more classes purchased together. Please reach out for more information on our voucher programs.

Does this course come with a book?

Yes. This course includes a complimentary book or manual at no additional cost.

What if I need to retake this course? May I retake it for free?

Yes. You may retake this course for free once within six months, provided that the class is running with an available seat. For more information, visit our policies page.
Why should I learn Python?
Though it was developed over 25 years ago in 1991, many people consider Python to be a language of the future. It's quickly replacing PHP and other languages for everyday web development tasks. Learners of all ages can use Python in a variety of fields, from math to data science to machine learning. Python is one of the most popular languages in introductory or beginner coding classes because of its simple syntax and robust documentation.
Although it's easy to learn, Python is extremely powerful and widely used. Facebook, YouTube, and Instagram are powered by Python.
The Languages, Frameworks, and Tools That Work With Python
Python is often used with:
MySQL: MySQL is an open-source DBMS (Database Management System) that can be used to manage data from a Python web application. With the MySQL connector, you can use Python within a MySQL database. Python is also compatible with the PostgreSQL open-source DBMS.
Jupyter: Jupyter, a development environment, makes it possible to use Python to analyze, graph, and perform machine learning functions on code. For data scientists that would like to enhance their skills, Python is an ideal option.
Python Frameworks
There are countless Python frameworks that can help you work quickly and efficiently to create powerful applications.
Django: Django is a Python framework focused on speed and agility. When building web applications with the help of Python, you will create web applications efficiently while using less code. The mantra for Django users is DRY (Don't Repeat Yourself).
Flask: Flask has been described as a mini-framework for Python. Flask can be used with the MongoDB open-source DBMS. The LinkedIn and Pinterest websites were built with Flask.
What Do Python Developers Do?
Because of the versatility of the Python programming language, Python developers can work in a variety of settings. Python developers often work on the back-end of websites and applications, using MySQL for database management.
Learn Python Programming Today
Get started learning this powerful and popular programming language at our coding school, Noble Desktop. We offer introductory Python workshops and more comprehensive Python bootcamps.