SQL Level III
Advanced SQL Training in NYC
Master advanced SQL processes and controls. Create stored procedures. Connect to external data sources like Microsoft Applications applications and manipulate data with constraints, and indexes. In SQL 3, you'll gain the skills to begin a career in database management.
Register for a Class
Choose a date below to add it to your cart. At checkout, you can change the quantity for multiple registrants, add other classes, and change your dates.
$425
8 Hours
185 Madison Avenue, NYC
Corporate training available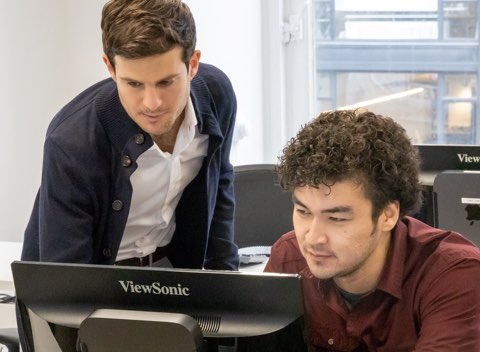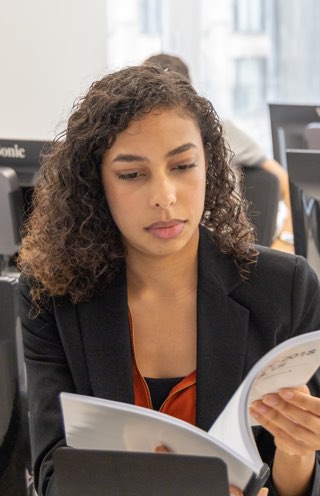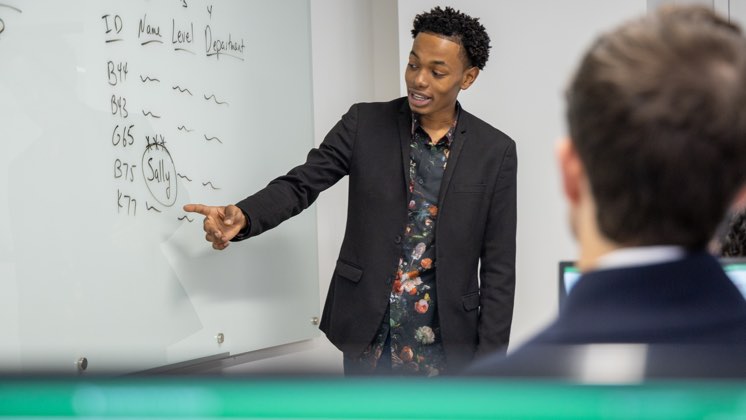 Workbook Included

Students get a custom workbook with step-by-step instructions.

Computer Provided

Modern computer classroom with a PC for each student to work on.

Small In-Person Classes

Get personalized attention in small groups with an expert instructor in the classroom.

Free Retake

Refresh the course materials within six months for free as long as there's space in the class.
What You'll Learn:
Create a database and tables
Import data from Microsoft Access and Microsoft Excel
Write code to import, edit, and delete data
Use security features to protect data integrity
Develop database diagrams
Full Course Syllabus
Download PDF Outline
Importing and Exporting Data
1) Creating a Database and Tables in SQL
2) Importing and Exporting Data from and to Excel
3) Importing and Exporting Data from and to Access
4) Importing, Updating and Deleting Data via Code
Building Control Structures
5) Creating Primary Keys, Indexes and Constraints
6) Setting up Referential Integrity
7) Creating Database Diagrams
Optional
Protect Views with Schema binding
Data Conversion Functions
String Functions
Cast Function
Convert Function
Rounding Functions
Temporary Tables
Low Level Security Overview
Local Temp Tables
Global Temp Tables
Stored Procedures
Parameter Queries using Variables through Views
Automation of Workflow Processes
Triggers to Create Workflow Events
Frequently Asked Questions
Do I need to bring a computer?

No. We provide a computer with the necessary software for each attendee. This course is available on Windows PC only.

Are discounts available for this course?

No. This course is not eligible for any discounts.

We offer discounts for packages of classes, including our Excel Bootcamp, SQL Bootcamp, Data Analytics, and PowerPoint Bootcamp.

We also provide discounts for ten or more classes purchased together. Please reach out for more information on our voucher programs.

Does this course come with a book?

Yes. This course includes a complimentary book or manual at no additional cost.

What if I need to retake this course? May I retake it for free?

Yes. You may retake this course for free once within six months, provided that the class is running with an available seat. For more information, visit our policies page.
Advanced SQL Training New York City
Master Advanced SQL Processes and Controls—Create Databases and Automate Tasks
Launch a career in database management or add SQL to your portfolio of skills in web development. SQL Level 3 picks up after advanced functions and table management techniques at the intermediate level. Develop databases, store data, and learn to store procedures and add temporary tables.
As a student in SQL 3, you'll write advanced SQL code and work with task-based exercises that reinforce fundamental SQL coding skills. Upon completing the course, you'll have built a SQL database that you can continue to work with at home.
You will be able to complete the following tasks after taking SQL Level 3:
Create a database and store data within its tables

Import data from external sources (Microsoft Access and Excel)

Set up primary keys and database constraints
Save 15% and Become a SQL Expert in 3 Days!
Do you need a refresher on fundamental SQL concepts? Review SQL fundamentals and learn advanced SQL functionality in our three-day bootcamp. Review database essentials and advanced functions on day one and two. By day three, you'll write code to update data and trigger automatic functions. Enroll in SQL bootcamp and save 15%!
In-Depth Course Overview
In SQL Level 3, you'll focus on the following core tasks:
Creating a Database - Use your knowledge of SQL to create a database with tables than you can use throughout the course to practice queries

Importing Data from External Sources - Import data from other programs like Microsoft Excel and Access and write code to update it

Building Database Infrastructure and Constraints - Create security measures to protect data integrity and grant access to your team
Following the course, lay out a database diagram, create a database, and write queries of your own. You'll have the skills you need to practice and build upon advanced SQL functions at work or home.
Using the course workbook as a guide, you can practice exercises from SQL classes, while also building new databases. The step-by-step instruction in our manual will lead you through creating temporary tables, indexes, and stored procedures to save complex processes.
Why Learn Advanced SQL at NYIM?
At NYIM, you'll receive everything you need to learn advanced SQL. All you need to do is show up! Each student will have access to a PC with Microsoft SQL Server installed. You'll also receive our proprietary course manual that guides you through step-by-step exercises that you can recreate at home.
Our SQL courses offer the best value for your investment. In addition to the free course materials, you'll also have a free retake that you can use within six months. Students who take advantage of this offer cite the need to refresh their abilities.
© NYIM Training 2018