Advanced PowerPoint for Business
Advanced PowerPoint Training in NYC
In this advanced PowerPoint class, you'll create a reusable PowerPoint Template, make an easily updatable, engaging, consistent presentation, import charts from Excel, use multimedia and layered objects, and record a slideshow.
This class includes our revolutionary PowerPoint video suite with several hours of premium content. Review the course materials with high-quality video with lifetime access on desktop, tablet or mobile, a $95 value, included free.
Register for a Class
Choose a date below to add it to your cart. At checkout, you can change the quantity for multiple registrants, add other classes, and change your dates.
$219
7 Hours
185 Madison Avenue, NYC
Corporate training available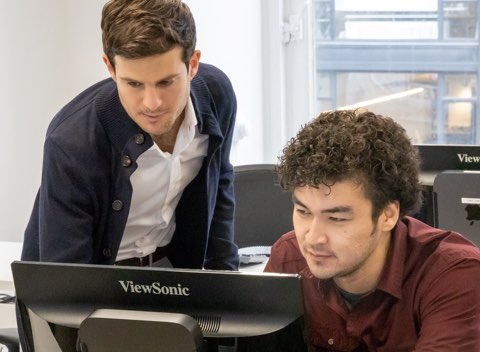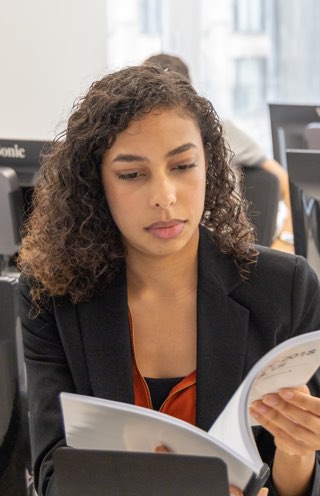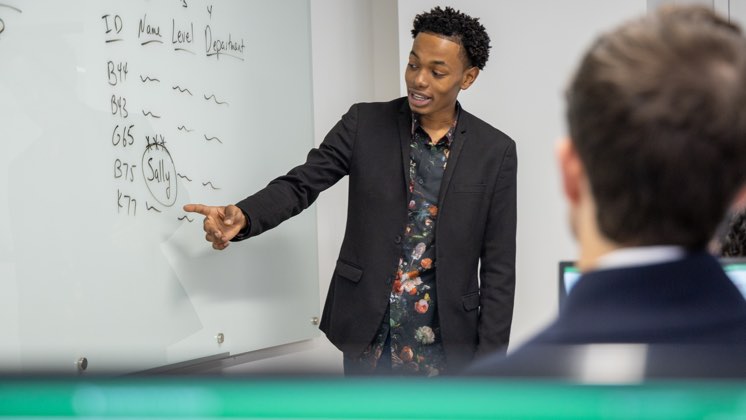 Video Training & Workbook Included

Students get a workbook and lifetime access to self-paced training videos, a $95 value.

Computer Provided

Modern computer classroom with your choice of Mac or PC to work on.

Small In-Person Classes

Get personalized attention in small groups with an expert instructor in the classroom.

Free Retake

Refresh the course materials within six months for free as long as there's space in the class.
What You'll Learn
Slide Master
Commenting
Navigation
Charts from Excel
Recording Slideshows
Took a class here. The instructor was great and very knowledgeable, which made the content very easy to understand and learn how to use.
Wiafe M. attended Advanced PowerPoint for Business
Great experience w/ NYIM. The classes were small so there was a lot more attention paid to the students. The instructor was extremely knowledgeable and was able to answer all questions and even had time to show with hands on practice. I will definitely be coming back for more courses.
David D. attended Advanced PowerPoint for Business
Full Course Syllabus
Download PDF Outline
Designing
Slide Masters
Themes and Templates
Collaborating
Using Outlines
Reusing Slides
Commenting
Adding Comments
Replying to Comments
Navigation
Hyperlinks
Action Buttons
Using Multimedia
Charts from Excel
Paste
Paste Special Paste
Paste Special Paste Link
Tables from Excel
Paste
Paste Special Paste
Paste Special Paste Link
Custom Shows
Building Custom Shows
Running Custom Shows
Recording a Slideshow
Frequently Asked Questions
Do I need to bring a computer?

No. We provide a computer with the necessary software for each attendee. Choose a Mac or a PC during the checkout process.

Are discounts available for this course?

No. This course is not eligible for any discounts.

We offer discounts for packages of classes, including our Excel Bootcamp, SQL Bootcamp, Data Analytics, and PowerPoint Bootcamp.

We also provide discounts for ten or more classes purchased together. Please reach out for more information on our voucher programs.

Does this course come with a book?

Yes. This course includes a complimentary book or manual at no additional cost.

What if I need to retake this course? May I retake it for free?

Yes. You may retake this course for free once within six months, provided that the class is running with an available seat. For more information, visit our policies page.
Detailed Course Overview
PowerPoint for Business Level 2 is a great class for those that want to continue to advance their skills beyond the first course, or for those that currently build presentations but want to become more sophisticated with the tools they use.
We begin with a discussion of the Slide Masters, which allows the user to format either all slides in the presentation or all slides of a specific layout, the same way. A typical presentation consists of slides with varying layouts (title slide, content/layout slides, etc.), so using the slide master is a very efficient way to ensure that the overall presentation is fluid and unbroken.
Collaborating and commenting is covered next. In collaborating we discuss how to take an outline created in Microsoft Word and import it into PowerPoint—thereby allowing the software to properly allocate the information to its appropriate placeholders. Students also learn how to reuse slides, which facilitates the importing of slides from other presentations. In commenting, we experience the very interactive method of creating and replying to comments within our presentations.
A section on Navigation follows in which hyperlinks and action buttons are explained. Hyperlinks allow users to access websites or email addresses within a presentation, whereas action buttons allow movement within a presentation. Elements such as these transform a presentation from a lecture into a much more interactive experience.
Incorporating multimedia within a presentation is taking on greater importance, nowadays. PowerPoint makes it easy to embed both audio files and video files that can be triggered by a mouse click, or a scroll over. Music can be made to play across several slides, or an entire presentation and media files can be easily edited within the software, without harming the original.
As in the first course, a section each on tables and charts is included, but this time the focus is on importing from another Microsoft program, which allows for much more sophistication. Various methods are examined that carry out various results.
We end the course with exercises on custom shows and how to record a slideshow. Custom shows let the user take one presentation and create several alternatives within the same file. For example, a presentation on medical benefits could contain 20 slides in total but may consist of custom shows for staff, managers, or executives, in which only the relevant slides would be shown to each group. Recorded slideshows are often used for kiosk presentations, where information is looped for people to view at their leisure.
Read more about NYIM's PowerPoint classes or email us for more information.