Graphic Design Bootcamp
Hands-on Design Training & Portfolio Development Courses
Expand your understanding of design concepts and processes while producing stunning portfolio projects in this hands-on intensive. Grow your depth of knowledge through lessons in color theory, typography, history, and more.
A small-group format allows for peer and professional critiques of student work, as well as frequent check-ins with the instructor. Feel confident asking questions and receiving feedback as you learn and grow with like-minded individuals looking to advance their work. A huge benefit of the class is having the time and space to incorporate feedback and newly learned skills immediately through independent work time. 
This course focuses on how to design and assumes knowledge of Photoshop, InDesign, and Illustrator. Students looking to build foundational knowledge in these programs should check out our many course options, including the Graphic Design Certificate and bootcamps. 
This course is offered at our design school, Noble Desktop. View upcoming dates and register for this course directly on Noble Desktop's website.
Register at nobledesktop.com
$975
18 Hours
185 Madison Ave, 3rd Floor, NYC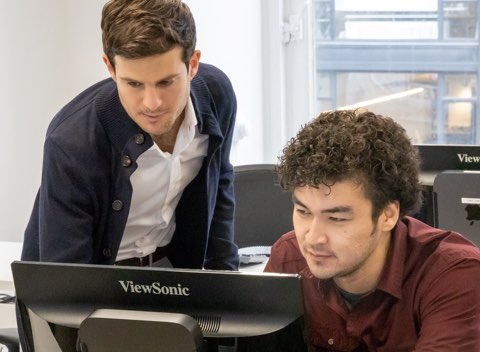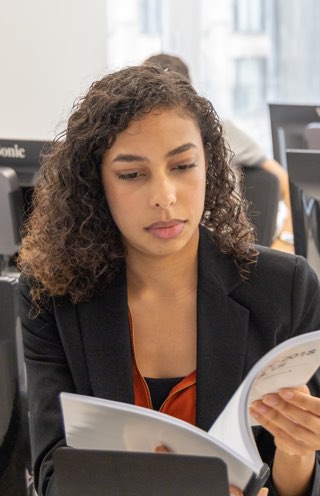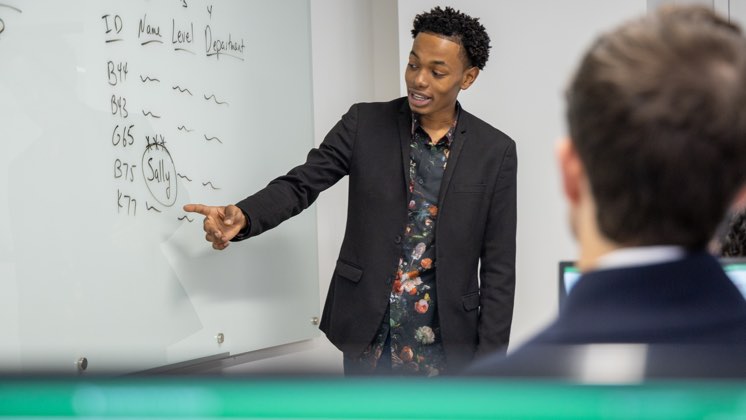 Workbook Included

Students get a custom workbook with step-by-step instructions.

Computer Provided

Modern computer classroom with your choice of Mac or PC to work on.

Small In-Person Classes

Get personalized attention in small groups with an expert instructor in the classroom.

Free Retake

Refresh the course materials within six months for free as long as there's space in the class.
Learn How To:
Broaden your understanding of graphic design concepts and processes, both formal and conceptual
Enhance your skill as a designer
Understand the elements of design
Speak about your work and influences
Incorporate and evaluate critiques
Develop and expand your portfolio
Full Course Syllabus
Download PDF Outline
Section 1
What is Graphic Design?
Brief overview and discussion
Elements of design
Gestalt Principles
Word Work
Letterform Anatomy
Type Classifications
Speed design with limited source material!
Design Assignment: Logo Design
Brief slide show on what makes a good logo
Design assignment: Choice of logo redesign for an existing company or create your own personal logo design.
Create two distinct design options for your logo.
Section 2
Design Process
Explore ideation and the creative design process
Logo exploration (Ritos del Sol, Vaya)
Learn logo drafting using the template feature in Illustrator
Introduction of Photoshop mock-ups
Sketching exercise. Learn to work quickly and creatively within fixed parameters.
Color Interaction
What do colors mean?
How do designers use colors effectively
Color palettes: we will explore how to choose appropriate color palettes for different assignments
Design Assignment: Identity System
Finalize your logo to design an identity system using a "color study" and complimentary typeface. Use this visual system to either create a stationery design or social media graphics.
Section 3
Typography
Typographic Overview
Type Selection
Type Pairing
Foundry Overview
Optical Spacing
Design Assignment: Book/eBook Cover Redesign
Create either a book or eBook cover design for a re-issue of a famous piece of fiction. Use type and imagery to create a visually appealing cover that will entice a reader.
Section 4
Historical Design Movements
Arts & Crafts
Art Nouveau
Dada
Destijl
Constructivism
Bauhaus
Swiss International
Design Assignment: Album Art Cover/Spotify Graphic
Create cover art for a band to be used for online purchases of music or streaming music services. Use a mixture of typography, imagery, and basic graphic elements, with consideration for different screen sizes and resolutions.
Section 5
Information Hierarchy
What goes first? Second? Last? And why?
Are there rules? How can we be creative within these rules?
We explore the who, what, where, when, and why of laying out information.
Learn about grid systems.
Design Assignment: Event Poster or Email Announcement
Students will design a poster or email announcement for an event. Designs should convey a concept relating to the subject, and use a clearly identifiable visual hierarchy.
Section 6
Design Hero Slide Show
The instructor will show a brief slide show of past and present design visionaries
Portfolio Criteria & Revision
Ten points to consider when developing a professional Graphic Design portfolio.
Recommended book list
Revision, completion and collection of any final revised exercises or projects.
Frequently Asked Questions
Do I need to bring a computer?

No. We provide a computer with the necessary software for each attendee. Choose a Mac or a PC during the checkout process.

Are discounts available for this course?

No. This course is not eligible for any discounts.

We offer discounts for packages of classes, including our Excel Bootcamp, SQL Bootcamp, Data Analytics, and PowerPoint Bootcamp.

We also provide discounts for ten or more classes purchased together. Please reach out for more information on our voucher programs.

Does this course come with a book?

Yes. This course includes a complimentary book or manual at no additional cost.

What if I need to retake this course? May I retake it for free?

Yes. You may retake this course for free once within six months, provided that the class is running with an available seat. For more information, visit our policies page.
Learn Graphic Design Theory & Build Your Portfolio
Expand your knowledge of design concepts and processes while working on a design portfolio. This class is project-based and assumes knowledge of Photoshop, InDesign, or Illustrator.
Get Started with the Graphic Design Applications
See our full suite of graphic design classes: Photoshop, InDesign & Illustrator.
Graphic Design Certificate Program
Take our Photoshop, InDesign, and Illustrator courses along with this course and earn a Certificate in Graphic Design.
More about the Graphic Design Fundamentals course
Throughout the course, you'll produce several portfolio projects, including logos, social media graphics, stationery, book/eBook covers, album covers, event posters, and email announcements.
Assignments will be critiqued during class by both the instructor and your peers. You'll incorporate the feedback into your work and finish the assignment in class, or outside of class as homework (you should expect to work outside of class). By the end of this intensive, you should have at least five finished pieces for your portfolio. The instructor is available throughout the six classes to give feedback and advice on all projects both during and outside of class.
Instructor: With 20 years of accomplishment in graphic design and advertising, Alfred Assin specializes in branding and identity. His work spans a wide array of industries, with clients including Douglas Elliman, Robert K. Futterman, GlaxoSmithKline, The Wynn Hotel & Casino, Cartier, Bass Shoes, and Maurice Villency. He has worked for top agencies such as Frankfurt Balkind and AgencySacks, as well as boutique firms like slover [AND] company and Graj + Gustavsen. He maintains his own freelance consultancy, Mr. Grey.
Design School: Noble Desktop is a leading design school in New York City, specializing in graphic design, web design, and UX/UI design. Since 1990, we have taught thousands of designers and freelancers the latest trends and applications. Advance your skills with hands-on classes and certifications, or customize a corporate training program for your team.