Photoshop Private Training
Adobe Photoshop Essentials
In this Photoshop Essentials training course, you'll learn firsthand how to create graphics for websites, retouch damaged photography, and use Text, Layers, and Drawing Tools to create images. See further topics covered in the syllabus below.
This course is only available as one-on-one training. For those interested in Adobe group classes, please check our design school courses.
Register for a Class
Choose a date below to add it to your cart. At checkout, you can change the quantity for multiple registrants, add other classes, and change your dates.
$450
3 Hours
185 Madison Avenue, NYC
Corporate & private training available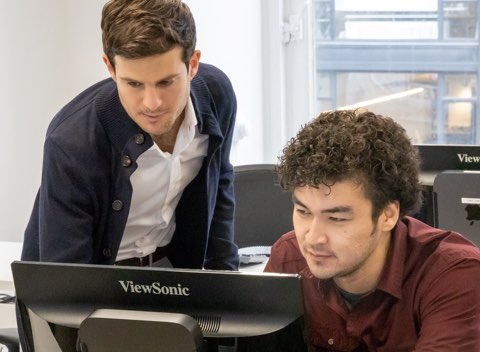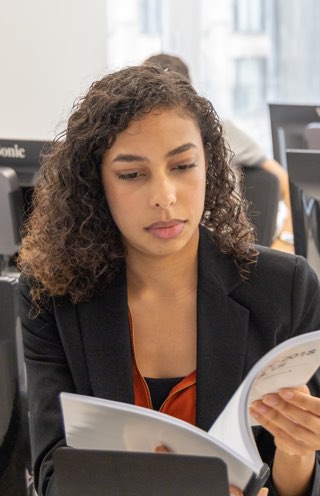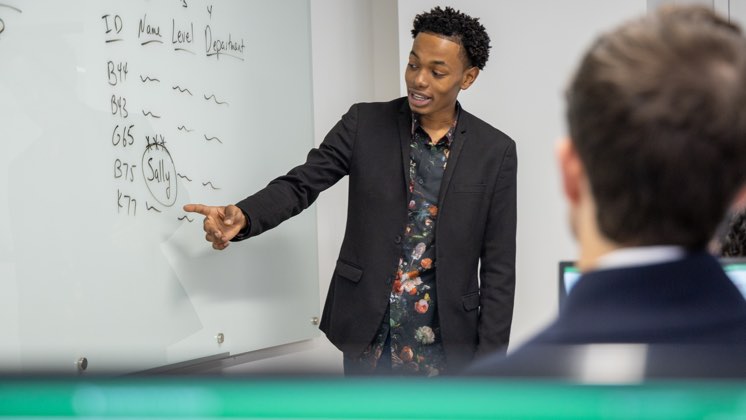 Workbook Included

Students get a custom workbook with step-by-step instructions.

Computer Provided

Modern computer classroom with your choice of Mac or PC to work on.

Small In-Person Classes

Get personalized attention in small groups with an expert instructor in the classroom.

Free Retake

Refresh the course materials within six months for free as long as there's space in the class.
What You'll Learn
Getting to Know the Work Area
Basic Photo Corrections
Working with Selections
Layer Basics
Masks and Channels
Typographic Design
Final Project
Eugenio was an experienced hands on instructor. He taught us all the fundamentals of Photoshop in precise and organized lessons. The class was small and personal and it was a nice professional environment. Eugenio even gave us his contact information for any questions we may have in the future along with his YouTube channel where he uploads clear step-by-step videos. A very worthwhile opportunity.
Teri F. attended Photoshop Private Training
Just finished a Photoshop course taught by Eugenio. Wow. He is one of the best teachers I've ever had. Although clearly a world-class expert, he was so wonderful with the class of beginners. He was totally aware that most of us knew nothing about Photoshop, and therefore was extremely patient and helpful with any questions or problems we had. He explained everything slowly and completely, and then was very happy to go over any aspect we didn't comprehend until we got it. At the end of the class, he showed us several sites and tutorials to go over material, as well as giving each of us his personal contact information should we have future questions. Eugenio was an exceptional teacher, and I would take another class from him anytime.
Stacey B. attended Photoshop Private Training
It was like a very condensed tin of soup - and thick in content, its full benefit is only revealed when you take time afterwards to dilute what you heard by practice, practice, practice. Like all food it has a use-by date, but I have never felt so inclined to put time aside as after this course. To continue the food analogy, it was a healthy and sustaining meal and chef Eugene deserves 5 stars and an accolade.
R.L. attended Photoshop Private Training
Eugene is wonderful! The pace was perfect and he is very enthusiastic and patient. This is the perfect class for anyone who is a novice or wants to learn the basics.
pemari a. attended Photoshop Private Training
I enjoyed the Photoshop class with Scott. He was very helpful and full of tips for questions. I would definitely recommend the class!
Caitlin S. attended Photoshop Private Training
I recently took Photoshop Essentials and the instructor Eugene was incredibly knowledgeable, patient and passionate about the program and enthused the students. I would definitely recommend this instructor and class to others.
M.M. attended Photoshop Private Training
I have never learned so much in a short amount of time. Eugene taught w/ the highest professionalism ever. I will sign up for his Advanced Photoshop courses through NYIM from now on!
J.P. attended Photoshop Private Training
Eugene has to be one of the best and coolest instructors I've had in years. Very patient and moved at a great pace. He made this class a true learning experience.
M.E. attended Photoshop Private Training
Eugene was a really great teacher. He covered a lot of ground. He was very patient and thorough,especially with questions. He explained large, varied and complex material in an understandable way. Very nice guy.
J.H. attended Photoshop Private Training
Scott is a very good communicator on going over the items on Photoshop
T.Z. attended Photoshop Private Training
Full Course Syllabus
Download PDF Outline
Introduction
Raster vs. Vector
Creating new images
Saving files for print
Saving files for web/screen
Working with Adobe Bridge
Lesson 1. Getting to Know the Work Area
Using the tools
Using the options bar and other panels
Undoing actions in Photoshop
Customizing the workspace
Tools panel overview
Lesson 2. Basic Photo Corrections
Strategy for retouching
Resolution and image size
Adjusting the color in Camera Raw
Straightening and cropping the image in Photoshop
Replacing colors in an image
Adjusting saturation with the Sponge tool
Repairing areas with the Clone Stamp tool
Using the Spot Healing Brush tool
Using content-aware fill
Applying the Unsharp Mask filter
Lesson 3. Working with Selections
About selecting and selection tools
Using the Quick Selection tool
Moving a selected area
Manipulating selections
Using the Magic Wand tool
Selecting with the lasso tools
Rotating a selection
Selecting with the Magnetic Lasso tool
Cropping an image and erasing within a selection
Refining the edge of a selection
Lesson 4. Layer Basics
About layers
Using the Layers panel
Rearranging layers
Applying a gradient to a layer
Applying a layer style
Flattening and saving files
Lesson 5. Masks and Channels
Working with masks and channels
Creating a mask
Refining a mask
Creating a quick mask
Manipulating an image with Puppet Warp
Working with channels
Lesson 6. Typographic Design
About type
Creating a clipping mask from type
Creating type on a path
Warping point type
Designing paragraphs of type
Lesson 7. Final Project
Frequently Asked Questions
Do I need to bring a computer?

No. We provide a computer with the necessary software for each attendee. Choose a Mac or a PC during the checkout process.

Are discounts available for this course?

No. This course is not eligible for any discounts.

We offer discounts for packages of classes, including our Excel Bootcamp, SQL Bootcamp, Data Analytics, and PowerPoint Bootcamp.

We also provide discounts for ten or more classes purchased together. Please reach out for more information on our voucher programs.

Does this course come with a book?

Yes. This course includes a complimentary book or manual at no additional cost.

What if I need to retake this course? May I retake it for free?

Yes. You may retake this course for free once within six months, provided that the class is running with an available seat. For more information, visit our policies page.
Photoshop Essentials Class New York City
The Photoshop Essentials class concentrates on the most crucial aspects of Photoshop, according to NYC professionals. By the end of this training course, you will feel confident in creating graphics for the web, retouching damaged photography, and using Text, Layers, and Drawing Tools to create images. This class is perfect for those looking to build websites, and for photographers both amateur and professional.
Rated the Best Photoshop Courses in New York City
Practical and hands-on training focused on real-world applications of Photoshop
Engaging and interactive instructors
Proprietary course manual and shortcut sheets
One-on-one personalized attention