Search Engine Optimization (SEO) is a crucial part of any growing business.
Over 90% of all web traffic is attributed to search engines, and good SEO ensures your website ranks high in search engine results through the use of specific keywords.
In this two-day bootcamp, familiarize yourself with the fundamentals of SEO and gain an edge over your competition through hands-on lessons in search engine optimization and competitive keyword analysis.
Please note this training is available through our design and coding school, Noble Desktop, which offers a dynamic range of digital marketing courses with flexible scheduling.
Take this class as part of a certificate program and save: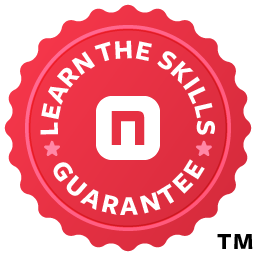 Learn the Skills Guarantee™
Hands-on training in small groups

Work on projects proven to boost retention

Time-tested curriculum and supporting materials

Refined over many cohorts for an optimal learning experience

Learn from industry experts with teaching experience

Experienced educators who are driven to help you succeed

Retake the course for free within one year

Refresh the materials and gain additional practice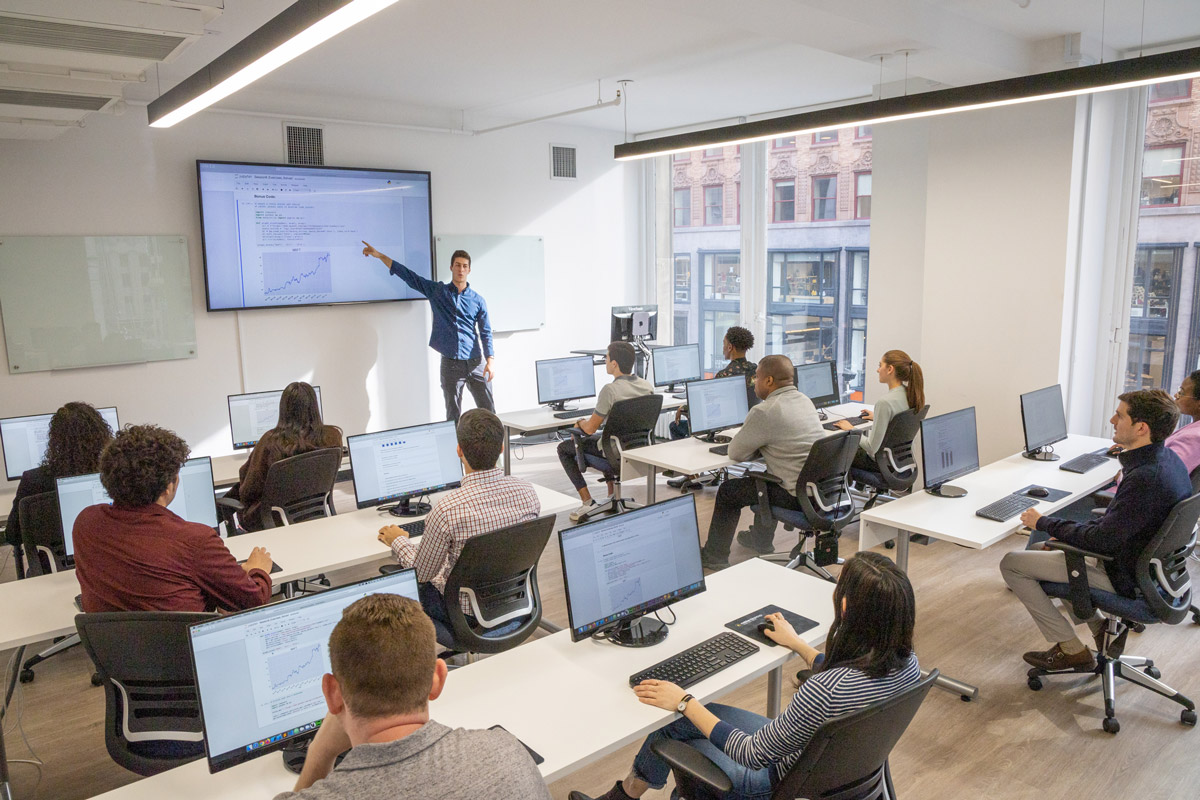 Excellent classes and excellent venue! It has just the right level of personal attention and class participation. I would highly recommend NYIM and look forward to taking future classes there. – Hazel S.
Earn a Certificate of Completion
Upon completion of this course, you'll receive an official certificate testifying to your mastery of the curriculum. We'll send you a link where you can download your certificate, share it online with your friends, post it to your professional network on LinkedIn, and view all your earned certificates. Congratulations on your achievement!
Shareable on

What You'll Learn
Intro to SEO & the benefits of SEO
How Search Engines Rank Websites
Keyword Research Techniques
Techniques for Writing SEO Content
On-Page Optimization Best Practices
Off-Page Optimization
Link Building Strategies
SEO Tools to Spy on Your Competition
The proper way to setup your website structure for SEO
Mobile SEO: Key elements for mobile optimization
SEO Audit: what is it & which tools to use
Measuring & Reporting on SEO Success
Course Syllabus
Download Syllabus PDF
Introduction to Search Engine Optimization
What is search engine optimization
Meet the search engines
How search engines work
SEO impact on businesses
Keyword Research
What is a keyword
The different types of keywords
Examining the intent behind a keyword
Understanding the progression of a search query
Steps to keyword research
How to find the best keywords to target
How to discover your competitors keywords
Competitive keyword analysis
Keyword research tools
Keyword research lab
Competitive Analysis
How to identify your competitors?
What to analyze?
How to use your competitive analysis for keyword targeting?
SEO Content
What is SEO content
Different types of SEO content
Steps to creating SEO content
How to factor in your customer buying journey when creating SEO content
How to evaluate your competitors content
On-Page Optimization
What is on-page optimization
Elements of on-page optimization
How to optimize Meta data?
The importance of sitemaps
Examining the perfectly optimized web page
On page optimization lab
Off-Page Optimization
What is off-page optimization
The role of backlinks
Best practices for link building
How to build internal site links
How to get backlinks
Strategies for achieving high ranking
Designing for SEO
How to structure your website
How to organize your web pages
How to design your website navigation
How to use rich snippets/structure data
What are Meta robot tags
How to use Meta robot tags
What are 404 error pages
Tips for creating 404 error pages
What are 301 redirects
How search engines handle 301 redirects
The importance of canonicalization
How to implement canonicalization
How website speed influence your rankings and how to improve it
Mobile SEO
Factors that influence Mobile SEO
The importance of Mobile SEO
A look at options for creating mobile friendly websites
Characteristics of mobile websites
Creating mobile focused content
Video Optimization
Step to YouTube Video Optimization
Keyword Research for Video Optimization
How to Optimize YouTube Videos
Factors that Affect Your Video Ranking
Types of Videos to Create
How to Promote Your Videos
SEO Audit
What is an SEO Audit?
How to conduct an SEO Audit?
Tools for conducting an SEO Audit?
SEO Audit Lab
Measuring & Reporting on SEO Success
KPIs for Organic Search
How to Report on SEO Progress
Demystifying SEO Reports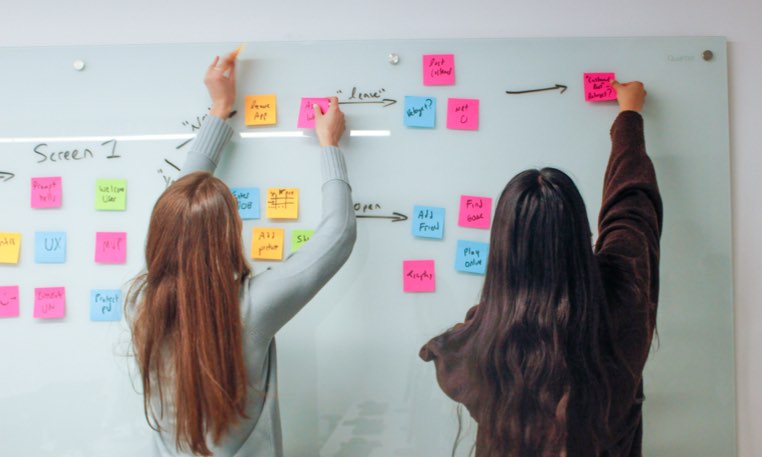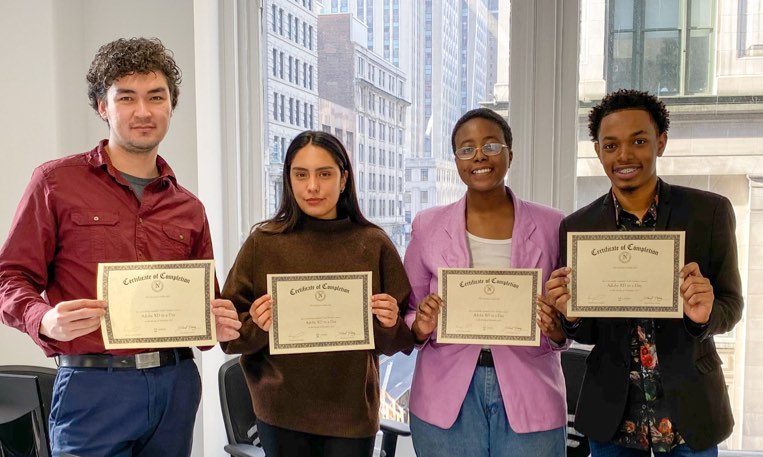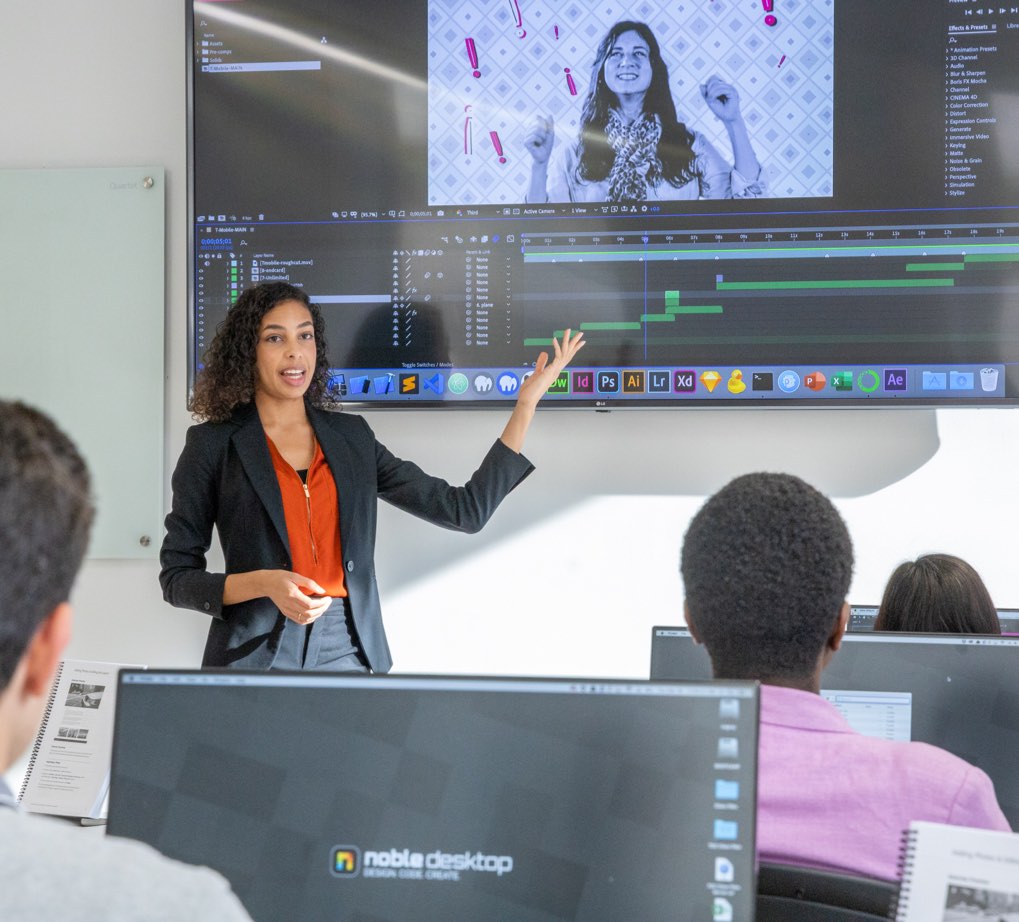 Schedule & Enrollment: SEO Bootcamp
Free retake
Setup assistance
Expert instructors
Small classes
This course is offered by our affiliate school, Noble Desktop.
View upcoming course dates and register at nobledesktop.com
Tuition
As one of our smaller courses, tuition for this course is due in full before the start date. The best way to save on this course is to take it as part of a certificate program.
Full Tuition
$650
Due before the class starts
What's Included
12 hours of hands-on instruction
Live, project-based training from experts
Retake for free within 1 year
Verified digital certificate of completion
What's included with my tuition?

A hands-on learning experience working on projects and exercises, which is proven to boost comprehension, retention, and engagement
Expert instructors who are industry professionals and experienced educators that are driven to help you succeed
Top-notch curricula that have been tried and tested over many cohorts and are consistently improved for an optimal learning experience
Supplemental materials to assist both during and after the course - please refer to specific course pages to see what supplemental materials are offered
A 1-year free retake policy which allows students to retake any part of the course or program for free to refresh the materials and gain additional practice
A certificate of completion to verify your accomplishment

Are there any additional fees or expenses?

There are no extra fees or taxes for our courses. The price you see on this page is the maximum you'll pay us.

However, if you plan to take the course live online, you may need to obtain required software. We'll help you get set up with a free trial of paid software prior to the class. Most of our coding classes utilize freely-available open-source software. For most of our design and motion graphics courses, we will help you get set up with a free trial of Adobe Creative Cloud. If you attend the course in-person, we will have a computer already set up for you with all of the required software for no additional cost.

Do you offer any discounts for this course?

Discounts

We don't currently offer discounts as we do our best to affordably prices our courses.

Take this course as part of a certificate program and save:

Price: $3,295 |

Hours: 78 Hours
This Course is Available in NYC or Live Online
On Campus in NYC
185 Madison Ave, 3rd Fl, NYC
Get face-to-face interaction with an instructor and other students when you learn at our NYC campus. Courses are hands-on with a computer and software provided.
Live, interactive class
Experienced instructor in the room with you
Computer and software provided
Free retake within one year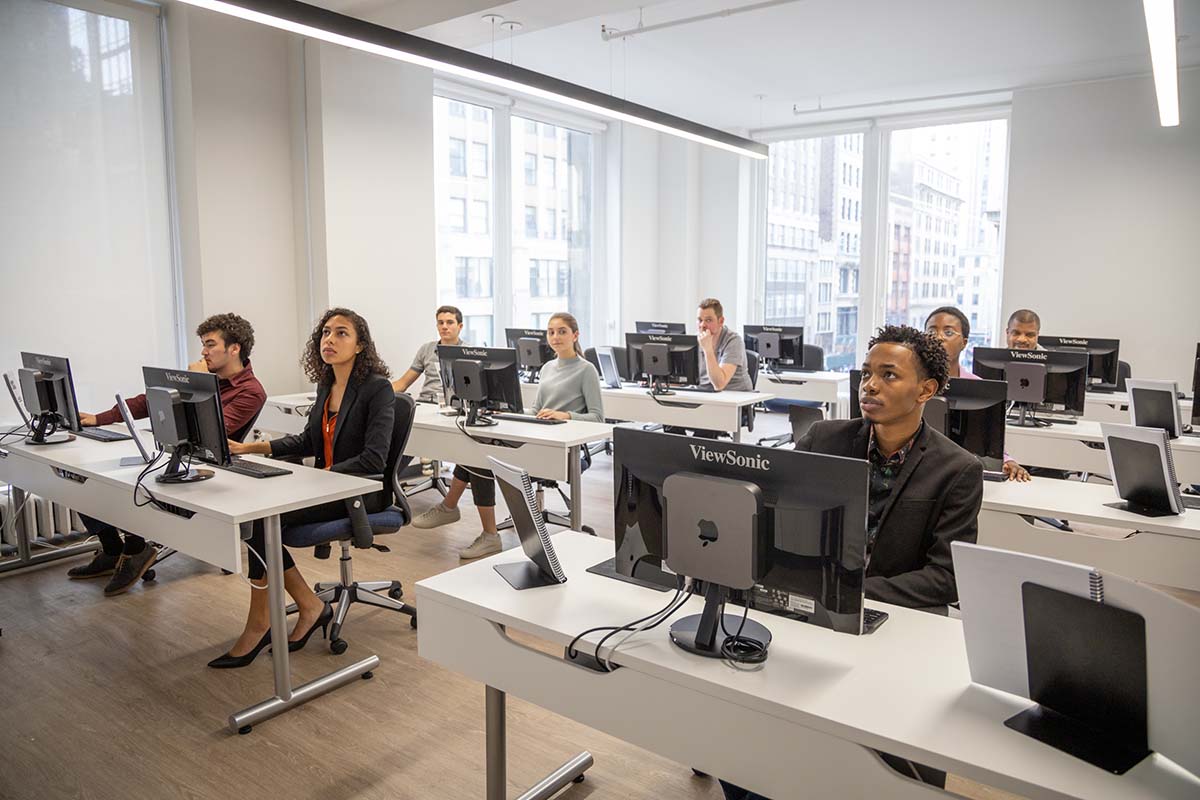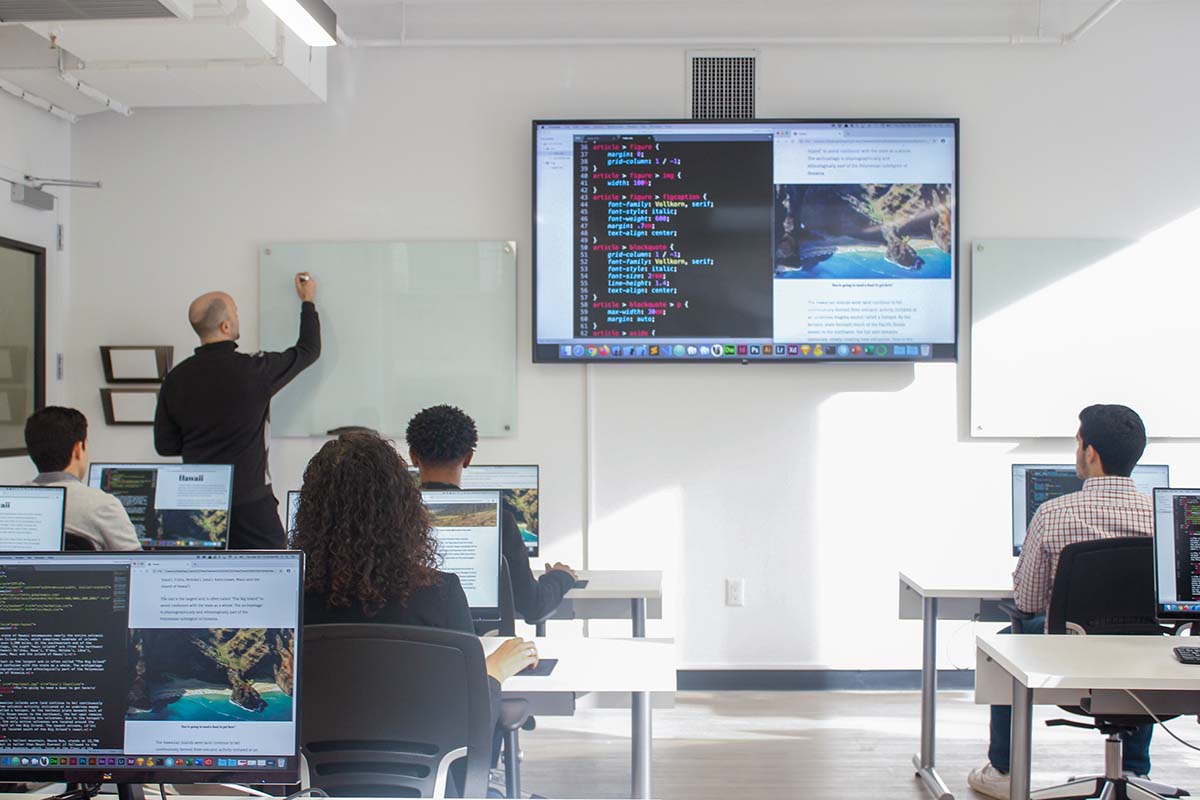 Live Online
Remote, from anywhere
Get the same interactivity and access to the instructor as in-person students. There are no extra fees and we'll work with you to ensure your remote setup is perfect.
Live, interactive class
Experienced instructor teaching over Zoom
Remote setup assistance provided
Free retake within one year
Testimonials for Live Online Training
"Overall experience on Zoom was maybe even better than in IRL classroom because the instruction takes place right on your own screen, with less distraction. Great overall experience."
"Given the fact that we had to do this entire class remotely due to Covid-19, I didn't have very high expectations it would run so smoothly. However, I don't think it could've gone any better. Not only do I feel very comfortable with the program now, but I'm actually excited to use it!"
"This was the first online class I've taken with ND and it was a great experience. Looking forward to the other classes I've signed up for!"
Frequently Asked Questions
Does this course require any prior knowledge or experience?

Students must be comfortable using a computer. No other prior knowledge is required.

Do you offer payment plans or student financing for this course?

This course does not qualify for payments plans or student financing. See our Payment Plan FAQ to find related programs that qualify.

Can I take this course online (remote learning)?

You may attend this training virtually (online) at the scheduled time the course is offered (New York, Eastern Time).

How does attending "live online" work?

Students can attend this training remotely through screen sharing software (we use Zoom).
Participants can hear the instruction, ask questions, and even share their screen with the instructor.
For audio you can use your computer's microphone/speakers or call a phone number that we'll provide.
Classes are activity-based and taught by a live instructor, so we strongly encourage students who are local to the area to attend in person!
You will need your own computer and copy of any required software. If you don't have the software, you can usually do a free trial or purchase your own license. If you need assistance, contact us at contact@nyimtraining.com
Corporate & Onsite Training
Purchase group class vouchers at a discount for our regularly-scheduled group classes in NYC, or create a custom training program at your offices.
Private Training
Available onsite at your location
Modern computer labs available at our offices
Customize or choose from our existing courses
Free instructor consultations to finalize content
Group Class Vouchers
Send employees to our group classes
Extensive offerings and flexible scheduling
Simple billing and logistics
Computers and training resources provided
We've trained thousands of companies!
Let us create the perfect program for your team.
Enhance Your Marketability
This SEO bootcamp is intended for business owners, marketers, and front-end developers who want to increase their range of digital marketing knowledge and bring valuable insights to their company.
Discover SEO Secrets & Best Practices
Work on your own project in one of the most comprehensive SEO courses offered in New York City. Don't miss out on an amazing opportunity to ask questions and get them answered right away!
Learn From A Flexible and Skilled Instructor
Nicole McCullum is a digital marketing professional with over 14 years of industry experience. As the founder of a website design and SEO company servicing clients globally, Nicole is well-equipped to teach digital marketing. She specializes in helping small businesses and entrepreneurs generate more leads, attract more clients, and grow their business online.
Compare SEO Bootcamp to Similar Courses
Select up to two courses and tap Compare Courses to view a side-by-side comparison of SEO Bootcamp with your selected courses.