Advanced Excel for Business
Advanced Excel Classroom Training in NYC
Advance your career with this essential course for professionals that use Excel daily. You'll make functions more flexible, take Pivot Tables to the next level, and automate tasks with macros. Utilize Excel's most important tools with training in core database functions. If you have strong working knowledge in Excel and want to save even more time with custom shortcuts and advanced features, this is the perfect course for you. 
This course is part of our Excel Bootcamp. Enroll in our three-course package and save 15%.
Prerequisites: Attendees must have Excel proficiency equivalent to our Intermediate Excel course, including VLOOKUP, Pivot Tables, and IF functions.
Class Notes: A PC or Mac will be provided, and the instructor will be presenting on a PC.
Register for a Class
Choose a date below to add it to your cart. At checkout, you can change the quantity for multiple registrants, add other classes, and change your dates.
$219
7 Hours
185 Madison Avenue, NYC
Corporate training available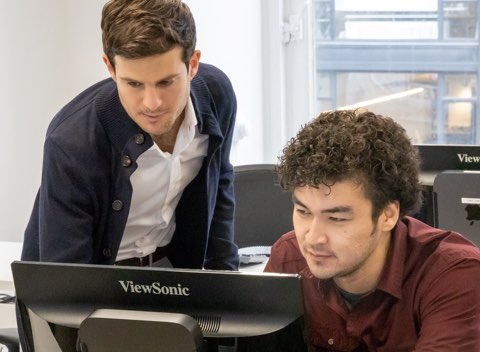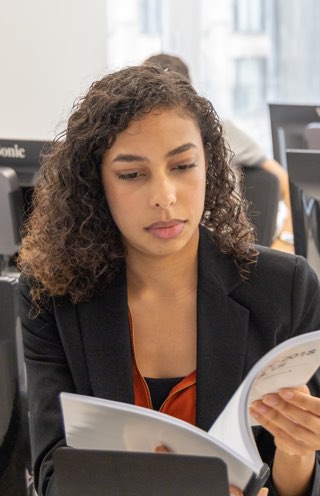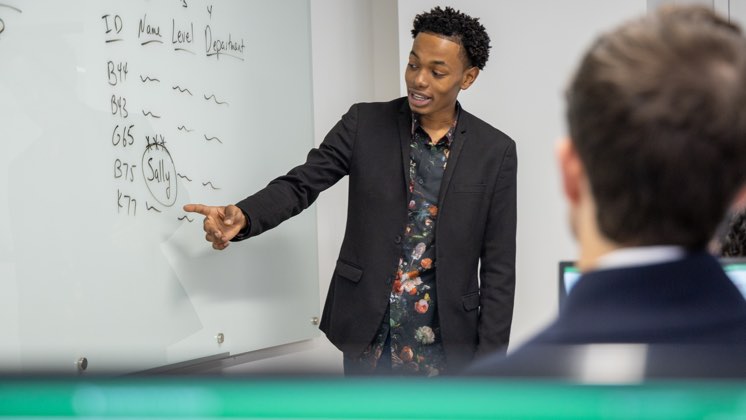 Video Training & Workbook Included

Students get a workbook and lifetime access to self-paced training videos, a $95 value.

Computer Provided

Modern computer classroom with a PC for each student to work on.

Small In-Person Classes

Get personalized attention in small groups with an expert instructor in the classroom.

Free Retake

Refresh the course materials within six months for free as long as there's space in the class.
What You'll Learn
What-if Analysis: Goal Seek & Data Tables
Advanced cell locking
Create more flexible lookup functions with INDEX-MATCH
Advanced Pivot Table techniques
Record relative and absolute macros
Advanced nested functions
Work without a mouse using Hot Keys
The overall experience was great. I feel the instructor was well educated on the tools I needed in order to succeed in my current role. I would rate the preparation, use of time, knowledge of material and general kindness as one of the best training classes/sessions that I have ever attended. I have and will continue to recommend the folks at NYIM to others.
K. Burton of Microsoft attended Advanced Excel for Business
Great class! The content was well organized and the instructor was excellent. He was engaging, knew the material very well and was able to adjust to the various levels of ability of the students! Would definitely recommend!
Rebecca H. attended Advanced Excel for Business
Had a one on one training with Garfield - he was patient, professional, and incredibly knowledgeable. Would highly recommend for anyone looking to expand their excel capabilities in business.
Alexandria A. attended Advanced Excel for Business
Great teacher! She was really helpful and moved at a solid pace. Answered all questions super well. She made the class.
Ariel O. attended Advanced Excel for Business
A class was very helpful and the instructor made it worthwhile. Took the two-night excel class and will be back for powerpoint.
Tommy M. attended Advanced Excel for Business
Full Course Syllabus
Download PDF Outline
Cell Management
Advanced Cell Locking
Create powerful formulas by locking either the column or the row
Hot Keys
Transform the ribbon into a visual listing of pre-assigned shortcuts
Windows
Techniques and keyboard shortcuts to allow editing of active windows
Cell Auditing
Observe the relationship between formulas and cells
Special Formatting
Date functions
Calculate dates with a variety of functions
Conditional Formatting-Formulas
Create custom rules for Conditional Formatting with formulas
Advanced Functions
Nested IF statements
Nested "IF" statements allow for more than just two possibilities in a single cell
IF statements with AND/OR
Expand the functionality of the IF function by adding an AND / OR criteria
What If Analysis
Goal Seek
Find the desired result by adjusting an input value
Data Tables
Data Tables show the range of effects of one or two different variables on a formula
Advanced Analytical Tools
Data Consolidation
Summarize data from separate ranges and consolidate into a specified output range
Conditional SumProduct
Use SumProduct with conditions to exclude data that does not meet certain criteria
Pivot Table-Calculations
Create calculated rows or columns in a Pivot Table that go beyond the source data
Pivot Charts
Create dynamic, graphical representations of Pivot Table data
Advanced Database Functions
MATCH function
Return the relative position (column or row number) of a lookup value
VLOOKUP-MATCH
Create a more accurate VLookUp by enhancing the determination of the Column Index number
INDEX-MATCH
Efficiently return a value or reference from a cell at the intersection of the row and column
INDEX-Double MATCH
Use a second Match function to create a powerful, two-way lookup tool
Introduction to Macros
Recording Macros
Record Macros that involve formatting and calculations
Relative Macros
Record relative reference macros for ad-hoc reporting
End of Class Project
Project
End of class project to review key concepts from the class
Frequently Asked Questions
Do I need to bring a computer?

No. We provide a computer with the necessary software for each attendee. This course is available on Windows PC only.

Are discounts available for this course?

No. This course is not eligible for any discounts.

We offer discounts for packages of classes, including our Excel Bootcamp, SQL Bootcamp, Data Analytics, and PowerPoint Bootcamp.

We also provide discounts for ten or more classes purchased together. Please reach out for more information on our voucher programs.

Does this course come with a book?

Yes. This course includes a complimentary book or manual at no additional cost.

What if I need to retake this course? May I retake it for free?

Yes. You may retake this course for free once within six months, provided that the class is running with an available seat. For more information, visit our policies page.
Advanced Excel Classes NYC
Hands-on Advanced Excel Training Courses in NYC
Are you an Excel power user with knowledge of Pivot Tables and VLOOKUP? Do you use Excel daily for work and professional needs? If so, NYIM's Advanced Excel Course will help you take your skills to the next level. In the advanced Microsoft Excel course, you will learn how to:
Apply pre-assigned shortcuts to accelerate your workflow
Build upon your knowledge of Pivot Tables with Pivot Charts
Implement the MATCH function with VLOOKUP and INDEX
Automate formatting and calculations tasks with macros
In Advanced Excel for Business, you'll learn automation and shortcut techniques to apply to Excel's most advanced features like Pivot Tables. The course includes training on recording macros to perform repetitive Excel tasks in a single click. At the end of the course, you'll complete a course project that you can demo to current and prospective employers to demonstrate your new skill set.
More Advanced Excel Classes at NYIM
Our advanced classes are perfect for those with knowledge of basic techniques including formatting, charts, basic formulas and functions, and absolute cell references, as well as intermediate-level concepts, including VLOOKUP, Pivot Tables, and intermediated functions such as SUMIFS and IF. For more information on the required prerequisite knowledge, see our Excel Fundamentals and Intermediate Excel course pages.
Don't quite meet the prerequisites but want to become an advanced Excel user? Did you forget how to use core Excel functions like Pivot Tables and VLOOKUP? Get a refresher on Microsoft Excel functions and gain master Advanced Excel in our Excel bootcamp. The Advanced MS Excel class is part of our Excel for Business Bootcamp. Take our three Excel for Business classes and get a 15% package discount. Sign up for the Excel Bootcamp!
Which Advanced Excel course should I take?
We offer four advanced Excel courses.
Advanced Excel for Business builds off Intermediate Excel and teaches the advanced Excel features most commonly used by business professions today. Make your lookup functions more flexible by adding MATCH to VLOOKUP and using INDEX and MATCH together; expand Pivot Tables with Pivot Charts and other advanced features; create nested functions including nested IFS and IF with AND/OR; utilize advanced analytical tools; and write basic macros with the macro recorder to automate repetitive tasks.
For those looking to further automate tasks and create custom commands, enroll in our Excel Programming with VBA course. This two-day bootcamp covers the essentials of Excel's programming language.
Working in finance or starting a position as a financial analyst? We offer two advanced Excel courses, Advanced Excel for Finance and our Financial Modeling Bootcamp.
Advanced Excel Classes in NYC + Free Training Videos
Gain real-world value that you can apply on the job
Reinforce learning with practice exercises after each course section
Solidify your new skills with a cumulative project at the end of class
Get free access to our premium Advanced Excel video suite
Retake the course free within six months